No respect for the dead, scant regard for the living
Families of those who died during the pandemic thrown from pillar to post, with no clear instructions
View(s):
Yohan Perera had only just handed over his mother's body to the Colombo South Teaching Hospital (CSTH) in Kalubowila when a mortuary worker dressed head-to-toe in personal protective equipment approached him.
"Mahattaya," he said, cheerfully, "Give us some money for a cup of tea… santhoseta." Shattered by the death overnight of his 69-year-old mother, santhosey or happiness was the last sentiment Yohan was feeling. But soliciting wasn't even the most harrowing part of his story.
Since the outbreak of the COVID-19 pandemic, PCR tests on dead bodies in Sri Lanka are conducted out of sight of relatives. Their outcomes are not always believed.
Immediately quarantined themselves, families are expected to suddenly find friends or relatives to deal with haphazard procedural issues, to raise funds for coffins sold by "designated" undertakers, and to cope with their own pain while often being deprived of saying their last goodbyes.
Kith and kin are not always able to view the bodies, even through plastic and at a safe distance. And because of the chaos brought on by COVID-19, even families whose deceased do not test positive for the virus face obstacles to get simple formalities out of the way.
"The stress of getting her body removed from the house and doing the formalities was sheer hell," said Tina Edward Gunawardhana, whose mother-in-law died at home in early January from cancer. "There are no protocols. It seems rules are made as they go along."
"The attitude of the officials and lack of empathy is unbearable," she observed. "They seem to forget that people are grieving and in shock and instead send them from pillar to post. The system stinks."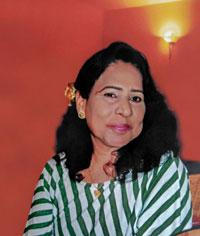 Sixty-eight-year-old Cynthia Perpetua Perera arrived at Yohan's home in Mt Lavinia on January 15 from the residence of his brother at Talangama. She complained of body aches around 5pm. At the doctor's, she was told she would need surgery to tackle her arthritis or face paralysis.
Cynthia's countenance fell upon hearing this and her pressure was deemed "a bit high". "When my mother entered the house, I saw her face was not good," he said. "She didn't eat much and went upstairs."
Yohan's seven-year-old daughter told his parents around 10.30pm that her grandmother was breathing unusually. They rushed upstairs where Yohan placed his mother on his lap. "She took a deep breath and then nothing," he said. An ambulance crew checked her and relayed to a doctor that she had passed away.
His sister and family arrived from Wattala. Shortly before midnight, Yohan and his brother-in-law went to the Mt Lavinia police to report the death so the body could be removed. They were told everyone was asleep and to return around 8am.
On January 16, they went to the police station around 7am to find that officers were in a "training a class" which would end in an hour. So they went back at 8am, waited till the police settled down after breakfast before approaching the Officer-in-Charge.
"He asked us when the death had occurred and shouted at us for having kept the body till morning," Yohan said. But he quickly calmed down when they told him why. A statement was recorded and a policeman accompanied them home around 9.30am.
They took the body to CSTH in a hearse. Yohan filled documents and went with the remains to the mortuary. The hospital said the body would be released after a PCR, which was conducted out of sight.
On January 17, Yohan went to CSTH to get his mother's PCR results. "A girl there showed us an Excel sheet with the results of three people," he said. "It indicated that my mother's sample had failed. This meant it was neither positive nor negative but that there may have been a problem with the test or the manner in which the swab was taken."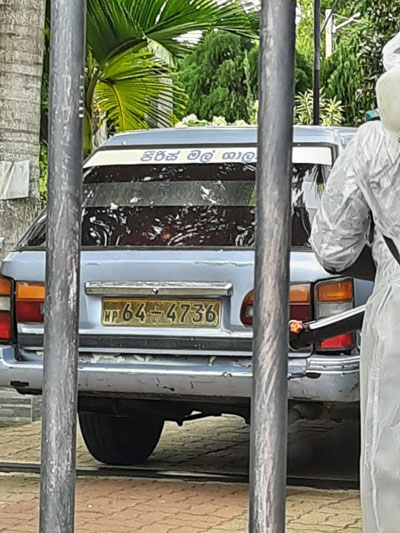 The sample will be run again, the hospital said. And the result came back positive during the mid-morning. That afternoon, Public Health Inspectors (PHIs) disinfected the house which was now occupied by Yohan, his wife and two children, his 69-year-old father, his sister, brother-in-law and their two kids. All were asked to quarantine in Mt Lavinia for 14 days.
His brother in Talangama was also placed in quarantine with his family. Suddenly, everyone was confined to their homes while their mother's body was still at the mortuary. Around 6pm, the PHI telephoned Yohan and said the cremation would take place between 10am and 1pm on January 18. He had to arrange for two people to be present. His uncle and his uncle's son-in-law were duly enlisted.
The Mt Lavinia police then called him. "They said the body will be taken for cremation at 10 am and that I have to be present!" he recalled. "When I conveyed this to the PHI, he said I had better follow police instructions. So I went to the hospital with my uncle."
Both were given PPEs and kept apart. "The Judicial Medical Officer (JMO) on duty explained that my mother had died of a heart attack although there was no history of such illness on her side of the family," Yohan said.
The JMO also revealed that two samples were taken from Cynthia. One was tested in Maharagama and returned positive while the one tested at Kalubowila failed and was repeated. It showed positive the second time.
Meanwhile, Yohan was told to contact "Peiris Funeral Parlour" in Kalubowila for the coffin and transport. "A driver from that company had arrived for another body and he claimed COVID-19 positive bodies were only handled by them," he recalled. "He said it would cost Rs 25,000 for the coffin and that he will return after depositing the other body at the Nedimala Cemetery."
Unlike some others, Yohan did get to see his mother's remains. He went into the mortuary and placed her rosary and his own rosary inside the body bag before sprinkling holy water on her. She was transferred to a coffin and taken to the Kalubowila Cemetery. Yohan and his uncle were not permitted inside. But the police and PHI, upon their imploring, allowed him to collect the ashes from the cemetery the next morning.
The rules pertaining to Yohan's movements, as a first contact, were not consistent. Whilst he was separated from others at the hospital, he was sent by the police to the Kalubowila junction to photocopy some documents with just a mask on.
And, on January 21, the immediate relatives were all summoned to the Kotelawala Ground in Ratmalana for PCR tests. Separately, his brother's family took PCR tests in Malabe. Eighteen people – including two aunts and a cousin – underwent the procedures. Each one of their tests returned negative. Despite this, they were all quarantined till January 30.
"My mother's death certificate said she was a COVID-19 infected patient whose long-term high blood pressure had caused a heart attack," Yohan said. "She didn't have long-term high blood pressure. We doubt now that she even had COVID-19. And till now, her case has not been mentioned in the reports released daily by the Government regarding COVID-19 deaths."
Gunapala, from rural Thuththirihena in Kodagoda, Galle, had a worse time clearing his mother's body. He also could not make it in time to view her remains.
Ninety-one-year-old Podi Nona died at a home for the aged in Panadura on February 1. She had once been a tea plucker and suffered from Parkinson's disease, cellulitis and "a little bit of pressure".
The home's matron said that, in her 20 years at the job, 178 inmates have died. But is has never been this difficult to clear a body and conduct a funeral. Not only did she have to spend hours at the police station before they took her complaint (compulsory now), Podi Nona's son was given the runaround for three days.
Gunapala is poor. Now 63-years-old, he earns a small salary as a security guard. After the body was sent to the Panadura Base Hospital, the home received a call on February 3 to say Podi Nona's PCR result had returned positive. The PHI arrived and her immediate contacts were quarantined in the sick room that she had occupied. None of them were tested. But none of them show symptoms.
Meanwhile, Gunapala arrived from Galle for the first time. It costs Rs 17 from his home to Imaduwa; Rs 53 from there to Galle; and Rs 163 from Galle to Panadura. He visited the police and hospital but wasn't shown the body.
For the next three days, Gunapala was sent from police station to hospital, hospital to police station but achieved nothing. He did not even receive the death certificate. He spent Rs 4,194 on transport alone.
"I spent three whole days trying to sort out matters," Gunapala said. "I had to borrow money from my workplace. One time, the police wanted her medical reports so I walked all the way to the home and back with the file. Every day, they told me to 'come tomorrow'."
Two people are required to identify a body. On one occasion, as he was alone, Gunapala was refused access to the mortuary and told he could view the remains at the cemetery. He was later told the coffin would be sealed if he didn't come at a particular time. Drained by the seemingly endless formalities and time-wasting, he refused to go.
The cremation took place on February 7. Before that, however, the police called the matron and said an autopsy would have to be done. "By then we had even been issued the death certificate so I asked the policeman what he was talking about," she said. He later telephoned to say an autopsy wasn't required.
"The fact of the matter is, nobody is really sure what went on at authority-level after Podi Nona died," someone familiar with the case said. "There was much confusion and certainly much hassle for Gunapala."
Podi Nona's death, too, was never announced in the Government's official statistics.