No more PCR tests at airports; entry rules relaxed
By Tharushi Weerasinghe
View(s):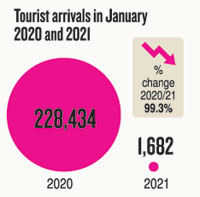 About 25 flights are landing at the Bandaranaike International Airport (BIA) every night, officials said.
"Things are more or less back to normal,'' said the Airport and Aviation Services (AASL) Chairman Major Gen (Rtd) G.L.Chandrasiri.
Every day, about 750 passengers arrive and the number of passenger and cargo flights has increased following the removal of restrictions.
PCR tests for COVID-19 are no longer done at the airport and there is the usual, mandatory health declaration requirement. The duty-free shops are open.
Those arriving on repatriation flights are taken to quarantine centres by the army. There is one such flight a day.
Some who arrive have paid for their air tickets and hotel quarantine. Others come as a part of a 'tourist bubble' under the Tourist Board. Hotels that are categorised as grade 1 and grade 2 have been selected to accommodate these tourists and must be pre-booked by them.
Visitors are picked up by the hotel on arrival and undergo a seven-day quarantine after a PCR test at the hotel.
They can travel to 18 selected locations including Sigiriya.
According to the chairman, the staff in these locations have been trained and tourists are transported in buses. The Sunday Times contacted some Sri Lankans who arrived over the past few months and they noted the differences in the procedures.
Dr Shenali Amaratunga flew in from Prague to visit her parents and landed at BIA on a Qatar Airways flight last Sunday.
"There was a big rush to get to immigration but we passed it relatively quickly,'' she said.
After baggage check, passengers were directed to the arrival area where those awaiting hotel quarantine were asked to step to the left side along with their baggage trolleys.
Passengers were loaded onto two buses. They waited for more than two hours for Police/Army escorts. She later checked into a hotel quarantine run by the army.
While the long wait times were exhausting, she said the process was efficient overall.
The only health protocols in place were face masks, social distancing, and a few hand sanitiser machines around the airport.  Her baggage was disinfected at the hotel. She noted that the airport was not crowded as only two flights had landed at the time.
Another respondent, who wished to remain anonymous, told the Sunday Times, that she flew in on Sri Lankan Airlines in September for personal reasons and landed at Mattala airport.
"We got off the plane and were greeted on the tarmac by men spraying us from head to foot, as well as any hand luggage,'' she recalled.
They were asked to discard their face masks and then given new ones and gloves. Then they underwent PCR tests that included throat and nose swabs.
"We were given a series of little stickers corresponding to whatever stage of the process we were at,'' she said.
Once this part was completed, passengers were allowed to enter the building and queue up for immigration clearance.
"Because I was on a landing endorsement I had to wait quite a long time and they took my passport away,'' she said.
She was later told she had received the approvals to arrive.
Then it was the usual baggage arrival hall and on to another queue to find out about the hotel. Then, people were directed to a bus. She said Mattala lacked the infrastructure to handle passenger flights, unlike the BIA.
But, she felt that the journey could have been better had it not been for the epidemic.
The AASL Chairman said operations at Mattala were being expanded beyond what had existed in the pre-pandemic period.
The airport is focused on flights from countries like Kazakhstan. While about ten flights landed at Mattala airport earlier, almost 22 arrive now. More than 200 passengers arrive at Mattala daily now, he said.
There are plans to expand Mattala as a cargo hub and the Government plans to sell and give long-term leases on lands near the airport for aviation-related business.