Meemure should be protected: Environment Lawyers Forum President
Text and pic by L. B. Senaratne
View(s):
The Meemure village should be declared a national reservation, if there is genuine interest to safeguard this village from deterioration, Environment Lawyers Forum President Shantha Ratnayake proposed recently.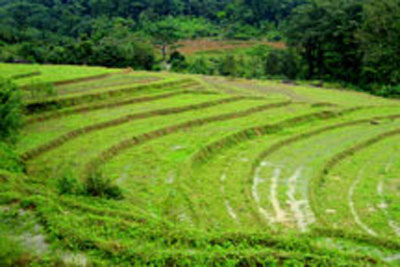 The village, even though it is covered by the Knuckles Reservation, has to be gazetted as a reservation coming under a management committee, Mr Ratnayake said.
"This should be done, so from now on at least, it will have the semblance of a virgin village, that existed before King Ravana or the first inhabitants of Sri Lanka," he said.
According to certain historical sources, the village has a history that dates back to the time of King Ravana. The village also held the Sangharaja Weliwita Asarana Sarankara, who made his way to Meemure to be away from King Keerthi Sri Rajasinghe, who thought the Sangharaja was instrumental in the conspiracy to kill him at Malwatta Maha Vihara.
The two daughters of King Sri Wickarama Rajasinghe were sent to Meemure for their safety. When they came to know their father had been captured and taken to Colombo, it was said they committed suicide.
The Knuckles reservation is a UNESCO World Heritage Site and Meemure also comes under its umbrella, so strict guidelines should be imposed on visitors, Mr Ratnayake said.