Estuarine fisher folk appeal for jetty
By K.L. Richard Walter Perera
View(s):
Fishermen say a new jetty should be built at the Maha Oya estuary at Poruthota, so they can continue their activities without obstruction being caused by nature's forces.
Sand that accumulates blocks the estuary, impeding the Maha Oya from flowing into the sea. The river forces its way into the sea through the left bank close to the existing jetty.
Fisherman, Niroshan Rodrigo, 37, a father of three, showed the Sunday Times a mound of sand created by rough sea waves, blocking the river from flowing into the sea. He notes how the river then forces its way through the river bank into the sea along the jetty.
He suggested that another jetty be built to the right to prevent the sea from rolling ashore, creating a huge mound of sand and pushing the river towards the land.
He said this would allow fishermen to take their boats out to sea and back to the Hamilton Canal where they usually anchor their boats.
"Once the estuary is blocked, it means our livelihood is also deprived. We may soon lose this river bank and small stretch of beach also at any time. Our demand is for another jetty to be built on the right side,'' he said.
'There are about 500 fishing families living in Kammalthota and Poruthota. We go out to sea through this estuary. So, there should be an easy passage for us.''
When the sand piles up, it creates a shallow bed called 'Nallalla' a few yards from it. Some people who do not realise the danger, step onto it to catch fish and lose their lives, he said.
"This is our livelihoood. Some have their own boats. Some do not. They work on the boats owned by mudalalis. We sometimes spend about Rs 2,800 a day for kerosene. But some times we come back empty handed and if that happens for two or three days, then we will have to borrow. We can get loans from our village fishing society ranging from Rs 10,000 to Rs 15,000, or Rs.20,000, on condition that the earlier loans are paid.''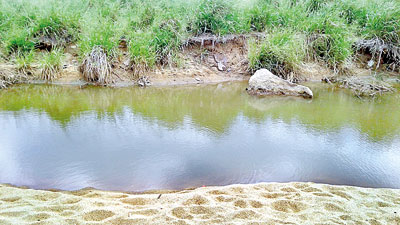 Another fisherman, John Sawari Coorera Pulle, 61, a father of three, said: "We have made our requests to ministers and higher authorities, but still no solution. This is a death trap. When the rough sea waves come ashore it creates a shallow bed like quicksand that sucks everything that falls into it.
"If we build another jetty about 200 metres long on the right, it could control the monstrous sea waves, and save lives, and we also could do our fishing activities safely.''
There are regular reports of youths drowning in the shallow waters, where the sandy bed is deceptively dangerous.
Two signs erected by the Negombo Municipal Council and the Negombo Divisional Secretariat warn people they face fines for breaking environmental laws, but there is no such warning for bathers.