COVID's second wave blow too much to bear for small-scale businesses
By Nadia Fazlulhaq
View(s):
Ella, once a bustling little town filled with tourists, will surely be mistaken for a ghost town today. Boutique hotels and restaurants that accommodated foreign backpackers have 'closed' sign boards hanging at the entrances and inside chairs are seen flipped onto tables.
"Of about 1000 tourist establishments in Ella only about 10-15 are functioning. Of the 150 restaurants only a few are operating to cater to local tourists," said Ella Tourist Hotels Association President Malith de Silva.
According to him, about 15,000 people have been left unemployed or lost their incomes due to the COVID-19 pandemic which led to the authorities imposing lockdowns and curfews in addition to closing the entry ports.
They were employed in tourism-related businesses, ranging from homestay units and hostels to handicraft, batiks, gem and jewellery.
According to the Tourism Development Authority, 228,434 tourists visited the country in January last year, whereas January this year saw only 1,682 tourists arriving in the country. Tourism earning dropped drastically from US$ 3,606.9 million in 2019 to a mere 956 million USD in 2020. About 500,000 persons were directly or indirectly employed in the tourism sector prior to the global pandemic.
"Most of our tourists are backpackers from western countries. They visit here for snorkeling, surfing, dolphin and whale watching. High-end tourists won't help the small shops, homestay units, hostels, bicycle rentals or handcraft or handmade jewellery shops," lamented K. Shanthasameera of Vibushan Guest House in Nilaweli, Trincomalee.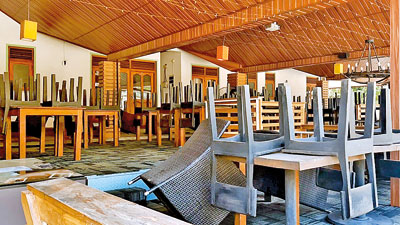 He said with much difficulty, he continued to keep his guest house open while witnessing small scale guest houses shutting down.
While many restaurants in Colombo and cities are struggling to keep operations going on, in outstations many restaurants remain closed.
Small and medium scale businesses were hit hard by COVID-19's second wave, said Food Processors Association President Nishan Perera.
"Most of the small businesses did not have a strong distribution mechanism or recovery plan and were not financially able to market their products. Therefore, big companies survived while small businesses were forced to close down especially in the food industry," he said.
Nandana Priyantha, General Manager of the Marandagahamula Textile Weavers Cooperative, said the pandemic severely affected the handloom and batik sectors that cater to the tourists.
He said the cooperative employed about 70 people and the loss it incurred runs into millions with some 150,000 metres of textile remaining unsold.
Event planners and musicians had very little hope last year and fear this year will not be any better.
Western Musicians Association President Fabion Bonnie Paul said musical bands continued to suffer due to limited number of hotel events, cocktails, concerts, corporate functions, weddings and parties.
"The second COVID-19 wave hit the entertainment industry badly as last year's yearend festivities were completely halted due to the pandemic. Musicians and support staff lost their income. With no regular income, some musicians are selling masks or running food outlets or delivering food takeaways," he said.

He said only few musicians were able to get the government-backed loan from a state bank as most did not have a permanent income to qualify for the loan.
An event planner said she had a few events last year, but the income she earned was not enough to pay the instalments of a bank loan she obtained to buy decors and invest in an office space.
With school closures extended especially in the Western Province, many school van drivers are not doing odd jobs, said All-Island School Children Transport Association (AISCTA) President Malsri de Silva. "School van drivers have opted to selling buth (cooked rice) packets in their vehicles, given their vehicles on rent or transporting goods. There are about 48,000 van drivers in the country," he said.
Pre-schools are another affected group, with many struggling to pay rent for premises that have not been permitted to open yet.
Small scale exporters from fresh cut flowers to ornamental fish were forced to close their businesses as they were hit by not only lack of business but also by high shipping and freight charges.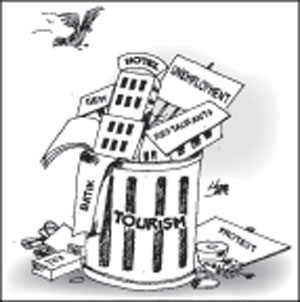 While a majority of the exporters are surviving despite losses, it is the small and medium scale exporters (SME)s who need to be supported, said Export Development Board's Deputy Director D M P Dissanayake.
"The pandemic had an impact on SMEs such as exporters of coir, food and beverage items, flowers and foliage, ornamental fish. We are assisting some of them by getting them export orders and recommend banks to support them under the export credit finance scheme," he said.
A Wadduwa aquarium owner and tropical fish exporter said the high cost of exports to countries such as Germany, Japan and Australia had affected her business. "With local demand also low, shortage of quality fish feed and export limitations many of the fish exporters are struggling," she said.
Kalyani Attanayake who supplies fresh cut flowers from Nuwara Eliya to exporters and events said most of those who grew flowers are now growing vegetables as flower exports had dropped drastically. "We keep a mere Rs. 20 a flower and for the past whole year we struggled without an income," she said.
When it comes to shutting down businesses owing to the pandemic, no sector has been affected worse than the tourism sector which is the second biggest foreign exchange earner, said Dr Nandasiri Keembiyahetti, senior lecturer in economics at the University of Ruhuna's Department of Economics.
He said daily wage earners, private bus operators, three wheeler owners and tuition teachers recovered during the second wave and continue to work. However the tourism sector will take a long time to recover.
"Behind every small gem and jeweller or handicraft or batik shop in tourist areas, many people are involved in the process. Loss of sales has led to many losing their income. They don't have a local market as well. Many establishments closed down as they could not continue to operate," he said.