World's Most Awarded Creative School Miami Ad School, Now in Colombo
View(s):
Miami Ad School Sri Lanka is now open in Colombo 4 bringing exciting possibilities and global potential for the creative minds in the island. For us, the real world becomes the classroom with a collaboration of fresh perspectives and global ideologies that influence the future of design, digital marketing, strategic thinking and innovation.
At Miami Ad School, we cultivate unconventional minds and celebrate audacious creativity in all its forms: from self-identified creatives and yet-to-identify creatives to unfulfilled professionals who need to revive their passion or fall in love for the first time with bold ideas that breathe new life to everyday moments.
Kandeban Balendran – Founder and CEO of Miami Ad School Sri Lanka & Maldives shared his vision behind partnering with the best creative school in the world – "Sri Lanka has epic creative potential. We want students and professionals here to have an opportunity that allows them to not just explore their passion and be inspired, but also to find a foundation to build their creative careers on and a bridge that connects them to the world. We are very excited to invite the creative thinkers of Sri Lanka to come join a global community of designers, writers, strategists and innovators to take the power of our island's creativity to the world."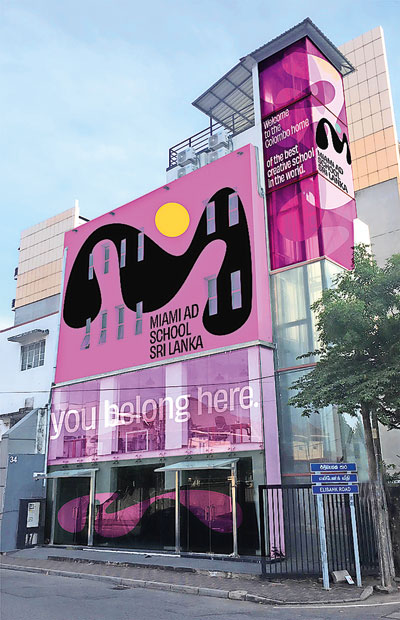 Our Institutional Advisory Committee comprises the Miami Ad School's Board of Directors – a global team of leading creatives, innovators and strategists ensuring that creative bravery and innovation is at the heart of everything we do.
"We are very excited to welcome Sri Lanka to the Miami Ad School network that is transforming creative education with our 16 campuses worldwide. Our approach is not a cookie-cutter program that limits students but a chance for the students to create a program that is ideal for their unique talents, and ambitions. It's a great joy to be part of Sri Lanka's creative future" said Pippa Seichrist, Co-Founder and CEO of Miami Ad School Worldwide, addressing the launch of Miami Ad School Sri Lanka.
With creativity as our lifeblood, Miami Ad School believes in artistic revolution, relentless passion, and wild optimism that break free from the norm. Here we have a place for everyone with a series of Portfolio Programmes, Master's Programmes, Bachelor's Programmes, and Bootcamps. Our curricula stay on par with the evolving world, with each programme creating opportunities for students to interact with international clients and provide solutions for real-life problems.
You can tell when a school is good from their graduates – and our alumni are championing creativity worldwide and are amongst the top creatives, strategists, designers, digital marketing gurus, and brand architects of the world. They are a true testament for the beliefs and passion of Miami Ad School and their creativity has inspired incredible campaigns and innovations in top organizations and agencies such as BBDO, Ogilvy, Droga5, Goodby Silverstein, Facebook, Google, Oracle, Adobe and many others.
Our students are educated and inspired by the best of the best which is why Miami Ad School is the world's most awarded creative school in the world. From advertising and social media to groundbreaking innovations our students have been shining at international award festivals including being named Cannes Lion Future School of the Year and claiming the Gunn Report School of the Year title for 4 consecutive years.
The first programmes to go live in Sri Lanka are the Strategy Bootcamp and Social Media Bootcamp with classes commencing on 1st of February 2021 for Strategy Bootcamp and April for the Social Media Bootcamp. The 12-week programme offers students a diploma certificate, Miami Ad School Bootcamp alumni status, and access to a global alumni network of the industry's best strategists. The Strategy Bootcamp is an incredible opportunity for students and professionals that want to take their career to the next level, with all graduates having the opportunity to attend portfolio reviews and interview with top clients and agencies in Sri Lanka and gain job leads throughout their career.
Calling all writers, designers, strategists, brand custodians, content daredevils, social media enthusiasts and innovators of Sri Lanka – Make your unique dreams and goals a reality surrounded by unparalleled ingenuity, extraordinary resources and a global network of creative champions.
Welcome to the Colombo home of the best creative school in the world.
You belong here. Email us hello@miamiadschool.lk or call on +94 74 151 7415 for more information.