Teachers Endorse the Internationally recognised Qualifications Conducted by Prospects Academy
View(s):

Diploma to Master's in Teaching, Education and Early Childhood Education

Prospects Academy, a leading and well-established higher education institution, which has been in operation for over a decade, offers a wide range of qualifications from Diploma, Bachelor's, and master's degree programmes in Education, Early Childhood Education and Teaching. These qualifications are awarded by internationally recognised universities and awarding bodies.

A joint venture partner of the Ladies College Institute of Professional Studies (LCIPS), which is a subsidiary of Ladies College Colombo, Prospects Academy has been in the forefront and a pioneer in teacher education in Sri Lanka.

OTHM Level 4-6 Diploma's in Education, Training and Teaching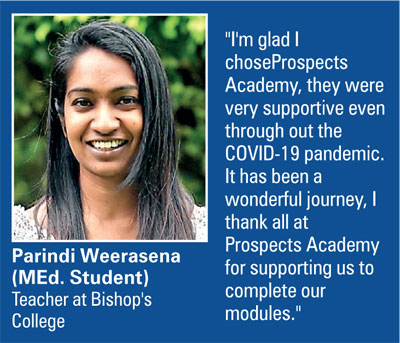 OTHM is a UK awarding body for Ofqual accredited and regulated qualifications. The Office of Qualifications and Examinations Regulation (Ofqual) regulates qualifications, examinations, and assessments in England. Level 4 is equivalent to the 1st year of a bachelor's degree, and level 6 is equivalent to a bachelor's degree. These qualifications are internationally recognised and provide multiple pathways and options for teachers to earn a bachelor's and master's degree, at Prospects Academy in Sri Lanka, as well as at universities overseas, including in UK, Australia and Malaysia.
OTHM Level 7 Diploma in Education Management and Leadership
This qualification is equivalent to a Postgraduate Diploma and can be completed within 8 months. Students can then proceed to a MA in Education management and Leadership, awarded by Chichester University UK, by only submitting the final project, which can be completed within 4 months. The provides the students with the opportunity to earn an internationally recognised UK Master's Degree within just 1 year.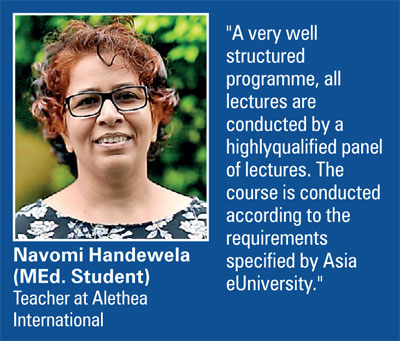 Bachelor of Early Childhood Education
Prospects Academy was a pioneer, to offer a Bachelor's in Early Childhood Education in Sri Lanka, having commenced its 1st batch in 2017. Students have 2 pathways to obtain this qualification. For students who prefer to pursue this qualification in Sri Lanka, Prospects Academy offers the degree completion, awarded by Asia e University, Malaysia, which is UGC approved and internationally recognised.
For those who opt to proceed to Australia, to complete the qualification, Prospects Academy offers 1 year of study in Sri Lanka, and students can then transfer to Deakin University Melbourne, to complete the Bachelor of Early Childhood education, by studying a further 2 years. On completion students can apply for the licence to teach in the early childhood sector in Australia.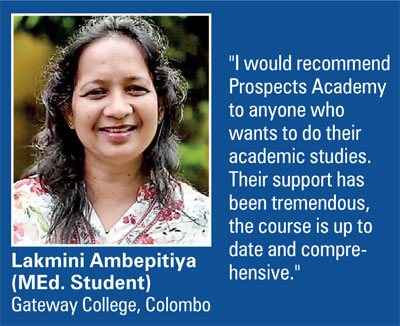 Master of Education
Prospects Academy also offers the Master of Education awarded by Asia e University Malaysia. The duration of the programme is 1.5 years. The entry criteria is a bachelor's degree in any field. Those who are above 30 years of age, with a recognised diploma level qualification, and at least 4 years of teaching experience will also be considered for this programme.
Prospects Academy recently commenced the 9th intake, and currently have enrolled teachers from leading government, private and international schools in Sri Lanka, including Royal College, Ladies' College, Bishop's College, British School in Colombo, Colombo International School, Gateway College and Lyceum International school.
Applications are open for the January and May 2021 Intakes.
Contact: 072 83333 87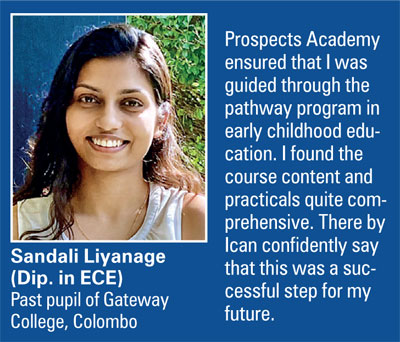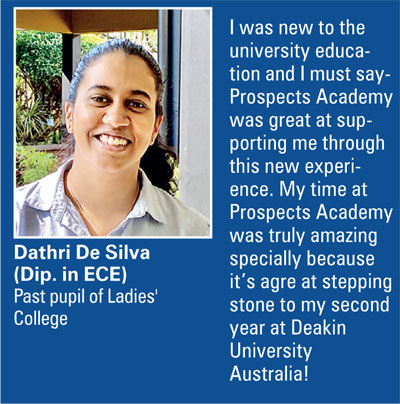 Prospects Academy
27th Lane, Inner Flower Road,
Colombo 03.
info@prospectsacademysl.com
www.prospectsacademysl.com