Government supports Rotaract start up
View(s):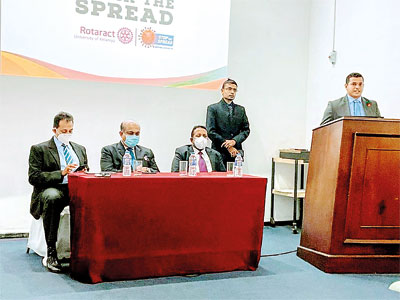 Rotary Sri Lanka continued its thrust to support the Government of Sri Lanka on the fight against Covid-19 in a systemic manner with the STOP THE SPREAD by launching A unique app that could track those who have been exposed to COVID- 19 Virus. The innovation was launched at the Sri Lanka Foundation Institute Auditorium with the Chief Guest being  Dr Dhammika Adikariwattage the Medical Officer for Heath – Central Colombo.
Track the Spread – an initiative of The Rotaract Club of Kelaniya 
The project was launched by the Rotaract Club of Kelaniya University and it been selected by the Government of Sri Lanka to be Test Marketed in the Colombo supports the Government theme to support startups said the District Youth Service Chair for Sri Lanka & Maldives Dr Rohantha Athukorala. What's unique is that this app in an integrated innovation where ordering of goods from supermarkets, pharmacies can be done whilst also bill payment can be done for the utilities like Sri Lanka Telecom, Sri Lanka Electricity board which is why a top global online company is interested to acquire in the long term he said.
The app branded " Track the Spread" was championed by the young Retractors headed by Rotactor Nipuna Rambukkanage the President of the University of Kelaniya club. " The apps would be beneficial for the Public Health Officers (PHIs) and those in quarantine. "Currently, when people are in quarantine, the PHIs visit them. But this could even expose the PHIs to the virus. Also, when some people are infected, the whole area is under isolation. This can be inconvenient. That's why we developed this system, so this process could be more efficient and convenient he said.
The District Governor for Rotary Sri Lanka & Maldives Ajith Weerasinghe said that he is delighted on the strong overall strategy Stop the spread that has reached almost 1.5 million people mainly in the youth households which was driven by the 6000 Interactors and how Retractors have done more economic linked projects like ' Track the Spread'.
Rotary was the first  service organisation to supported the national efforts by launching the ' Covid control environment certification' together with a strong partnership with Sri Lanka Standards Institute( SLSI), which has been able to reach almost 300 entities accross the country. My sincere thanks to the Director General of SLSI Dr Siddhika Senaratne who championed the project which is the first globally. There is no other similar process globally said Dr Athukorala.