Explore your Canadian Dream with Flex Institute
View(s):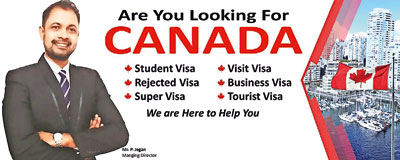 Do you worry about going to Canada, we can make your dream come true. We Flex institute have our reputation as a one of the leading Canadian visa consultation firms in Sri Lanka. We have been providing our services to multitude of candidates to achieve their Canadian dream over past ten years while confirming the success of their visa applications.
We are mainly a Canadian application center, which provides the assistance for, a student visa, a student- dependent, open work permit, visitor visa, Visa refusals, family visit visa, business visit, and super visa facilities. It is our content that, we are fortified with an experienced and a qualified staff who are available for your assistance throughout your visa process from the commencement till end. We guarantee you that, there are no delay in processing visa and we are here to provide you with the on- the- spot consultation service.
A number of our customers, from student to other categories have successfully received their visa applications. We have our services both virtual and face to face consultations for online applications to support you with any university or college from Canada as we are working with the most leading universities in Canada such as University of Canada West, Algoma University, Fanshawege College, Centennial College, Seneca College, Georgian College, Cambrian College, ST. Laurence College, University of Saskatchewan, Lakehead University. Further, we are ready to assist the clients to choose their colleges and universities of their discretion through careful observations on their academic and financial background.
The most important factor about Flex Institute is its reputation for succeeding refused visas and assist the clients to get their visa confirmed. There are abundance of students which, we have succeeded their visa refusals confirming their visa granted.  We are giving you the financial advices and the latest scholarships from the universities to assist you and educate you regarding the financial challenges.
Apart from the consultations, we are an IELTS training center which, we train and assist the candidates for their desired English Language examination such as IELTS, Duolingo English Test, TOFEL and PTE (academic) .
Thus as an experienced visa company we guarantee your visa success and make sure your desired Canadian dream come true.
Free Consultations
Available Scholarships
Over 1000 Academic Programs
Advice on Student visa,
Student Dependent, Business Visa, Family visit Visa,
super Visa requirements.
To find more, Contact us on: 0777761346
Flex Institute
No.6 A, Parakumba Place, Colombo 6.
Flexinstitute04@gmail.com
www.flexinstitute.lk