Brighten up your days with a little bling
By Shannine Daniel
View(s):
Compared to other accessories such as watches and sunglasses, jewellery has always retained its popularity among women of all ages.
With the pandemic and lockdowns changing society, some jewellery designers and entrepreneurs have taken to social media and the internet over the past few months to market and sell their unique pieces. Others had been in the business online for a few years.
Whether its earrings, bangles, bracelets, necklaces or other items, these online jewellery stores have interesting collections made of different materials and designed with various themes and concepts in mind.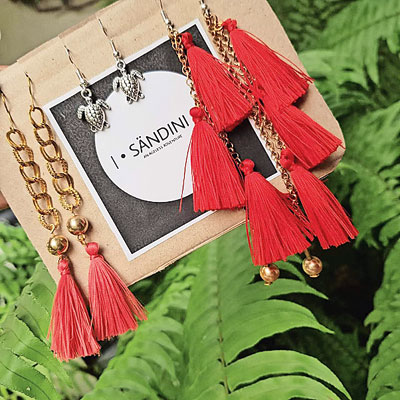 Sändini
Sändini is an accessory store on Instagram run by Law graduate Sanduni Bamunuarachchi. She sells handmade accessories such as necklaces, earrings, bracelets, anklets and body chains, but her speciality is tassel and beaded earrings. Many of her other accessories are made out of silk thread and beads, and she also customises her accessories based on her clients' preferences.
"The first ever accessory I made was a friendship band. When I was in university, my friends loved my wristband and bracelet designs, and wanted to purchase them. With demand increasing, I started Sändini Accessories in December 2017," Sanduni told the Sunday Times Magazine.
Sändini currently runs only on Instagram (sandini_lk), and orders can be placed through Instagram direct messages.  Sandini offers delivery free throughout the country, and a cash on delivery option for the Colombo and Kandy areas.
---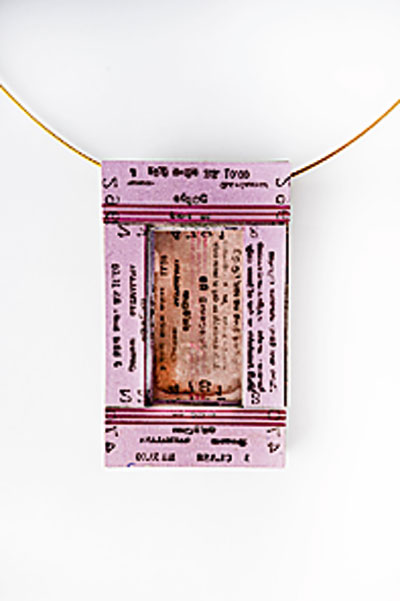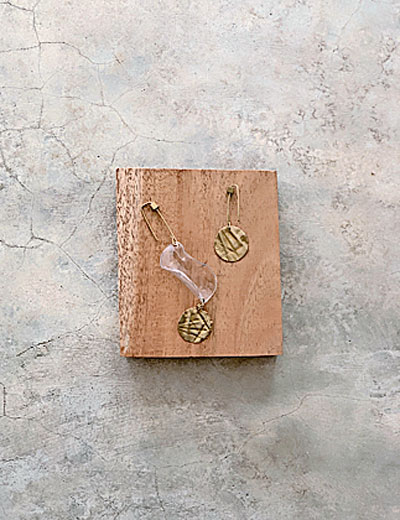 ALKE
ALKE is the brainchild of self-taught jewellery artist Sara Nazoor, who first showcased her work at ArtWalk 2015 and saw her designs placed third at the 2016 International Art and Design Competition conducted by Academia Riaci in Italy.
Sara creates contemporary one-off or limited edition pieces made from upcycled, manipulated material combined with precious and semi-precious material.
ALKE is currently retailing at PR – No. 41, Horton Place, Colombo 07. Items can be bought at the store and online through the PR website, and also through ALKE's Instagram (alke_19) and Facebook (ALKE) pages. PR delivers worldwide, and so does ALKE's social media pages.
"In the process of making our pieces we don't create more waste. We collect and reuse waste, so nothing goes back into the environment. Even after we sell a piece, a customer can send it back to us to get it repaired, redesigned or recycled, extending its life," Sara told the Sunday Times.
---
Jewellby Indii
Jewellbyindii founder and owner Indika Dissanayake says their collection contains one piece items not commonly available at other stores. They mainly sell earrings and necklaces, and are planning to diversify with rings, bracelets and other accessories.
"We began our business with a few necklaces, to find out the preferences of our customers. We want our items to be unique, so we don't do bulk orders. We also want to develop our business further, so we can customise jewellery for our customers," Indika told the Sunday Times.
Jewellbyindii functions through their Facebook page (Jewellbyindii) and their Instagram page (jewellbyindii). Customers can also reach them through WhatsApp (0775803057) to place orders. They deliver islandwide through a delivery agent.
---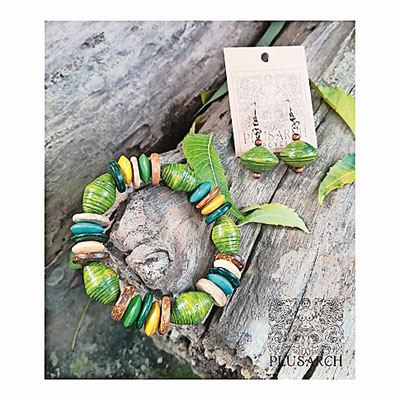 PLUSARCH UPCYCLE
Plusarch is an upcycled jewellery brand created by freelance designer Lakshi De Alwis and her husband Upendra De Alwis out of waste paper, such as old newspapers and magazines, kitchen waste and garden waste collected from their own home and elephant dung collected from temples.
"We also collect waste from another 10 to 12 houses for our jewellery production," Lakshmi told the Sunday Times Magazine.
Lakshmi and Upendra run PlusArch jewellery mainly through Instagram (plusarch_upcycle) and they also have weekly stalls at the Saturday Good Market at the Racecourse in Colombo 7 and the CAN Market at the Colombo City Centre in Colombo 3.
"Some Sri Lankans don't like jewellery made from waste, but others are interested because these items are eco-friendly. We have a lot of foreign customers, and I hope more Sri Lankans will purchase our products, so that we can conserve the environment," Lakshi said.
---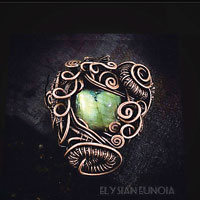 Elysian Eunoia
Elysian Eunoia is run by 27-year-old Isuru Nirangana. He makes 'wire wrapped jewellery' from different kinds of copper wire – such as electrical wires, telephone wires, A/C tubes and brake oil tubes to name a few. He also uses natural stones in his pieces.
Isuru initially tried his hand at wire wrapped jewellery after looking at photos on Pinterest. He has sold his items at the Colombo Good Market, the Doctor's House in Matara, and other tourist hotels. He now exports his pieces to France and the UK.
Isuru's pieces can be bought through his Instagram page (elysian_eunoia_) and they can be delivered via registered post or courier service around Sri Lanka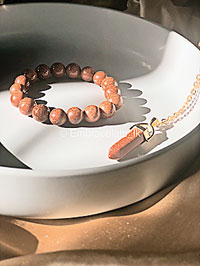 Embracelets
Embracelets.lk is an online venture run by 19-year-old Business Management student Nomaya Weerasinghe. She sells handmade bracelets and earrings made from 30 different types of natural stones.
Nomaya was inspired to start her business after a trip to Malaysia, where she visited a shop that sold stone jewellery and ornaments.
"They described how each stone was known for its unique energies and characteristics," she said.
"We don't sell anything other than jewellery right now, but we will be opening a new store called Embrace Jewellery for people who love minimal and trendy jewellery," she added.
Embracelets' jewellery can be bought through Instagram (embracelets_lk) and Facebook (Embracelets_LK), Their items are delivered by the Koombiyo Delivery Service and Tribe Logistics.
.
---