A Letter to you from
View(s):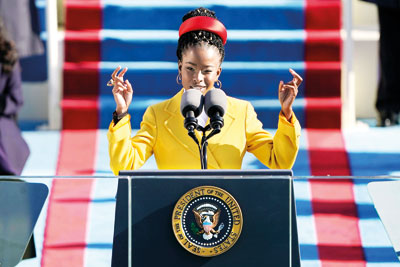 "Once little girls can see it,
little girls can be it. Because they can be anything that they want,
but that representation to make
the dream exist in the first place
is huge—even for me."
To you,
when you don't believe you can:
I grew up in the segregated south, being black was worse than being differently abled. Everything in my country was segregated – housing, medical care, transport facilities, education and even employment.
My father had little formal education, but he truly believed that having an education was important. I graduated cum laude from Harvard University with a degree in sociology last year.
The reason I turned to writing at an early age was to cope with my speech impediment, something common I share with the 46th president and another inaugural poet, Maya Angelou. Something good always come from the worst of things. I think it applies to everything in lifeAt 14, I joined WriteGirl, an L.A.-based nonprofit organization that helps empower teenage girls through creative writing. Throughout my high school years, I found my voice by attending WriteGirl's monthly creative writing workshops and was matched with writing mentors for one-on-one mentoring. While in the programme, I was named as the first-ever Los Angeles Youth Poet Laureate in 2014. By the following year, I published my first book of, "The One for Whom Food Is Not Enough."
Then on to more interesting things, I was given the opportunity to write a poem for the 46th President Elect, now President Joe Biden for his inauguration.
The Hill we climb
"Americans and the world, when day comes, we ask ourselves where can we find light in this never ending shade?
The loss we carry at sea we must wade.
We've braved the belly of the beast. We've learned that quiet isn't always peace.
In the norms and notions of what just is isn't always justice."
"And yet, the dawn is ours before we knew it. Somehow we do it. Somehow we've weathered and witnessed a nation that isn't broken, but simply unfinished.
We, the successors of a country and a time where a skinny Black girl descended from slaves and raised by a single mother can dream of becoming president only to find herself reciting for one."
"And yes we are far from polished far from pristine but that doesn't mean we are striving to form a union that is perfect. We are striving to forge a union with purpose to compose a country committed to all cultures, colours, characters and conditions of man."
Climbing a hill at once will leave you breathless, but doing so step by step figuring out the best ways forward will leave all of us victorious. When I penned this poem, I took in to account everything the country was going through. There is no sugar coating in this.
I wanted to tell the nation, and the world, that Americans could rise above the hatred. We will not march back to what was. We move to what shall be, a country that is bruised, but whole. Benevolent, but bold. Fierce and free.
I wrote one piece – and then after the Capitol riots earlier this month, I altered it to include the events because of their huge social and political significance.
It's important that we remember,
"We will not be turned around or interrupted by intimidation because we know our inaction and inertia will be the inheritance of the next generation.
Our blunders become their burdens. But one thing is certain, if we merge mercy with might and might with right, then love becomes our legacy and change our children's birth right."
America deserves to be free from its own chains and hypocrisy.
And for us, little girls and women, and anyone who has been denied their opportunity to realise their full potential, don't stop here. Take one day at a time, one breath, and one step, keep moving forward and surely but slowly, your goals will be within your reach.
See, with my speech impediment I had to strive to be better than I could imagine myself to be. I don't look at my disability as a weakness. It's made me the performer that I am and the storyteller that I strive to be. When you have to teach yourself how to say sounds, when you have to be highly concerned about pronunciation, it gives you a certain awareness of sonics, of the auditory experience. I am who I am, because I embraced who I am.
I believe in realising my potential, and I have a feeling this world can be so much better with leadership which guides everyone to be better humans. I am now the first person to announce my intention to run for president in 2036, the first election cycle in which I will be old enough to do so. I am 22 years old this year. Vice President Harris reinvigorated my plans and she believes, a skinny black girl raised by a single mother being the spotlight gives hope to so many children across the world.
"When day comes we step out of the shade, aflame and unafraid. The new dawn blooms as we free it, for there is always light, if only we're brave enough to see it, If only we're brave enough to be it."
- Amanda Gorman
Written by Devuni Goonewardene
(Direct any feedback and discussions to
devuni@gmail.com)