CMA Speechcraft Batch 20 makes history in conducting Awards Ceremony Online
View(s):

The Speech Craft programme conducted by the Institute of Certified Management Accountants of Sri Lanka (CMA Sri Lanka) successfully completed Batch 20 re-writing the history book of the Speech Craft journey, when Batch 20 broke the barrier of conducting the Final Awards meeting online via zoom without holding the final physically at the CMA Auditorium, by default due to the new-norm and precautionary curfew in certain areas within the Colombo District.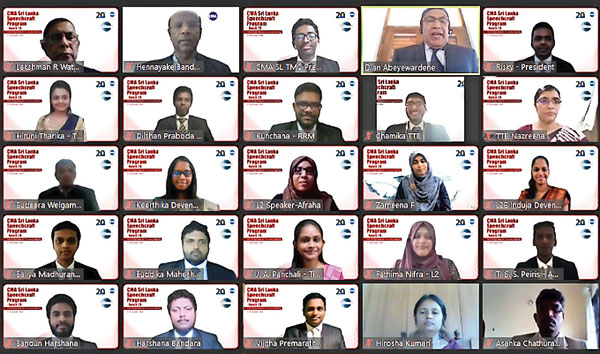 The Speech Craft programme introduced by the CMA to students in 2015 completed 19 batches conducting every final awards meeting physically, even though batches 16 – 19 both inclusive were compelled to complete their training online due to the COVID pandemic since March 15th 2020.
"The performance of the Batch 20 participants and the outstanding presentations despite the challenges of the virtual online platform is an example that others too could follow", said Prof. Lakshman R. Watawala in his address as the Chief Guest at the final awards ceremony meeting of batch 20, conducted on Saturday, 5th December 2020. Speaking further Professor Watawala commended the participants of batch 20 for their courage to volunteer to be the first batch to conduct the final awards meeting online.
The uniqueness of Batch 20 starting a new chapter in the annals of the CMA Speech Craft by conducting the awards meeting online in 2020, sets the tempo for many students who are overseas or in remote parts of the country to join the speech craft programme online to obtain the ACMA accreditation by becoming a member of CMA Sri Lanka.
The result was outstanding with three level 2 speeches on "Child Abuse", "Take-a- Break" and "Are you there for them" giving insightful and emotional advice on the reality of the situations in our daily life. These speeches were followed by two inspiring and motivational level 2 speeches, giving hope and advice for a better tomorrow.
The speeches were presented with eloquence, style and clarity moving the audience to react positively. The prepared speeches were followed by six Table Topic speeches on varied topics entertaining the audience and distinguished invitees.
The historic presentation of Certificates online was done by President CMA Sri Lanka Prof. Lakshman R. Watawala and President CMA Toastmasters Club TM Mayuran Ramanathan. The awards segment was conducted by the Course Director.
An eloquent Vote of Thanks was presented by a speechcrafter, appreciating the excellence of the programme, thanking the visionary leadership of Prof. Watawala for making the Speech Craft module mandatory to obtain the CMA membership. Further kind words of gratitude were showered upon the Course Director Mr. Dian Abeyewardene and Mrs. Shanthi Maheswaran head of administration and the IT team who facilitated the final awards meeting on the virtual platform for the very first time.