"KDU Information Centre" and Official Establishment of "KDU Intranet" open in grand style
View(s):

A new Information Centre was declared open by the Vice Chancellor, Major General Milinda Peiris RWP RSP VSV USP ndc psc at General Sir John Kotelawala Defense University, on 25th November 2020 at 0915 hours. Deputy Vice Chancellor (Defense and Administration), Deans of the Faculties, Directors, Heads of the Departments, other senior military officers and academic staff were present at this event.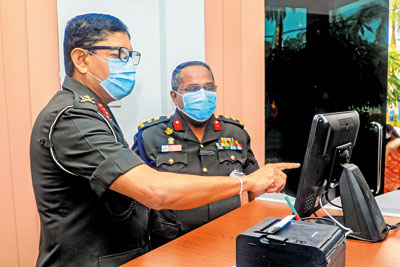 According to the Vice Chancellor's direction and Director of Centre for Information Technology Support and Development Services (CITS & DS) Brigadier Laknath De Silva's guidance, the Information Centre was established at KDU with state-of-art facilities.
A new KIOSK machine with touch screen technology was assembled and introduced by CITS & DS of KDU. This new KDU KIOSK facilitates eligibility checking for available degree programs as per student qualifications, and it helps prospective students/parents/ guardians to identify and decide on new pathways of Higher Education available at KDU.
KDU Information Centre is a space for the general public to access information about General Sir John Kotelawala Defense University on their own without any office assistance. In addition to that, the new KDU KIOSK facilitates students to access all academic information and their progress and to make inquiries at the Information Center without accessing the faculty offices.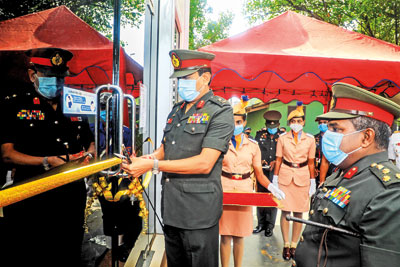 The Kiosk machine servers internal and external information requirements as one stop service at the Information Center premises with automated 'Queue management' facility.
At this event, the Vice Chancellor highlighted and appreciated the initiatives taken by the Director CITS & DS and his team for the introduction of an innovative product to automate internal processes in a Higher Education environment, with especial focus on its own products within the University with the application of Information Technology.
Secondly, the Vice Chancellor established the automated services developed by Centre for Information Technology Support and Development Services as "KDU INTRANET" on the KDU WEB which is to manage internal academic and administrative operations of the KDU through Finance Management System, Procurement Management System, Logistics Management System, Exam Result Management System, Employee Information Management System, e-KDU 2020 Resource Management system and KDU Student Portal together as one ERP solution.