The one who didn't bite the dust
By Ishan Samaraweera
Out goes Pathirana -the allrounder In comes Pathirana -the coach
View(s):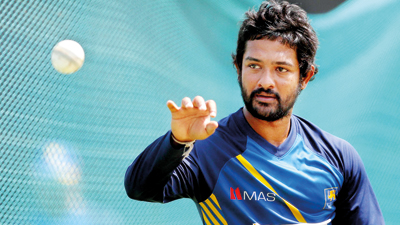 Former Trinity College and Sri Lanka Under 19 skipper Sachith Pathirana was one of the youngsters addicted by 'cricket fever' inspired by Sri Lanka's first World Cup victory under Arjuna Ranatunga in 1996.
Whereas many were not able to realise their aspirations, Pathirana nurtured himself to become a 'wholesome' cricketer using his talent to win his national cap in 2015.
"The 1996 World Cup victory was my main source of motivation to become a professional cricketer and I am proud about the fact that I was able to represent my country at the highest level of the sport that I adored the most," he told the Sunday Times.
Despite making useful contributions during the span of two years in 19 ODIs (One Day Internationals) and five T20s (Twenty20), Pathirana failed to cement his place at the top level as a bowling allrounder.
He considers himself retired at 31 and has already decided to change his fortunes by becoming a coach. Presently he serves as the spin bowling coach of the Sri Lanka Under 19 team.
A left-arm spin-bowling allrounder, Pathirana captained the Sri Lanka U19 side when he was just 17 in an ODI Triangular Series against England and Malaysia in 2007. A year later he was the cynosure of all eyes at the ICC U19 World Cup, raking in 231 runs and claiming 10 wickets.
He began his first class career at Colombo Cricket Club in 2008, moving to Ragama Cricket Club, before changing over to Chilaw Marians in 2012 where he had a stellar career.
Starting cricket at 11, Pathirana grew under the shade of Sunil Fernando who conducted an academy where he learnt the basics. Pathirana went on to play for the Trinity senior team for eight consecutive years, which stands as a record in the history of school cricket.
He received school colours in 2004 and was awarded the prestigious 'Trinity Lion' for his achievements in cricket in 2007. He prospered at the Under 19 level by claiming 64 wickets in 23 matches, a Sri Lanka Youth record. He also holds the record for the most wickets in Youth Test cricket.
"During the time I started playing, there were only 10 first class teams and the tournaments were more competitive. As a result, all the teams were very strong and the abilities of the players were tested frequently," he explained.
When Pathirana made his international debut in 2015 against Pakistan, he had a wealth of experience having played domestic cricket for seven years. His last appearance for Sri Lanka was in 2017.
"I didn't get consistent opportunities to perform and I was under immense pressure due to the sense of insecurity in the team. That supposedly affected my performances on the field as well," he lamented.
Pathirana was flabbergasted when the selectors did not give a reason for his exclusion from the national team frequently. He also felt aggrieved that the selectors neither gave proper guidelines for him to make a comeback.
Before making the crucial decision of continuing or not, Pathirana had a conversation with former head coach Graham Ford with whom he worked closely. Ford urged him to rethink his decision but Pathirana had already decided to become a professional coach.
With no hopes of continuing as a player, Pathirana decided to impart the knowledge that he acquired for the next generation of cricketers. He acquired the required coaching qualifications in England and Sri Lanka.
Today he works closely with youngsters, charting a fruitful path as a qualified coach and a better 'man-manager', which he terms is the ultimate task of a good, high-performing coach.
"Foreign coaches are good man-managers. I believe Mickey Arthur is one of those coaches next to Tom Moody, Trevor Bayliss and Graham Ford, who can lead our team back on track as those days," he elaborated, while voicing his opinion on the lack of quality school cricketers coming out to the main stream.
Pathirana rubbished the notion that there has been a decline in the production of talent from schools. He affirmed that there is abundance of talent at school level, but critics should stop comparing them with the past generations.
Sri Lanka's youth coach has aspirations of being head coach of the senior national team.
"My ambition is to become the head coach of the national team in the future. Local coaches have not been successful in the past but I want to change that trend by becoming more consistent as a coach," he said.