Start a Swinburne Degree from the Comfort of your own Home
View(s):

At Swinburne, you can reach your study and career goals through a wide range of courses and pathways. Whether you're studying at one of the modern campuses in Australia or Malaysia, or are undergoing the degree at the Nawaloka College of Higher Studies, you are assured of the same quality of education.

Swinburne University of Technology
Swinburne has an international reputation for quality research that connects science and technology with business and the community. It's standing in prestigious world academic ranking lists reflects our commitment to high-quality teaching and research and graduate outcomes. Some of these rankings and ratings include:
In 2020, Swinburne once again ranked in the THE Young University Rankings, placed at number 63 out of 250 institutions, Swinburne was ranked among the world's top 400 universities by the 2020 Times Higher Education World University Rankings, The 2021 QS World University Rankings ranked Swinburne in the world›s top 400 universities, placing the university in the top 3 percent of universities worldwide, Swinburne was ranked number 45 in the 2021 Top 50 Under 50 list, an index of the world›s top universities under 50 years old, Swinburne was ranked one of the world›s top 400 universities by the prestigious 2020 Academic Ranking of World Universities (ARWU).
In addition, Swinburne was recognised as having one of the best design schools in the world by the 2021 QS World Rankings of Universities by Subject. We were listed in the top 50 for the Art and Design subject area.‌
Industry connections and workplace experience in a country of your choice
For over 50 years, Swinburne has been partnering with leading Australian and global organizations to offer students authentic workplace experiences. These create opportunities for valuable workplace experiences. On top of that, industry representatives inform and shape the curriculum. The Work-Integrated Learning program offers six- and 12-month paid work placements, during which you could find yourself working with prospective employers and developing valuable industry networks.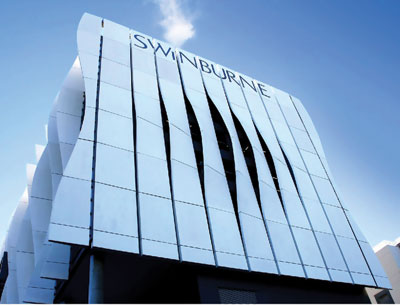 Nawaloka College of Higher Studies
NCHS is a provider of globally recognized higher education qualifications. Located in the heart of Colombo, the NCHS campus consists of modern facilities, providing students with an international learning environment.  With a strong commitment to provide high quality education, NCHS offers distinctive benefits that are tailor made to suit the needs of each individual student.
A highlight of the partnership is that the study programs conducted at NCHS are identical to that of Swinburne, Australia and its other partner universities, and follow the same curriculum, methods of teaching and evaluations, ensuring high quality and international standards. The facilities at NCHS are built according to the specifications of the partner universities, ensuring that the students have nothing but the best!
Global Education Network
NCHS has also partnered with the global leaders in education, the California State University Monterey Bay, California State University San Marcos, California State University Bakersfield, California State University Sacramento, California State University Northridge, California State University Fresno, California State University Humboldt and the State University of New York at Albany. This enables NCHS to offer a plethora of subjects to the students. NCHS is also proud of its newest partnership the Ulster University in UK.  The partnerships will eradicate most of the impediments that deter students from studying in the country of their choice.
To learn on how you too can plan your future together with a prestigious Swinburne programme at NCHS, call 0777 899 998/0115 899 998 or email info@nchs.edu.lk