Revamping/ rebranding Batik and Handloom in Sri Lanka
View(s):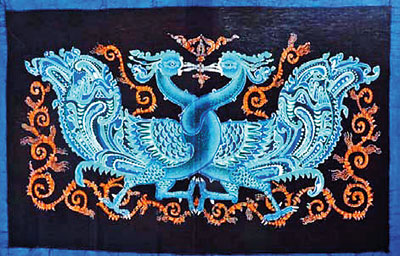 Weaving has been an integral part of our culture and civilisation for thousands of years and it is stated in our written history of 2500 years.
We as a nation have been capable of making our own clothing, which indicates how developed we have been as a social eco system throughout our history. However, history doesn't provide enough evidence on the evolution of handloom and batik though these industries have contributed to the GDP of the country. Handloom and Batik later had to have a focus on the tourism industry as the Sri Lankan government removed 100% levies on imports of fabric and finished garments as they believed in comparative advantage which was recommended by economic experts who advocated globalisation.
With the Covid-19 pandemic hitting the world in an unprecedented level, as economies are shrinking and as imports have become a burden on the balance of payment due to increase in exchange rates, the time has come for us to re-visit our strategies.
In this backdrop, there are two industries which were dying a natural death that have found their way back to the market. Following the direction set by His Excellency the President, Gotabhaya Rajapakse, a separate ministry is now established to revamp batik a handloom under a positive and pleasant personality who truly believes in upbringing and rejuvenating local industries.
As passionate and energetic as he is about the sector, he seems to be backed by true professionals in setting up objectives, strategies and KPIs to achieve a national goal with regards to the industries under his purview.
As Marketers, it's interesting to look at as to how a marketer can play a role from the perspective of brand building; building a strong brand for Sri Lanka Handloom and Batik.
1.            Identification of pain points – Any brand needs to address the pain points that the customer or consumer encounters with the brand. As far as batik and handloom are concerned, the pain points are; less color fastening (Fading or reducing of colors), not easy to drape, wash and iron and also not having places to buy. On top of these utilitarian pain points one of the main issues that   prevail in the industry today is lack of new designs and vibrancy in colors. Addition to the product based pain-points there could be another pain point which is directly connected with the price. As the intermediaries retain a fat layer for themselves the manufacturers have lost the opportunity of making sufficient income and consumers keep paying an exorbitant price. This itself has become the bottle neck which prevents industry growth, as Batik and handloom have become more of a niche product which is limited to the spending cluster of the market.
2.            Identification of hot-buttons – Whilst the whole world is being paranoid about COVID-19 pandemic, Sri Lanka is enjoying the benefits of being disciplined right from the point where the pandemic began. As a result, it's predicted that Sri Lanka will have many opportunities in the tourism sector in time to come. Not only that, there seems to be an inclination of the local consumer towards purchasing and consuming locally made products. On the other hand, the government is keen to save her reserves which are spent on imports as Sri Lanka imports close upon 5mn sarees in a year from various countries. Not only that but also Sri Lanka has become a dumping yard for cheap finished apparels which are flooded through various formal and informal sources. These conditions have made a conducive environment for Sri Lanka to get into local apparel, batik and handloom.
What are the gaps identified
in these industries?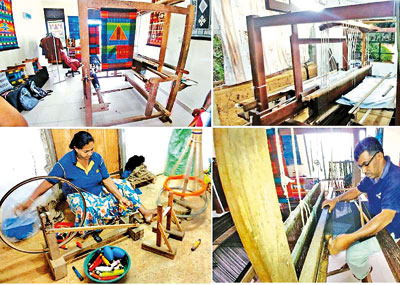 There are six main gaps pertaining to the sectors which are categorically identified by the minister and his team.
i. Design and Development – As the industry was dying a natural death over the years, there has never been an organised well thought process in promoting new designing to the sector. The designs which are used by the majority of manufacturers are staled designs which were used decades back when these industries were booming in Sri Lanka.
ii.Market Demand – If the sectors are to grow and prosper, there has to be a continuous demand created to support the production. As of now the industry is more or less waiting for orders but this is not going to be viable if the industry is to be developed.
iii.Raw Material – There is no proper supply of quality material in the market and also the prices of material are sky-high due to low volumes that prevail in the market. The challenge is to provide a consistent quality material flow which can be purchased by the manufacturers at an affordable price. Intermediaries trying to make profits with raw material is not a positive sign for any industry as it will prevent new players entering the industry as there is no motive for a new comer to enter the market where there is no room for profit making.
iv.Productivity and Technology – Productivity of handloom is at a bare minimum level due to usage of handloom machines which have traditionally being used by domestic manufactures. Also the machines which are under-utilised or un-utilised are not supporting the industry to reach its true potential. This has also impacted the income generation potential of the industry as the number of units a machine can make depends purely on the number of labour hours. Introduction of machine-loom will be a possible solution for these issues.
v.            Skills and Human Resource – Skilled labour and human resources are two key elements which can decide the success of this industry. The sector is in danger as the younger generation is reluctant to be a part of this industry due to low wages and earning potential. As mentioned above technology will have to play a key role in this aspect and training to up-skill labour is something of paramount importance at this point of time. The training schools which are governed by the Provincial Councils are not adding any value to the process as they are non-operational or semi-operational due to various issues such as lack of funds allocated to Provincial councils particularly for this purpose. Lack of ownership and lack of focus have also been issues in the sector.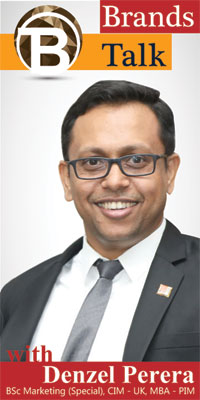 vi.Sustainability – In addition to the sustainability of the industry itself, environmental sustainability is also a concern at this point as these industries can contribute towards water and soil pollution. This aspect of the operation will require a considerable investment but it will pay the price when it comes to the point of sustaining the industry in the long run.
As a true brand marketer after considering the MACRO and MICRO issues pertaining to the industry, the next step would be to set objectives and strategies. It's evident that this industry needs an overall instant boost to kickoff operations. There will have to be investments in the fields of technology, R&D, Designs, training, market development, channel development etc. Assuming that the hurdles are overcome, what would be the thinking that can drive a branded market for this industry is the question in hand…
Branding challenge and Strategy
The real challenge for the industry as mentioned above is to create a sustainable demand. There can be various approaches that the ministry can take in addressing this aspect of the strategy.
i. Positioning the Saree as a beauty enhancer of Sri Lankan ladies – Changing consumer habits is a challenge to overcome with consumer insights. As far as this national task is concerned, it will also be about creating a national movement with a valid reason to buy local products provided they bring novel designs to meet the expectations of the market. As a matter of fact Sri Lankan ladies look elegant in sarees than any other dress. From corporate leaders, to teachers, to bankers many professionals such as lawyers and doctors still wear sarees as they know it enhances; credibility, respect and true femininity when they are in sarees. If the saree could be made affordable for masses and if it's widely being made available for ladies to buy, there will be a boom in the industry. Setting trends and creating value are the two things a true brand marketer is capable of and there will be many who can shoulder this task in the industry of advertising and marketing. Support of media (Both traditional and digital) will be required if this is to be implemented.
ii.National events – Sri Lanka should celebrate her national independence day with locally made flags marking the beginning of her journey towards economic independence. Ladies can wear a saree on Independence Day and gents can wear sarong and shirt which could be in the form of Batik or Handloom. Christians and Catholics can wear batik or handloom for Christmas when they go for mid night mass. This can continue till March / April 2021 where we celebrate Sinhalese and Tamil New Year. This movement has the opportunity to unite Sri Lanka under one flag and needless to say we can make batik outfits for Muslim brothers and sisters for their festival days too.
iii.Product and category extensions – Without limiting the potential to everyday wear, the range can be extended to industry specific products such as bed-linen, pillow covers, cushion covers and wall hangings which are currently imported to Sri Lanka by spending dollars.
iv.Creating an Export Brand for overseas markets – through a nationally coordinated effort, the ministry can also conquer overseas markets where there are Sri Lankans who are awaiting quality local handloom and Batik products. Sri Lankans residing in various parts of the world can join hands with the ministry and it can generate much needed foreign income too.
v.            Creating a retail chain – Despite the quality and design aspects of the strategy, it also needs to look at the distribution aspect and price. Price has to be affordable for masses with an option given for exclusivity for those who need an extra quality product at a higher price. Both online and offline distribution is a prerequisite if this strategy is to work. Rebranding and revamping Laksala and Salusala and Schools of handloom will also be required along with online channels embedded in them.
vi.Establishing production facilities and training facilities – Any brand is as good as the quality of the offer or the product. A Brand created without a quality product won't last long as consumers won't come back to buy the brand. Hence, it's important that quality standards are specified and maintained across the industry even if it's made in small scale industries or domestically. Clean, neat production facilities, appropriate working conditions, attention to sustainability and ample facilities spread around the country will be primarily required for this industry to flourish.
vii.Attracting new players to the industry – this should be one of the key aspects of the strategy in meeting the demand which can possibly be created through a national level campaign for batik and handloom. As the industry has burnt the fingers of entrepreneurs and investors in the past due to poor decisions made by certain regimes, creating confidence in the minds of potential investors and industrialists is also an important element in boosting the sector. There should be a national level policy which would say that the macro factors such as government levies on imports will not be removed at least for ten years if the confidence is to be built in the hearts of the business community and manufacturers.
There is an opportunity before the country to drive the local economy through an innovative strategy which can pass its benefits to the needy segments in the country.
It will also add a new chapter in positioning Sri Lanka as a tourist destination. However, it will all be possible only if the government supports this industry and if a national level momentum can be created to buy the products.
We can be proud of us on the day we send the first container out of Sri Lanka which is full of handloom and batik products to another destination where there is a demand for these exclusive clothing. But the path is still opening for many stakeholders.
If each stakeholder group works only for their benefit, the ultimate goal will move away from us as a country. If we can rise together and create a proposition and a strong national brand for Batik and Handloom, not only will it generate revenues, it will also be a part of branding the nation for tourism which will most probably flourish when the pandemic is over.
If we can create 100 villages for batik and handloom within the next year and if we can support it with industrial input, we will get closer to the target of building a prosperous nation by making productive citizens and happy families which will be a  corner stone of a disciplined and a prosperous nation.