More than 8,600 complaints of election law violations during August 5 polls campaign
By S. Rubatheesan
1,500 allegations of misuse of state resources, more than a thousand charges by public officials and the misuse of development projects for political purposes - TISL says long delays in investigations and legal action by Police and AG's Department, complainants getting frustrated and losing trust in the rule of law
View(s):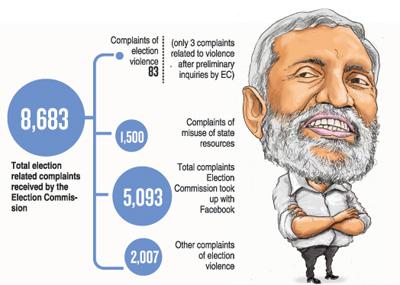 Misuse of state resources and improper conduct of state employees were the main complaints of election law violations received by the Election Commission, the Sunday Times learns.
Among the total number of 8, 683 complaints received by the Commission, at least 1,500 complaints are related to the misuse of state resources, in addition to other complaints over improper conduct by state employees while on duty and the misuse of state development projects for election campaign purposes.
In May, soon after the date for the polls was re-fixed, the Election Commission intervened to ensure state resources such as official vehicles and residences which were assigned to State Ministers and Deputy Ministers were not used for election campaign purposes. The EC urged that they be returned to the State immediately.
On March 6, a Cabinet paper prepared by the Prime Minister's Office was submitted and later approved to allow state ministers to use their official vehicles for campaign activities at a fixed fee of Rs 100,000 for a vehicle. On the same day, the EC issued a special gazette notification over the usage of state vehicles in addition to detailing other instructions on potential misuse of state resources.
When it comes to ensuring state resources were not being used for election campaign purposes, the Commission was mandated to take proactive measures against such incidents and the EC is now considering legal action against those who violated the law.
"We had asked Ministry Secretaries to ensure the vehicles assigned to former Ministers are returned amicably, and inform the Commission if there were any shortcomings or failure to do so," Assistant Commissioner Suranga Ranasinghe, told the Sunday Times. He heads Election Dispute Resolution Unit of the EC.
The Commission, following preliminary investigations, referred these complaints to the Police for further action.
Even though a month has passed since the August 5 Parliamentary polls, the Police is yet to finalise its investigations into complaints related to election law violations and reports of violent incidents. These were forwarded to the Police by the EC following preliminary inquiries.
Senior Deputy Inspector General (DIG) Priyantha Wijesuriya who was in charge of the Police election campaign unit said investigations were underway and the Police had already taken legal action against wrongdoers by filing charges in courts.
According to Police, it recorded 482 cases related to election law violations and minor incidents of violence. The investigations in 153 cases had been concluded, while 329 cases were still under investigation.
Among the total number of cases, 194 cases have been reported to courts while 288 cases are yet to be reported. In 398 cases, the suspects were known but Police are yet to identify the suspects in 84 cases. A total number of 569 people were taken into custody for alleged election law violations along with three state vehicles and 162 private vehicles that were allegedly used to commit election law violations.
Weeks before the August 5 polls, Transparency International Sri Lanka (TISL) launched the online election monitoring platform ApeSalli.lk utilising open source technology, which enables citizen participation in combating state resource abuse.
The platform is a user-friendly tool through which the people were able to submit complaints on incidents of misuse of public property across the country, and see them visually mapped across Sri Lanka. Once a complaint was lodged by any individual, it was independently verified by TISL before being published and forwarded to the respective district Election Secretariat for further legal action.
By the election day, the platform recorded 180 reports of alleged misuse of state resources and improper conduct of public officials. More than 160 of them were verified by the anti-corruption watchdog.
Among the complaints, the highest number of 42 were related to incidents where state vehicles were used for election campaign purposes. TISL received 40 reports of the misuse of state sponsored development activities by candidates and local politicians.
Significantly, there were 41 allegations of state employees acting in favour of political parties. They were found to be in breach of their official duties by taking part in election rallies during office hours, as witnessed by some TISL staff during a field visit in the Kalutara district.
The TISL's Programme for Protection of Public Resources National Election Coordinator Lakwijaya Bandara, said that when the Police and the Attorney General's department took a long time in filing legal action, even after the conclusion of the polls, the complainants felt frustrated and were losing trust in the rule of law.
"The process is not transparent as complainants are not informed of the state of the complaints lodged unless they pursue them actively," Mr Bandara said.
He expressed concern that still pending were even the complaints related to election law violations in the November 2019 presidential election.