SLIIT Eduscope Lecture Video Management System Showcases Advanced Digital Learning Environment
View(s):

The Covid -19 pandemic has resulted in educational institutions being compelled to harness and utilize available technological tools to ensure remote learning continues unhindered for students.

The SLIIT incubated Eduscope Lecture Video Management System (LVMS) has proven to be the ideal technology to deliver online learning across all faculties at the Institute.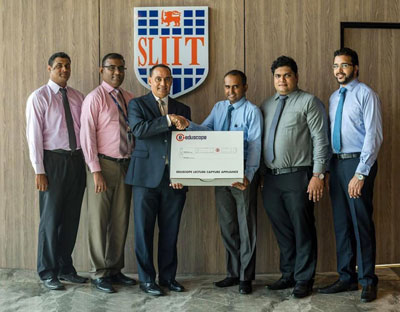 LVMS, a brainchild of Dr. MalithaWijesundara, Dean, Faculty of Humanities and Sciences, SLIIT was developed through a SLIIT incubated company known as Eduscope, primarily a  research and development company specializing in Lecture Capture Solutions.
Established in 2018, Eduscope introduced its first Lecture Capture Appliance Solution at the National IT Conference in September 2018. Success and recognition followed soon after with Eduscope marking a significant milestone in winning the e-Swabhimani award for Learning and Education in October 2019.
In December 2019, Eduscope secured its first commercial order from SLIIT, and subsequently selected lectures were recorded enabling students to revise content through the LVMS.
With the sudden onset of the Covid-19 pandemic, SLIIT was able to successfully overcome challenges in delivering education due to the availability of the LVMS technology.
Eduscope's LVMS became the primary mode of delivery to students who were stuck in their homes. During the 10-week period of lockdown which ended in May 2020, over 2800 video lectures were uploaded to the system and 9700 students viewed the content resulting in 480,000 views. Nearly 20% of the views were through mobile devices such as smart phones and tablets.
The Eduscope Lecture Capture solution provides a dual-channel recording that captures the lecturer and computer screen of the lecturer, independently and in Full-High Definition (FHD) resolution. Lectures are then viewable on any web browser on any operating system including those on mobile devices.
The Eduscope LVMS also provides up to the minute analytics of viewer behavior. This is beneficial to SLIIT as it provides an insight into what topics are difficult to grasp and what areas are interesting to students. In turn, the lecturer can observe the student retention during a lecture. This can improve the lecture delivery style and organization when planning future sessions.
SLIIT has invested in this system in multiple ways. Five of the largest lecture theatres have been equipped with the Lecture Capture System while the LVMS serves as the repository of all lecture recordings. Therefore, even a lecture recorded using any other tool can also be uploaded to the LVMS.
The second aspect of the investment is the IT infrastructure. The storage capacity and upload/download bandwidth was increased significantly as usage reached nearly 95% of all students. During peak times, the daily download volume reached 3TB. The third aspect is training of staff members on producing video lectures.
"I introduced the current Learning Management System (LMS) CourseWeb to SLIIT 15 years ago. However, LMS does not handle videos very well.
Videos require a large storage and require specialist ways to stream the video to students. This is where LVMS plays a vital role. Both systems are tightly integrated ensuring a seamless experience for all our students. We are indebted to SLIIT for their support and for utilizing the full potential of the system", noted Dr. Wijesundara.
While Dr. Wijesundara functions as the Managing Director and Chief Solutions Architect, he is ably supported by SLIIT alumni, PramadhiAtapattu, PrabathDhananjaya and Mithra Mayadunne who serve as the CEO, Head of Electronic Engineering and Head of Software Engineering of Eduscope respectively.
"This is a first for the Sri Lankan Higher Education System. Eduscope is proud to be a part of it. We are extremely thankful to SLIIT for supporting us in this journey," said Mr. PramadhiAtapattu, the CEO of Eduscope.