AI Academy – Sri Lanka's first dedicated Artificial Intelligence educational institute open for undergraduate enrollments
View(s):

The Artificial Intelligence Academy Colombo was launched with a vision to drive the knowledge economy in Sri Lanka and the South Asian region with a  bold focus on Artificial Intelligence, with the strong belief that it is the overarching technology that is poised to disrupt every aspect of our lives in the future. Housed at the Colombo Innovation Tower, in a unique Eco system , co existing with Design (AOD) The Academy of Design , Art (MMCA ), Museum of Modern & Contemporary Art & a collection of ground breaking tech initiatives, the AI academy is set to deliver what Sri Lanka needs for its next phase.

The Artificial Intelligence Academy

The launch of the AI Academy is fully supporting the government's agenda to reform the curriculum in higher education to meet local and global market demands and prioritize technology based education in driving faster economic growth, creating a skilled resource pool for economic transformation.

The AI Academy aims to support this agenda by deploying a unique education model which pays equal if not more prominence on the practical applications and implementation skills of its graduates versus purely emphasizing on the theoretical knowledge of the subject.

This flexible and relevant model was adopted with the clear understanding that the age old education model will not succeed when it comes to an ever changing, ever evolving technology such as Artificial Intelligence, which is updating and outdating itself at a very rapid frequency.

The AI Academy is committed to ensuring its graduates remain relevant not only by the time they graduate from a 3 year study program but also continue to be relevant throughout their careers and lives by equipping them with the right skills to thrive in a technology driven dynamic future.

A new learning approach

AI Academy encourages global leaders, entrepreneurs and digital pioneers to solve real-world business problems using emerging AI-based technology with creativity, design thinking and ethics. It places much prominence on developing the emotional intelligence and creativity of students which will be crucial skills in a machine led future. Such skills will not only be important to thrive in society but also essential in developing responsible AI products and services which are bound to impact human lives in many aspects.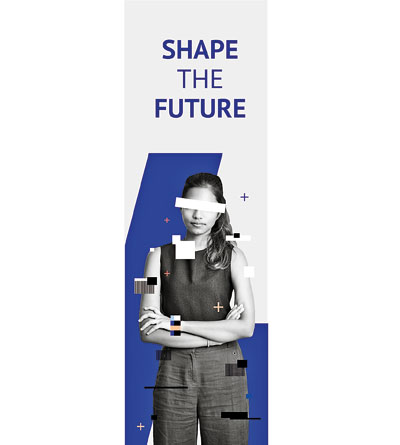 The learning model of the AI Academy is built on four key concepts that ensure the talent it produces are employable right away, well-rounded with both theoretical and practical knowledge of the technology and also remain relevant throughout their lives and careers despite the changing technology. The four concepts include project based learning, human centric approach, lifelong learning and incubation and entrepreneurship.
AI Academy believes in creating tangible positive impact through AI, which requires a solid mastery of AI concepts and latest technologies as well as business or domain knowledge coupled with hands-on experience. Therefore, its students are exposed to project based learning where they will have the opportunity to work on real-world problems in close collaboration with global leading industry partners, such as Microsoft, Amazon Web Services, Google.
It has already been established that the subject itself; Artificial Intelligence is ever-changing. The only constant in this exponential world, is change. Lifelong learning skills – learning to unlearn and relearn and applying the latest knowledge and technologies is therefore essential, which is why the AI Academy also focuses on creative problem solving, connecting and bridging different disciplines while staying on top of AI developments at all times.
Being well aware that algorithms and bots will take over quantitative and repetitive roles, forever changing the future job market, human soft skills such as creativity, empathy, responsibility, and the ability to work cross functionally in teams will become crucial in the future. Hence, the AI Academy's programs specifically include human centered domains such as psychology, design thinking and ethics.
To encourage students to lead and create an impact, the AI Academy provides an open innovation platform for new business ideas, with incubation services for students to spin out new business ideas fast, and for partners to capture investment opportunities thereby also inculcating entrepreneurial skills in students.
The undergraduate program
Futurists see a future where humans and machines closely co-operate, where many traditional job roles become obsolete and for which the best preparation is to develop new skills. As such, infused with a new learning approach the AI Academy is opening its doors for students looking to do their undergraduate studies in a field that will be the most sought after in the near future.
Admissions are open to all Sri Lankan and international students for a UK validated HND which is equivalent to the first two years of a UK Honours degree and on its successful completion, students will be able to progress to the final year of a UK BSc. Computer Science with Artificial Intelligence degree, to be completed in the UK or complete at the AI Academy, Colombo subject to validation.
"We have entered the age of AI and all successful ventures in the future will follow an AI-first strategy. One of the top reasons why companies today can't adapt to this new technology is lack of talent. We see a big gap for talent who both master the theoretical foundation as well as possess practical knowledge and hands-on experience of managing real AI projects.
Through the new education model adopted by the AI Academy, we aim to bridge this gap and groom leaders that are capable of creating real positive impact through this technology" says Lin Gong-Deutschmann, Co-founder/ Managing Director of the AI Academy
The program is available as full time or part time options to facilitate both post A/L students as well as professionals who want to expose and educate themselves of this disruptive technology. Enroll now for this unique program!
For more information: info@aiacademy.lk / call or WhatsApp : +94 77 200 5522