Sri Lanka Posts to resume limited foreign mail service from tomorrow
By Nadia Fazlulhaq
View(s):
Foreign post and parcel services, both via air and sea, will gradually return to normal from tomorrow, with international ports and airports gradually opening up, the Post Master General said.
The Sunday Times learns that depending on SriLankan Airlines' flight schedules, airmail service would operate to Britain, Hong Kong, Australia, Singapore, Qatar, Japan, China, Singapore, Germany and India.
Accordingly, letters and parcels would be sent to Hong Kong and Melbourne on May 20 and May 27, Beijing on May 20 and 23, United Kingdom (Heathrow) on May 19 and May 26, Japan on May 20 and 30, to Singapore on May 23 and 30, to Qatar on May 18, 25 and 29, to Germany on May 18 and 25, to Mumbai on May 22 and 29 and to Chennai on May 18 and 25.
Post Master General Ranjith Ariyaratne told the Sunday Times that as several countries had relaxed the lockdown and were opening up their international airports, Sri Lanka Post decided to resume foreign mail and parcel services. He said letters and parcels would be dispatched only after confirmation that postal services in the receiving countries had resumed their services and also depending on flights.
He said Sri Lankan Airlines had warned Sri Lanka Post that due to the uncertain situation, flights could be cancelled or rescheduled.
Sea mail will only operate to Britain, the United States, Australia, Japan, France, Singapore, India, the Maldives, South Africa, Greece, Canada, Hong Kong and Dubai.
Usually sea mail takes upto two months, but with the present pandemic situation it might take a longer period, the Post Master General said.
Those who are planning to send sea mail, including parcels, to Britain, Australia, Japan, France, Singapore, South Africa and Greece are requested to do so before May 25. Sea mail to Dubai, Hong Kong and the Maldives should be handed over before May 22, to the US and Canada before May 27, and India before May 28.
With regard to local letters and parcels, Mr. Ariyaratne said there was a backlog, but with limited staff, distribution was taking place gradually.
Sri Lanka Post employees came in for high praise for their handling of delivery of essential medicine during the curfew.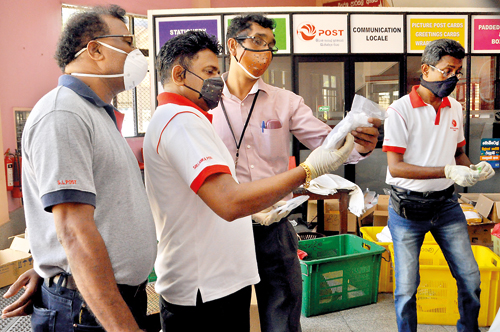 "Sri Lanka Post made a significant contribution by delivering medicines issued by state hospitals to patients who visit government hospital clinics. Delivery of medicine is still taking place. There will be delays in local mail and parcel deliveries, especially to outstations, as postal distribution via railways and SLTB buses has not yet been resumed," he said.
Meanwhile, the Universal Postal Union, of which Sri Lanka is a member, said its International Bureau had been monitoring the disruptions to the global postal supply chain and were looking for alternatives to help member countries and their designated operators (Sri Lanka Post here) airlift postal dispatches held in the offices of exchange of many countries.
The International Bureau is also advising members to use cargo flights as an alternative to passenger flights where possible. "There are indications that some airlines are also using their current spare capacity on passenger flights to carry cargo. They should explore this possibility with their partner airlines," the Union said.