Be cautious and assess situation before opening airport
By Kumudini Hettiarachchi, Ruqyyaha Deane & Meleeza Rathnayake
With dengue on the rise, if you have fever, see a doctor
View(s):
"Sri Lanka is safe at the moment and except for one big cluster, we are detecting only a few COVID-19 cases from among returnees from abroad who are in quarantine centres," said Consultant Physician Dr. Eranga Narangoda, urging caution before opening the airport to the outside world.
Dr. Narangoda who along with his team is treating a large number of COVID-19 patients at the National Institute of Infectious Diseases (NIID), Angoda, stressed that there should be a very careful assessment before Sri Lanka opens its airport.
In many countries, the infection is still not under control and if Sri Lanka is not vigilant, there could be another wave of infections, he said, when asked by the Sunday Times about the danger of a second wave of COVID-19.
The danger of a second wave (rebounding of the virus) has been seen in countries such as South Korea and Hong Kong, with public health experts across the world including the World Health Organization (WHO) urging that 'containment' measures should not be lifted too early.
China faced a resurgence of cases after the return of locals from abroad as also Hong Kong when its students came back from overseas. South Korea which had a second wave of infections after nightclubs and bars were re-opened, closed them again and imposed restrictions.
Germany, which was commended for being one of the more proactive European countries to mitigate the virus, is now reporting clusters of locally-transmitted cases, without an obvious reason.
"We need to ease the lockdown gradually and maintain strong preventive measures such as social distancing and hand-hygiene," said Dr. Narangoda, happy that currently there are no critically-ill patients in the Intensive Care Unit (ICU) of the NIID.
A youth who was in the ICU for six days has recovered and been moved to the ward, he said, adding that as of Friday morning there were 103 patients under his care.
Dr. Narangoda, when asked, said that there had so far not been Kawasaki-like illness in Sri Lankan children who contracted COVID-19, as reported from some countries.
The NIID along with the Universities of Colombo and Sri Jayewardenepura had initiated a few clinical trials on different treatment modalities, he added.
Meanwhile, Dr. Narangoda earnestly requested anyone who has fever to seek medical help. "Don't be fearful but see a doctor because dengue is on the rise. If not treated, we could see high mortality (death) rates."
Timeline

 May 10 – 16 cases were reported, of whom 13 were navy personnel, 2 close contacts of navy personnel and 1 returnee from Dubai who was in quarantine.
 May 11 – 6 cases were reported but their details were not given.
 May 12 – 20 cases were reported, 17 of whom were navy personnel, 2 close contacts of navy personnel and 1 returnee from Dubai.
 May 13 – 26 cases were reported, all of whom were navy personnel.
 May 14 – 10 cases were reported, 8 of whom were navy personnel and the other 2 relatives of navy personnel including a 1½-month-old baby.
 May 15 – 10 cases were reported but their details have not been released yet.

Since last Sunday there have been 88 new cases including 71 navy personnel and their contacts and 2 Dubai returnees in quarantine.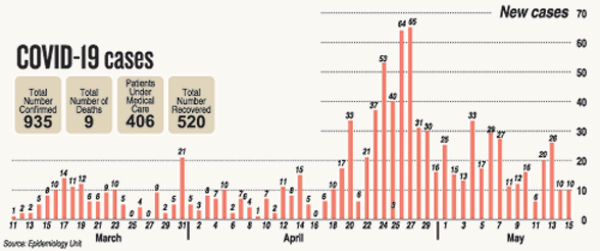 More men die of COVID-19 than women
As the new coronavirus (SARS-CoV-2) continues to dominate the world, spreading COVID-19, interesting facets emerged about it.
The virus seemed more partial towards men, with a higher rate of men than women being severely ill in China.
A review of data on 37 patients who died in Wuhan, the epicentre of the new coronavirus, published on April 29 in the journal 'Frontiers in Public Health' had found that men were 2.4 times more likely to die than women.
Even though both men and women had the same susceptibility to the virus, men were more prone to dying, it had found, a pattern which seemed to be repeating itself in other countries as well.
A look at numbers on May 5 from the state of New York in the United States of America indicated that 60% of the over 19,600 reported deaths had been men.
Experts have stated that there seem to be profound sex differences in immune systems which the pandemic was highlighting. There are key biological differences in the way men and women fight off infections, with women mounting a stronger immune response.
This is while hormones also helped provide women with a more effective defence as important immune cells have estrogen receptors.   Meanwhile, differences in behaviour could also be putting men at higher risk for severe COVID-19, there is conjecture. These may include indulgence in health-damaging habits such as smoking and drinking.
In Sri Lanka, of the nine COVID-19 related deaths, seven have been men and two women.
Kawasaki & toxic shock
syndrome-like disease in children
A number of children in countries such as the United Kingdom, the United States of America, Spain, France and Italy are reportedly affected by a "new phenomenon" which doctors are describing as being similar to Kawasaki disease and toxic shock syndrome.
Kawasaki disease is an illness that causes inflammation (symptoms include a rash, swollen glands in the neck and dry, cracked lips) in blood vessels throughout the body and often affects children under 5 years old.   However, the new phenomenon, called the Multisystem Inflammatory Disorder in Children & Adolescence is said to be also affecting older children up to the age of 16, with a minority experiencing serious complications.
A study published in the medical journal 'Lancet' has stated that some of the children suffering from this disorder have tested positive for COVID-19 or antibodies of the virus.
Major plans to brace for future health crises   
Isolation facilities in every district, NIID expansion & strengthening of testing on the cards through World Bank loan   
As Sri Lanka gradually eases the lockdown, many plans are underway to strengthen the health service to face future contingencies including infectious diseases such as COVID-19.
"We are hoping to set up isolation facilities, one in each of the 25 districts under a loan of US$ 128.6 million extended by the World Bank," said the Project Director of the 'Sri Lanka COVID-19 Emergency Response and Health Systems Preparedness' Project, Dr. Jayasundara Bandara on Thursday.
Among other important plans are the construction of an isolation centre within the premises of the National Institute of Infectious Diseases, Angoda, with all facilities including negative pressure rooms, ICUs and separate waste disposal and drainage systems.
The emergency response and preparedness project due to be completed by December 31, 2023, has the following components:
Emergency COVID-19 Response – this includes the establishment and strengthening of an Emergency Operation Centre to improve coordination and timeliness of national level activities in emergencies of pandemic nature; building capacity of health workers in case identification, contact tracing, prevention, counselling, risk communication and reporting through the existing surveillance information; providing personal and protective equipment (PPE); supplying diagnostic and other essential equipment, drugs; and increasing ICU beds and equipment.
Strengthening national and sub-national institutions for prevention and preparedness – this includes the establishment and strengthening of regional/district emergency operation centres and the setting up of a Biosafety Level 3 (BSL-3) laboratory at the Medical Research Institute (MRI).
Strengthening multi-sectoral national institutions and platforms for One Health – this includes conducting a needs assessment of national protocols for detection, surveillance and response systems for animal and human health infections; establishing a mechanism for the detection of existing and emerging zoonoses; and conducting awareness on anti-microbial resistance among human health, agricultural, and veterinary and enforcement of related legislations. (A zoonosis is a disease or infection naturally transmissible from vertebrate animals to humans. Zoonoses may be bacterial, viral or parasitic, or may involve unconventional agents.)
Explaining that it is a long-term health systems strengthening project, he said that there were also short-term measures that have been taken since COVID-19 came to Sri Lanka.
"The country needed a lot of things like PPEs and modifications to hospitals treating infected people. Other aspects included contact-tracing and PCR testing," said Dr. Bandara, adding that 500,000 PPEs have been procured under this project.
He said "we are also looking ahead" through the project. This is why isolation facilities are being planned for each district. Which hospital in a particular district would have such an isolation facility would be decided by the Health Ministry. A rough list of the potential hospitals which should have isolation facilities has been provided to the Health Ministry Secretary to make a decision by next week.
Reiterating that these policy decisions should be based on epidemiology, he said that in case a hospital in a remote setting cannot be designated to have an isolation facility, a base hospital may be selected. When an epidemic breaks out, the usual patients of such a hospital can be transferred to other hospitals, allowing for infectious patients to be accommodated there. Such isolation facilities will be backed by ICU facilities, laboratory testing capability and facilities for sterilization of equipment, all under one roof.
"These isolation facilities can be used in epidemics including dengue but when the epidemic eases they can be used to treat other patients," he said.
On a different track, Dr. Bandara pointed out that a country should have an emergency response team which gets activated when the need arises. This is why there would be a National Health Emergency Operation Room with branches in every district to respond immediately.
No decision on lifting on-arrival ban
No decision has been taken yet as to when the on-arrival ban imposed at the Bandaranaike International Airport (BIA), Katunayake, will be lifted, said the Vice Chairman of Airport and Aviation Services (Sri Lanka) Limited (AASL), Rajeewasiri Sooriyaarachchi.
The airport is open for departures and transits, he said, explaining that discussions are underway with the International Civil Aviation Organization (ICAO), the International Air Transport Association (IATA) and the World Health Organization (WHO) on the opening of the airport for others.
However, special flights are bringing back Sri Lankans from many countries. From the time the first group was brought in from Wuhan, China, 6,000 including around 2,500 in the past two weeks have landed at the BIA. All have been sent to quarantine centres. While all the aircraft are disinfected, the crew members are asked to self-quarantine themselves for 14 days, it is learnt.
Explaining the changes at the BIA, Mr. Sooriyaarachchi said that a new entry pathway has been established for arrivals to the country. When the airport opens, these passengers will go through a disinfection process.
Four people, one an AASL staff member and three from the cleaning service had got infected with COVID-19. They have recovered and been discharged from hospital. All their contacts were traced, quarantined and all precautions taken, he added.
Ports
While passenger ships are barred from calling at Sri Lanka's ports, cargo ship operations have been carried out without interruption, the Additional Managing Director of the Sri Lanka Ports' Authority (SLPA), Upali De Zoysa said.
Any crew members of cargo ships who disembark are sent into naval quarantine centres.
'Evidence-based action a must as we are in this for the long haul'
Epidemiology in the respective countries should guide the graded easing of lockdowns in the South-East Asia Region (SEAR), was the strong call which went out from SEAR Regional Director Dr. Poonam Khetrapal Singh.

"Countries in the region must continue to take evidence-informed action and conduct careful risk assessments while winding back public health and social measures. The focus should be on local epidemiology of COVID-19, to identify hot-spots and clusters and the capacity of systems and responders to find, isolate and care for cases, and quarantine contacts," she said.

Dr. Khetrapal Singh held a virtual technical briefing meeting with senior health officials of SEAR's 11 member countries including Sri Lanka, for the forthcoming virtual 73rd World Health Assembly session.

She cautioned that with countries now preparing to transition towards a "new normal" in which social and economic life can function, continued whole-of-government and whole-of-society approach would be critical.

The region with one-fourth of the global population, had around 122,000 cases and 4,000 deaths due to COVID-19 as of Friday morning. The region's countries are in various transmission scenarios and the cases are increasing.

In every transmission scenario, the core public health measures remain – rapidly detect, test, isolate, care and trace contacts, the Regional Director said, adding that moving forward we need to scale up these measures. "There can be no illusions: We are in this for the long haul."

At a virtual media briefing on Wednesday, WHO Technical Lead, Dr. Maria Van Kerkhove, gave the six vital criteria needed for countries:

Virus transmission should be controlled – that means that the incidence of cases or the number of new cases is reducing over a period of time.
Adequate health systems and public health capacities are in place – that countries have the workforce and the ability to detect, test, isolate, care for cases, making sure that hospitals are fully able to handle them.
The risks of outbreaks and high vulnerable settings are minimized – this would include prisons, detention centres and long-term care facilities.
Workplace preventive measures including physical distancing etc., are established – they should also have plans to rapidly identify cases and manage those cases.
The risks of imported cases are managed – with borders opening and people being able to move. This can even be within a country. Communities are fully engaged – they are informed, empowered, and knowledgeable and understand the situation.
 COVID-19 & diabetes
"People with diabetes developing COVID-19 are at increased risk for complications and mortality," a study published on Thursday in 'Diabetologia', the official journal of the European Association for the Study of Diabetes (EASD) published by Springer Science+Business Media, has found.
'Prevention and management of COVID-19 among patients with diabetes: an appraisal of the literature' conducted by Endocrinologist Dr. Prasad Katulanda and his Sri Lankan team and Dr. David R. Matthews of the University of Oxford, United Kingdom, also highlighted the following:
 Adherence to a healthy diet and lifestyle and access to healthcare is limited by infection control measures in the community, such as lockdown, self-isolation and quarantine.
General precautions to prevent COVID-19 infection are critical for people with diabetes and their families. Patients with multiple comorbidities need extra caution.
Continuation of good dietary practices, safe physical activities and regular glucose monitoring should be encouraged.
Measures such as telemedicine services and drug dispensing for extended durations or by home delivery should be adopted to reduce exposure of diabetes patients while ensuring uninterrupted continuity of care.
People with diabetes who develop COVID-19 should continue their routine medications unless the illness is severe.
For severe COVID-19 in diabetes patients, glycaemic control is best achieved with insulin; SGLT2 (sodium-glucose cotransporter 2) inhibitors are best discontinued unless the illness is mild; and ACE inhibitors (angiotensin-converting enzyme)/ARBs (angiotensin receptor blockers) should be continued unless contraindications develop or further evidence emerges against their use.
Individualized decisions should be taken on continuing aspirin and statins.
Research into pharmacological therapies for treatment and prevention of COVID-19 in people with diabetes is urgently needed.