Medical students drafted into Australian health workforce
View(s):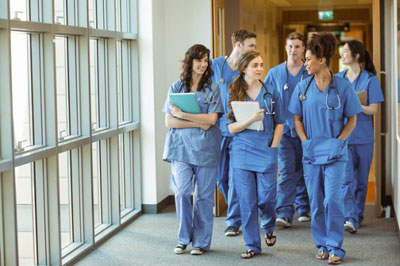 Students could be drafted into Australia's healthcare front line – in person and remotely – as medical services reinforce their capacity to address surges in demand while overcoming bottlenecks in the medical training pipeline.
Universities, hospitals and government health services have teamed up to devise paid "assistant in medicine" positions for up to 3,771 final-year medical students.
The students would work about 30 hours a week for between three and six months – or potentially longer – as triage assistants, telemedicine operatives and support officers in hospital wards, operating theatres, birthing suites, outpatient clinics and community health facilities.
The new jobs, to be announced on 1 May, have been created to meet the twin objectives of boosting hospital resources while facilitating the clinical training that medical students must undertake in order to graduate.
The development comes as medical schools in the US, the UK and Italy accelerate medical students' training to fast-track them into the workforce. Students in Germany, Brazil and the Czech Republic have also been drafted on to the medical front line, mostly as call handlers for telephone health services and in other non-critical functions – although in some cases they have been directly involved in treating Covid-19 patients.
That is not envisaged in Australia, where Greg Hunt, the federal health minister, said the aim was to free up senior doctors and nurses to treat coronavirus cases. "The final-year medical students who will be participating in this initiative are ready, willing and able to provide routine care," he said.
"We are exploring the potential for this new, paid medical assistant role…to support the healthcare workforce during this emergency."
While all final-year students could potentially be drafted into the new positions, Medical Deans Australia and New Zealand (MDANZ) said relatively few might be required. Students would be deployed "if needed" – because of either a second wave of Covid-19 cases or a surge in demand for other types of treatment.
MDANZ chief executive Helen Craig said that with the "curve flattening" in Australia, fears of hospitals being overwhelmed by the pandemic had diminished. But clinics anticipated a possible upsurge in visits from people who had delayed seeking attention for other serious medical issues, such as cardiovascular conditions.
As well as capacity-building to meet such demand, the new jobs have been devised to make sure that students' clinical placements match hospitals' capacity to provide them. Ms Craig said medical schools had been forced to "pause" placements in March because doctors were too busy with the coronavirus to supervise students.
Daniel Zou, president of the Australian Medical Students' Association, said students had been told to go home by staff who simply did not have time to shepherd them through consultations and ward rounds. "The problem has since eased, and each medical school is in discussions with partner hospitals to try to work students back into clinical education," he added.
He said final-year students in particular were being given priority, but that "there still are drastic disruptions".
Mr Zou said that while state health bodies and medical deans had done "a lot of hard work" to develop the new workforce positions, relatively few had been filled so far. "Should there be a large pan-Australia second wave, more consideration will need to go into reactivating these roles," he added.
MDANZ president Richard Murray said the students would have "stringent" oversight and would be allowed time for their coursework.
- John R – T.H.E