CINEC Campus steps up technology driven, future focused online education
View(s):

Online education is not a recent phenomenon for CINEC Campus. In fact, a fully-fledged online Learning Management System (LMS) has been in operation at CINEC since 2018.  In keeping with The latest trends in online teaching and distance learning in a virtual environment CINEC has focused on assuring a more personalized and interactive experience for students.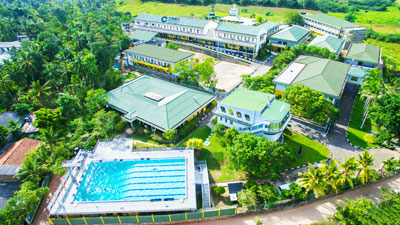 Capt Ajith Peiris, President of CINEC says "we have invested on several new technologies as well as on enhancing connectivity in order to make online education more immersive, interesting, personalized, and accessible for both students and lecturers.
Our success story has been based on conforming to maintaining the highest quality in all aspects of our operations and I have requested CINEC Deans and Heads of Department to ensure the highest quality in online delivery too."
The modern trend for personalized learning is largely connected to the evolution of the LMS into the LXS (Learning Experience Systems). The goal of a LXS is to provide the most fulfilling experience for students and lecturers by providing all the tools, data, and content to the participant in a very accessible way. CINEC is at present moving fast towards setting up its LXS for the benefit of its thousands of diploma, undergraduate and postgraduate students.
Fulfilling the demands of multitudes of most diversified higher education disciplines in Sri Lanka, CINEC LMS today caters for Marine Officers and Officer Cadets in their learning processes whilst sailing around the world. They can thus keep abreast of the fast changing environment of this global industry, while on the move. Aviation Engineering students who are availing of on the job training abroad also make use of the LMS facility gainfully.
According to Chandima H. de Silva, Associate Dean, Faculty of Engineering and Technology who is also heading ICT Resources and Services Department at CINEC "at present CINEC has a fully functional online LMS that is capable of handling the online learning needs of several thousand students simultaneously.
All six Faculties of CINEC (namely, the Faculties of Marine Engineering, Maritime Sciences, Engineering and Technology, Management and Social Sciences, Health Sciences, Humanities and Education)are heavily utilizing the LMS at the present time for online distance teaching as well as live streaming of both audio and video lectures.
CINEC plans to further enhance the live streaming of lectures by adding technology that is capable of a large number of live lectures simultaneously. A plan to enhance the e- learning facilities of CINEC Library is already in progress. It is also possible to conduct examinations using the LMS and we are in the process of purchasing a more advanced online examination management system that is currently being used in Germany and USA."
All UK University degree programmes conducted at CINEC are also delivered using the University LMSs so that students could complete their degrees without any delay.  CINEC acknowledges with thanks the untiring efforts and commitment of the Deans, Associate Deans, Heads of Department and other academic and administrative staff, working under the direction of the Senior Management Team, in conducting online teaching during this period.
Our thanks go out to our student community who readily and willingly joined with CINEC to continue their studies online without interruption. CINEC assures current students as well as thousands of prospective students who have already expressed their willingness to join CINEC that your cherished dream of a high quality education will be a reality without any delay.