AIC Campus offers Unique Triple Learning experience and financial assistance for students and families
View(s):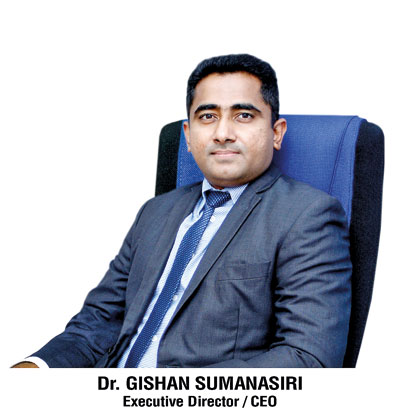 Special Scholarships and Attractive Payment Plans Announced for 2020 May / June Intake
Q and A with Dr Gishan Sumanasiri Executive Director / CEO of IMC-AIC Education Consortium
Quality higher education has become an urgent need for a country like Sri Lanka today.
Specially during the current COVID19 pandemic many countries have taken action to help safeguard the interest of students and learners.
Hence we wanted to know how Sri Lankan higher education industry is facing the challenge. Here are the highlights of the interview with Dr.Gishan Sumanasiri founder CEO of IMC-AIC Education Consortium sharing his views about the current status of affairs in Sri Lankan Private Higher Education and also about how Sri Lanka should prepare its graduates for their future employment and career opportunities.
Q: Can you explain how the COVID19 pandemic has affected Sri Lankan non-state university students and parents?
A –  For a developing country like Sri Lanka we are handling the current situation pretty well. Most state and non-state education establishments have shifted their teaching to online platforms like Zoom, Microsoft Teams, Jitsi, and Skype.
In a crisis situation like this we need to fully understand the possible impact of COVID19 and new learning methods on students, teachers and families.
First, the economical and financial impact. The global economic impact of COVID19 coupled with limited local economic activity during the past few weeks has resulted in many industries and companies announcing retrenchment strategies which unfortunately has included layoffs and pay reductions.
This has a direct effect on the educational spending capacity of students since in a crisis situation like this normally other basic life priorities dominate the family spending pattern. Students in Sri Lankan private higher education institutes who are self-funding their studies and students who are studying in overseas universities with the financial support of their parents will be largely affected in this situation.
These students and families who have chosen self finance study options without depending on state education are also our own students and their education rights should be protected and safeguarded.
Second, the Psychological impact of the situation and its effect on students and families must be understood. Families now have to deal with the added responsibility of providing the "learning space and learning environment" at home which is not practically possible at times. Added to this is the increasing cost of data which is consumed by the online learning Applications.
According to a recent study 1 hour of online learning with Audio-Video conferencing consumes around 800 MB to 1.2 GB data. This is an incremental cost to many families and specially those with limited bandwidth or limited data capacity situations.
Third and finally the teaching methods – as we will see traditional classroom type of teaching or PowerPoint slide based lectures are not popular among the students in this new learning environment. There will be a demand for teachers and faculty to do more and engage their students in the learning process. Lecturers and teachers who use innovative engagement based methods will be more popular than others in this new learning environment.
A  How do you think we can help the students in a challenging environment like this?
A - Just like any other situation we must make correct decisions at individual and family levels when it comes to private higher education.
Situation like this gives several opportunities for Individuals to self-evaluate their employability levels and to see how ready they are for new jobs? Students and parents must pause their rush towards brand names and country names for a moment and reflect whether the students / learners are ready for the future career. A professional career guidance is required to make the best education investment out of the family budget.
Unfortunately many private higher education institutes in Sri Lanka lack trained career guidance counselors or are not utilizing the talent they have. Many only provide degree and university specific admission advice to students and families.
Also the education programs and curriculums are largely class-room oriented and teacher centered and lack real industry participation like in some of the applied universities in France and Germany where the entire study program is designed for employment and specific jobs categories.
There is a lack of trained and qualified skills and some individuals who advise students themselves lack a basic high-school education and/ or recognized university degree which brings questions about the quality of higher education also into discussion. These are some of the ground level realities we need to address with a long-term solution focused on Private Higher Education Framework followed in countries like Malaysia.
To answer your question about immediate help to students and families the institutes must show flexibility and empathy for their students. For example at AIC Campus and IMC Education we have announced special Scholarship programs in collaboration with our University partners for students who are commencing their study programs in 2020 May and June intakes. Students can commence their study programs without a large down payment. There are flexible payment plans from Rs 19,000 onwards given to students without any additional financial charges. Also we have finalized very attractive data plans for students which lets them use online learning without any fear of disconnection or additional charges.
Q – What are the University degree programs available for students after A/Level qualifications at AIC Campus?
A – AIC Campus offers Civil Engineering, Mechanical Engineering, Business Management (Marketing and International Business), Psychology, and Early Childhood Education Higher Diploma and Bachelor degree programs for A/Level qualified students. Students with Local or London A/Level 3 Simple passes could start these degree programs at AIC Campus and complete an internationally recognized and world ranked university qualification entirely in Sri Lanka at a fraction of the cost of going overseas.
All the overseas universities are recognized by University Grants Commision (UGC) as recognized overseas universities. At AIC Campus we adhere to the fundamental concept of providing affordable and quality international education in partnership with our international universities.
AIC Campus also offers multiple study abroad options including "European University Transfer Program (EUTP)" which allow students to commence their Engineering, Business, BioMedical Science degree in a leading Eastern European State University and then to transfer to a "Grande Ecole" or leading Engineering – Business – BioMed university in France with postgraduate work placements and paid internships in some of the Fortune 500 companies in the world. The "State-to-States University Transfer" program safeguards the education of students who are looking for American University education from the risk of visa rejection and credit transfer issues.
This unique program is designed to protect the students from visa refusals and students being forced to change their study programs after 2 years. The State to States US Transfer programs assures the 4 year degree completion for a student from a European state university with world top 800 ranking while there are transfer options to multiple US Universities including California State University Sacramento and University of Wisconsin Parkside (UWP).
Q – What are the university degree programs available for working professionals ?
AIC Campus offers multiple study options for working professionals who wish the expand their knowledge and achieve further career opportunities in Sri Lanka and overseas.
These Bachelors, Masters and Doctorate (PhD and DBA) programs are delivered by leading international universities recognized locally and globally. The flexibility of learning is provided by three learning options (Physical classes at AIC Campus, online real-time live delivery and recorded classes) make the Triple Learning Experience unique and meets to needs of the busy working professionals. There are 1 year top up degree programs in BBA International Business and Marketing, Bachelor of Psychology, and Bachelor of Early Childhood Education.
2 year top up degree programs are available for Civil Engineering and Mechanical Engineering qualifications leading to BSc (Hons) degree programs. It's essential for the students to hold relevant work experience and 2 year Advance Diploma or HND qualifications to join the final year top up degree programs.
AIC Campus also offers 5 unique MBA (Master of Business Administration) Degree programs from a leading Business School in Annecy France. * MBA Business Management and Entrepreneurship * MBA Marketing, Communication and Digital Media * MBA International Business Management * MBA Sport Business Management * MBA Finance and Asset Management gives Sri Lankan students a unique learning experience which is 100% practical. Students have the option to take part in workshops conducted by leading industry professionals and leaders in Sri Lanka.  There are 2 optional internships in France and USA which allows the MBA students to gain valuable overseas managerial experience in a leading company in their chosen industry.
Q – What are the study opportunities available at AIC Campus for O/Level students?
AIC Campus offers practical and internationally recognized university foundation programs in Business and Management, Engineering and Technology, and Science / PreMedicine for school leavers. AIC Pre-University foundation programs are an ideal choice for students who are after O/Level, A/S Level or for those students who are not keen to study A/Level study program due to various reasons. Foundation programs bridge the study gap between School and University in as little as 8 months through a curriculum that prepares learners to become successful university students.
Q – Can you brief the scholarship programs and financial grant programs available at AIC Campus
IMC-AIC Education Consortium has offered multiple merit based Scholarships and need based financial grants for students who are planning to commence their studies in 2020 May / June intake. Students and parents could email us at info@aicedu.lk for more information about the Scholarship programs in offer and flexible payment plans available. Due to the current situation in the country we have allowed students to commence their study programs with zero down payment and they could pay monthly fees from Rs.19,000 onwards to commence any of our degree and diploma programs.
Q – Can you briefly tell us about the contribution of AIC Campus to face the current challenge
A – We all know that one of the best resources that we have in Sri Lanka is our people. Many local and international studies have shown that Sri Lankan students and graduates are among the best given the right opportunity along with adequate knowledge, skills and attitude transformation. We plan to be at the forefront of this transformation process to ensure Sri Lanka becomes a knowledge hub in the world where leading companies look for our talent and set up business operations in Sri Lanka which will kickstart our economic growth. We aim to continue to produce highly employable graduates with excellent soft skills and those who can solve problems by giving exceptional solutions.
Q- How can students contact AIC Campus for more information about degree / diploma programs and  admissions procedures?
A – Students can find us via AIC Campus website – www.aicedu.lk and Social Media Platforms of AIC Campus (Facebook, Instagram, LinkedIn). Also students can connect us via our hotline +94 777335511 (Phone / WhatsApp / Viber) or emails us info@aicedu.lk
Students and parents are welcome to visit our newly built state of the art city campus with modern classrooms, counseling and information rooms located at No.154, Havelock Road, Thimbirigasyaya, Colombo 05.
-Aruni Mahanama