School rugby left with two options as SLSRFA eager to complete League
By Naushad Amit
View(s):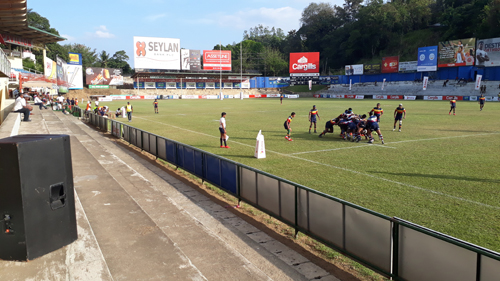 With the number of COVID-19 patients reaching beyond 420, the Sri Lanka Schools Rugby Football Association (SLSRFA) is forced to keep a close tab on the developments, as they expect a full safety clearance from the health authorities before recommencing the Dialog Schools League 2019/20.
Vice President Susantha Mendis told the Sunday Times that the SLSRFA is left with two options and all will depend on how normalcy returns to the ordinary lives of the Sri Lankans.
"The current spread of the outbreak is not so pleasing and it further puts SLSRFA into more concern, because the competition involves school children. We are hoping for the best, but are keen to follow the guidelines issued by the higher authorities," Mendis said.
Explaining the possibilities of recommencing the Dialog Schools League, Mendis said that whichever way it works out, a majority portion of the competitions of SLSRFA could be pushed towards the end of the year.
If the schools reopen by mid-May as currently planned by the Ministry of Education, SLSRFA expects to complete the stalled League competition by end of July and hold the Knockout and Sevens competition after the G.C.E. Advance Level examination to be held in August.
The other option according to Mendis, is to push the entire Schools rugby trilogy of League, Knockout and Sevens after August.
"Firstly we must ensure the environment is clear to hold any kind of sport activity in the country. We could be able to get some initial ideas after the schools are reopened, if that happens during mid-May or later on," he explained.
Mendis further assured that the SLSRFA has not discussed or thought of entirely abandoning the school rugby season, as they are keen to somehow hold its core competitions by the end of the year.
On March 12 the Ministry of Education decided to shut down all schools until April 20, but it was further extended until May 11. When the decision was made initially, the SLSRFA called off most of the scheduled matches for the week. Soon after, the SLSRFA took a decision to temporarily halt the League tournament, but the match between St. Anthony's College and Trinity College was played behind closed gates at Nittawela.