Jamaldeen launches programme to educate young kickers
By Allaam Ousman
Former Royal star determined to reignite his career after recovering from freak accident
View(s):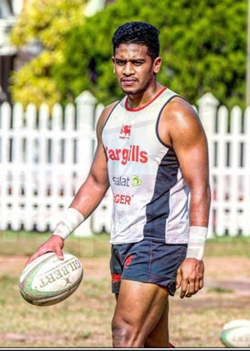 Former Royal College and Kandy Sports Club rugby star Arshad Jamaldeen has been plagued by injuries throughout his career. Despite showing tremendous promise as a school boy with his prowess as a goal kicker, he could not fulfill his potential. He was forced to spend lengthy periods off the field in rehabilitation while a freak accident nearly ended his career prematurely two years ago.
His comeback bid seemed to be put on hold with the Coronavirus outbreak after spending an uneventful season with his new club CH&FC, who ended in the bottom half of the Dialog League. However, instead of going into hibernation because of the pandemic which has brought life to a standstill, the enterprising 26-year-old is determined to reinvent his passion for the game by teaching kids the art of goal kicking.
Aptly named 'Train with Jamal', the novel programme launched on Facebook just over a week ago, wants to keep young players engaged in the game, particularly in the art of kicking which Arshad Jamaldeen specializes in.
"I want to educate more kickers. There are not many people who do this. Since I am doing kicking duties, I wanted to start something for up and coming young players. It will be on rugby skills and fitness as well, but mainly focused on kicking techniques," said Jamaldeen, who is equally at ease either as fly half or fullback.
Asked how his initiative would work with people forced to stay at home, he said: "We can do it online. There are not many exercises. There are simple exercises we can work on until the lockdown is on. Once it's all over, we can get back on to the field."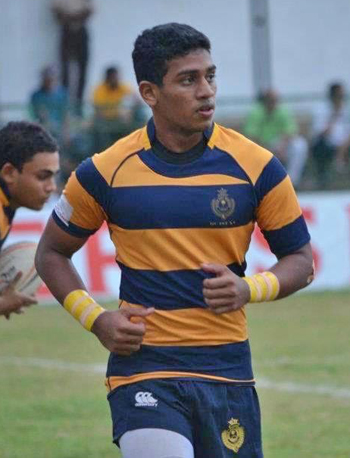 He has received a favourable response for his novel training programme and spoke enthusiastically of his venture.
"There are a few people who spoke to me. They are also worried about the quarantine thing. Basically kicking is all on the field. What I told them was trying doing online, and may be get the basics right," he said.
"For kicking we need more leg strengthening. So now we can do all that before we get on to the field. We can learn techniques over a call. With the situation right now, that is the least we could do. It is a six-week programme. Many young players playing for Under-16 have signed up," said Jamaldeen, whose dreams of coaching were fast-tracked during the days and weeks spent in lockdown.
"This was something I had in my mind for the past few years. When I am done with rugby, I will be doing my coaching thing anyway. Maybe do an academy for kids or many more things which I have not decided yet," he said.
"There are not many people who educate young kickers. There are many talented kickers in Sri Lanka but there is no one to educate them from a small age. If we look into that age group, probably we will have much better kickers in the future for schools and clubs," said Jamaldeen, who scored a record-breaking 148 points in the 2011 school season.
Stressing on the importance of goal kicking to win matches, his aim is to instill the correct techniques from the beginning.
"I am mainly focusing on kicking techniques. There are a few drills to do for small ones. You can't change the techniques once they come to Under-19 level because they are used to the same kicking patterns. So we have to change the people from the start itself," said Jamaldeen, whose idols are All Black legend Dan Carter and England World Cup winner Jonny Wilkinson.
Jamaldeen is pleased with his return to the game after breaking his kicking toe in a motorcycle accident in December 2018.
"It was not the best season so far but it was alright. I think it was a pretty decent season. Now I am 100 per cent fit," said Jamaldeen, who had been part of Kandy SC's League and Clifford Cup winning teams for five years since 2014.
He had a memorable debut season with the Hill country club playing a key role in their league triumph under Sean Wijesinghe's captaincy.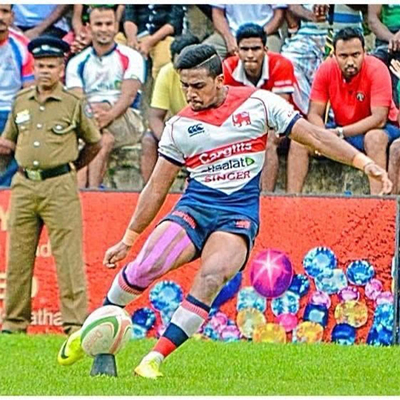 "There was a game we almost lost and won versus Havelocks. I scored a few points including a drop goal and all that at Havelock Park. Because of that we won the League," recalled Jamaldeen.
But injuries continued to haunt his career just as it had happened during the year he captained Royal in 2012 when he could play only three games. He got a recurrence of the ACL (anterior cruciate ligament) injury and tore his quad muscle in the 2017/18 season before the road accident which ended his stint in Kandy.
"The main reason I came back to Colombo was to be close to my parents. I wanted to finish my degree. I started working and wanted to do many things. I thought the most convenient place was Colombo to do all that," said Jamaldeen, who was a proud member of the Bradby and Inter-School League Championship winning Royal team in 2010.
Awarded the Royal Crown in 2011, he represented the Sri Lanka Under-18 team at the Junior Commonwealth Games in Isle of Man that year. He also turned out for Police SC, was a member of the national pool for the Serendib Cup in 2013 and 2014 and represented Eastern Eagles and Softlogic Warriors at the Carlton Sevens. But his career never took off despite showing promise of a great future.
"I feel I haven't reached my peak properly yet. I think there were few times I came close when I played for Kandy. Suddenly something happens and I had to stay out of the season due to injury. It was distracting. But now I am all good to go," explained Jamaldeen, who denied that pressure of comparisons with his father Nizam Jamaldeen, an ace goal kicker for Police and Sri Lanka, affected his career.
"There was normal pressure but nothing major to complain. Injuries was the main problem. I am going to continue playing for another four or five years. My goal is to reach my maximum potential, to reach my peak. I think I haven't reached my potential yet like I did back in College. There is more time now. But I have to build my future career-wise as well," added Jamaldeen, whose 'Train with Jamal' venture may kickstart his somewhat dormant career.