NIBM Worldwide: A Total Solution for online teaching
View(s):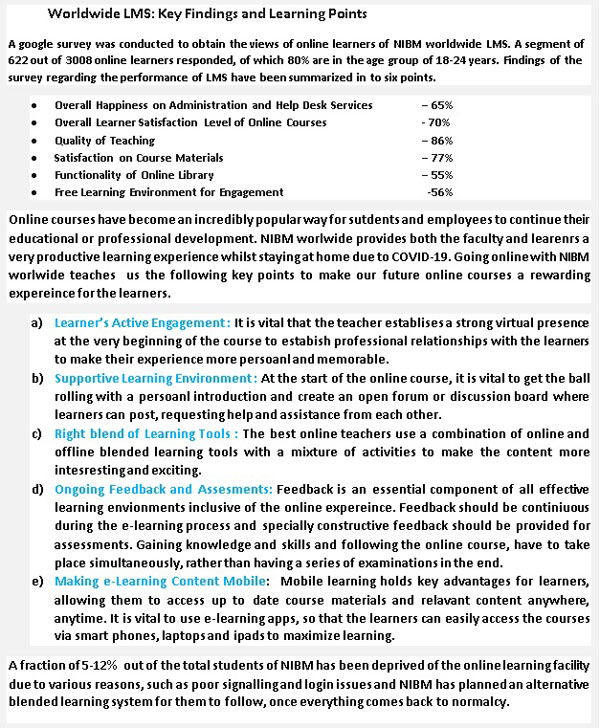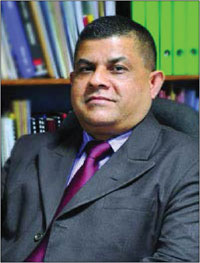 Recapitulation of the Study Introduction
The disruption in our lifestyles, economic and social activity due to COVID-19 has undoubtedly impacted all of us all over the world. It is forcing us to rethink and relook at our strategic approach, to enable us to stay relevant in our own domains. With the outbreak of COVID-19 being declared as pandemic by the World Health Organization, people worldwide are facing a major challenge. This situation calls for Schools, Universities and learning and developmental professionals to shift rapidly from in-person to online learning.
Furthermore, we are forced to be quarantined at home by COVID-19. Hence, we must react with different ways of working, shopping, learning and communicating. Online shopping and social networks are not new to us, and it is same with distance learning. However, COVID-19 is reviving the need to explore online platforms with a total solution for teaching and learning.
Growth of Global Online Education
The global online education market is projected to witness a 9.23% annual growth during the forecast period to reach a total market size of USD 319.16 billion in 2025, increasing from USD 187.87 billion in 2019. Increasing penetration of internet in many regions across the globe is a major factor driving the market growth. Growing adoption of cloud-based solutions coupled with huge investments by major market players towards enhancing the security and reliability of cloud based education platforms, are further increasing its adoption among the end users (https://www.researchandmarket.com, Feb 2020).
Online Education Trends in Sri Lanka
The education sector is responding to COVID-19 with a sudden shift to online learning. Nevertheless, online teaching requires careful thinking about how learners and teachers are equipped for the shift and serious consideration should be paid to the fact, whether the teaching style is still effective, when transformed from the classroom to technological devices. Moreover, inequalities are aggravated when it comes to access to technology and digital devices. Many learners suffer a form of digital inequality, whereby they lack the connections and devices to learn remotely. In fact, this outbreak widens the gap between those able to access digital learning opportunities and those who are shut out. Access is always not equal, and we see inequality growing in some sections of the society as well as in some regions of the country.
Digital Lifestyle in Sri Lanka
A rapid growth is observed in the digitalization process in Sri Lanka and penetration of mobile and internet on the rise at an exponential rate. In 2020, there are 10.10 million internet users and the number of internet users in Sri Lanka has increased by 399,000 (+4.1%) between 2019 and 2020. Mobile connections stood at 31.80 million in January 2020 in Sri Lanka and it is equivalent to 149% of the total population. Social media penetration was around 30% in January 2020 in Sri Lanka and it shows an annual growth rate of 8.3%. Hence the issue of digital gap is steadily moving away from the society.
However, in providing most of the facilities, the concentration is on the western province and other major cities in Sri Lanka. This is the real challenge being faced by Higher Educational Institutes (HEI) in introducing a common online learning platform in Sri Lanka.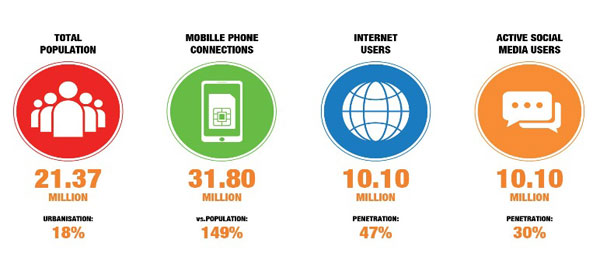 Traditionally most of the parents and students feel in class teaching brings in human compassion as a compelling quality of education. However, time is the key factor and both learners and teachers have to face the current teaching and learning process. Further, online learning, facilitates learning without constraints as, when the learner is interested in a course, he may connect online. This has prompted all stakeholders to move in to the best alternative available for teaching and learning, which is none other than the online platforms.
NIBM worldwide: A total solution for Online Teaching and Learning 
NIBM World Wide is the global initiative of the National Institute Business Management of Sri Lanka to provide education and learning opportunities to students and professionals worldwide. NIBM Worldwide education approach may break traditional education monotony and open a new era of digital education. The tailor-made programmes of NIBM will indulge the students who are in a busy lifestyle. NIBM has decided to commence online teaching using NIBM worldwide (LMS) for its students due to the close down of its operations as a result of COVID-19. All the students of NIBM are given free data to access NIBM worldwide in which all the other learning facilities are also embedded. After completing one month of online teaching, NIBM conducted an online survey to assess the quality of teaching and effectiveness of the online teaching platform.
Experiential Analytics on Online Teaching
NIBM worldwide is featured with a google based online survey to track the experiences of the online learners and the same analytics are visible for its administration and module facilitators in the system itself. The following analytics were taken from 620 responses of the students (21%) out of nearly 3000 online population currently in the system.
a) Demographics of the Online Learners
The sample consists of Gen Z and Millennials with a small percentage of Baby Boomers.  Majority (81%) Genzers (see figure 01). In terms of distance, 28% live in Colombo and 31% are from suburbs of Colombo. Nearly 40% of the sample are from outside of the western province.
The Location where students come from is important as far as the power of internet connectivity is concerned.  It was found that nearly 7-12% of students are deprived of online learning due the fact of having poor or no internet facility. NIBM is thinking of alternative solutions for the above-mentioned segment, to be implemented, once NIBM is reopened. The majority (60%) of the learners are unemployed while 35% of them are full or part time employees.
Figure-01 Demographics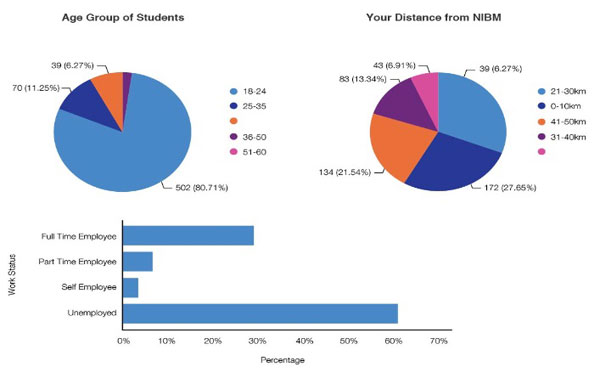 NIBM has two major kinds of learners. School Leavers represent 65% as the unemployed segment and the balance 35% represents the professionals who are already employed in different sectors in the industry.
b) LMS Help Desk Support and Administration
In order to efficiently and effectively use a Learning Management System, an organization should have a competent administration that will be able to deal with all important processes including technical support as well as daily online support to learners and to the faculty.
Nearly 65% of the learners are happy with the administration of NIBM worldwide and 25% of them are in neutral mood, without making a comment on the matter (see figure -02). ItIs a great achievement as most of the learners of the sample are making use of the online platform for the first time for their higher studies. The Head of the Consultancy Unit of NIBM was assigned the task of managing NIBM worldwide and he is a tech savvy person with a solid background in the field of online leaning management systems.
Further, NIBM is supporting its learners with a free data package to join NIBM worldwide which is one of the major motivating factors for the students.
Figure -02 Administration and Help Desk Support Service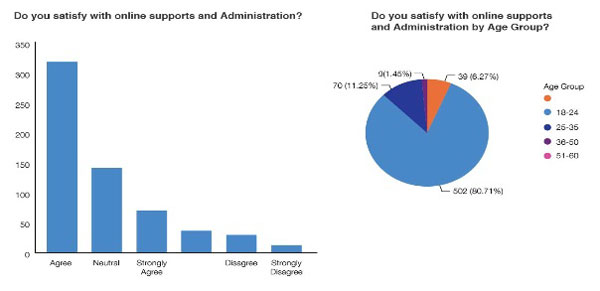 c) Learner Satisfaction Level (LSL)
There are many ICT tools that teachers can use to support teaching and learning. However, the crtical factors are the accetability and satisfaction levels of the LMS users (Learners) with the teaching process. The Findings of the survey have shown a high satisfaction level regarding LMS by the learners.
Nearly 70% of the learners are satisfied with the LMS and this is very high (80%) in the catergoy of Genzers. (see figure -03). It is interesting to note that Genzers are really happy (80%) to be with their class mates online. It is a fact that most of the young learners tend to use a lot of online tools in their learning process than that of the adults in our country.
Figure -03 Learner Satisfaction Level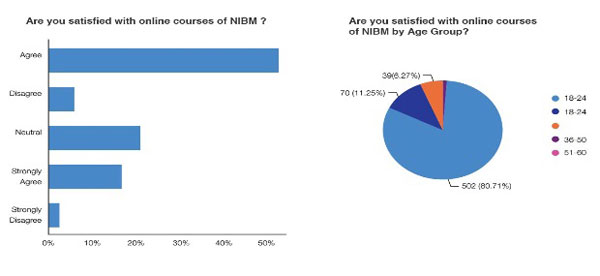 d) Free Learning Environment
Educational approaches have changed rapidly due to technological developments in the teaching and learning process. New technologies bring new methods, concepts and techniques to Open and Online Learning systems in particular. Learner centered systems have started to become popular in Open and Distance Learning because these systems are more personalized and collaborative. While learner centered systems gain attention, traditional and teacher centered systems have diminished in reputation (Mehmet Kesim,2013)
Findings of the survey show that 56% of the learners strongly agree or agree with the fact that they are free to ask questions online, than when they are in a traditional class room, while 22% disagree with the same premise. However, 22% are neutral on the same (see figure -04). Findings indicate that 53% of the learners are really enjoying online learning while 18% are neutral in their responses.  Nearly 29% disagree with the statement indicating that they enjoy in-class training.
This shows that online learning is a learner centered platform than that of the traditional class room and it gives more flexi learning environment while keeping the teacher in action to answer many questions posed by the learners.
Figure -4 Free Learning Environment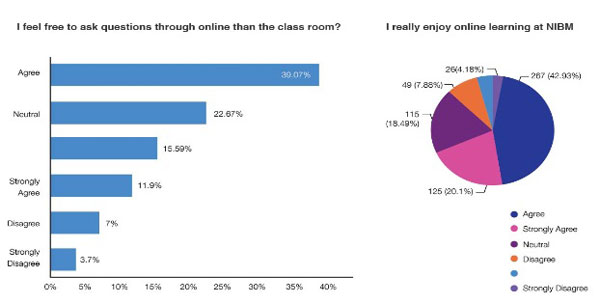 e) Online Learning Materils and Online Library
A key feature of effective teaching is the selection of instructional materials that meet the needs of the learners and the ability to fit the constraints of teaching and learning environment accordingly. In addition, the ease of electronic communications between an instructor and learners, and among learners, provide new opportunties for sharing questions, answers, and discussions in fourm. At the same time , there remains a major role for students to visit the online librabry to refer to  e-books and research papers, videos, slides etc.
Findings indicate that 77% of learners are happy with the materials uploaded for online teaching.
However, only 55% are happy with the online library as learners  cannot access some of the facilities available in it and this is an area where improvement is necessary.
f) Quality of Teaching
Fundamentally, good teaching requires the teacher to be in the classroom with the students. When teaching in person, a teacher does not leave the students to their own devices. The teacher is with them, engaging in any number of teacherly activities: explaining, guiding, asking, illustrating, answering questions etc. In contrast, online teaching forces the teacher to plan, design and incorporate strategies to encourage active learning, interaction, participation and collaboration in the online environment. This is the biggest challenge that the faculty members are encountered with.
It is encuraging to note that 86% of the learners are more or less happy with the quality of teaching with the lecturers involved in different modules of courses offered online by NIBM. Since most of the learners are new to online teaching, it seems that they are enjoying the new learning environment, whilst staying at home due to COVID -19.
Five Key Points to Ponder
Online courses have become an incredibly popular way for sutdents and employees to continue their educational or professional advancement. NIBM worlwide provides both the faculty and learners a very productive learning experience, whilst staying at home due to COVID-19. Going online with NIBM worlwide teaches  us the following key points to make our future online courses a rewarding expereince for the learners.
a)             Learner's Engagement : It is vital that the teacher establishes a strong virtual presence at the very beginning of the course to estabish professional relationships with the learners to make their experience far more persoanl and memorable.
b)            Supportive Learning Environment : At the strat of the online course, it is vital to get the ball rolling with a persoanl introduction and create an open forum or discussion board where learners can post requesting help and assistance from each other.
c)             Right blend of Learning Tools : The best online teachers use a combination of online and offline blended learning tools with a mixture of activities to make the content more interesting and exciting.
d)            Ongoing Online Feedback: Feedback is an eseential component of all effective learning envionments inclusive of the online experience. Feedback should be continiuous during the e-learning process and specially constructive feedback should be provided for assessments. Gaining knowledge and skills have to be done within the course duration, rather than having a series of examinations in the end.
e)             Making e-learning Content Mobile:  Mobile learning holds key advantages for learners , allowing them to access up to date course materials and relavant content anywhere, anytime. It is vital to use e-learning apps, so that learners can easily access the courses via smart phones, laptops and ipads to maximize learning
Dr. D M A Kulasooriaya
Director General
National Institute of Business Management
dg@nibm.lk
www.nibmworldwide.com