Lack of accountability rams into Lanka's taxi-hailing app culture
By Tharushi Weerasinghe
View(s):
Taxi app horror stories are suddenly everywhere on social media, including tales of knife-wielding Toyota Prius drivers and violent three-wheeler drivers.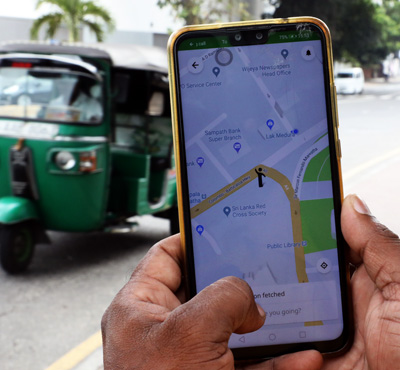 A quick search throws up increasing accounts of harassment allegedly endured by passengers, from sexual intimidation to cyber bullying and petty theft. The idea that a taxi hailed through an app is a safer option than taking one off the street is eroding.
The latest driver-passenger encounter to go viral this month was Pujana Wethasinghe's experience. He wrote on Facebook that the incident culminated in a knife attack and assault when he told an Uber driver who wanted cash payment that he had paid by card.
The issue now is one of accountability. Both drivers and passengers are at the losing end when there is just nobody at whose door the buck stops. The taxi hailing app culture in Sri Lanka is fast becoming a problem.
Pujana's encounter isn't unique. There are a multitude of complaints about unpleasantness from, specifically, Uber drivers over card payment hires. Most drivers maintain a daily wage lifestyle.
"A day that is made up of mostly card payment hires affects our ability to survive," one driver said. He did not wish to be named. Uber takes around two weeks for card payment values to be realised into their accounts, he said. That's why most Uber drivers, who considered this time lapse to be "unreasonable", disliked card payments.
Other taxi hailing apps, such as Pickme, said their systems transferred card hire payments within the day and, therefore, did not face the same issue.
The absence of a clear authority figure or "boss" or any office that bore responsibility for such problems contributed to growing frustration among Uber drivers, who are initially signed up with attractive incentives which they felt were short-lived.
Incidents of violence being reported on social media also hit their livelihoods, drivers said, as user rates plummet over safety concerns. The faults of a few affect many.
Both drivers and users pointed to a lack or "complete absence" of accountability for the many issues. And one reason for this is the absence of any legal obligations, at least where Uber–which is an American multinational ride-hailing company registered in the Netherlands–is concerned.
Users who are clamouring for this company to be reprimanded are not aware that they may have legally waived their right to do so. The terms and conditions they are bound by state: "(The company) itself does not provide transportation services and (the company) is not a transportation carrier. It is up to the Transportation Provider to offer transportation services, which may be requested through the use of the Application and/or the Service. (The company) only acts as intermediary between you and the Transportation Provider."
"The provision of the transportation services by the Transportation Provider to you is therefore subject to the agreement (to be) entered into between you and the Transportation Provider," it continues. "(The company) shall never be a party to such agreement."
Uber's user terms are also subject to the laws of the Netherlands. These state that: "Any dispute, claim or controversy arising out of or relating to these User Terms or the breach, termination, enforcement, interpretation or validity thereof or the use of the Website, the Service or the Application (collectively, "Disputes") will be settled exclusively by the competent court in Amsterdam, the Netherlands…"
Dispute resolution agreements are arrived at when there are legal entities from two different legal jurisdictions involved in a contract. They generally govern the civil legalities of an agreement, said Kalinga Indatissa, President of the Bar Association of Sri Lanka.
Once both parties (in this case, Uber and the user) consent to the terms, the ambit of a local authority is secondary to the agreed court of arbitration. Only two provisions could supersede the agreement, Mr Indatissa explained. They were the commission of criminal offences and injunctions.
And since the contract also clearly states that Uber is only an intermediary between the transport provider and user, the company is impugned from any legal responsibility for crimes committed by the driver, he confirmed.
What responsibility does Uber bear? "Once the legal proceedings and requirements of the local legal system are met, Uber can be notified and the removal of the driver from the Uber system can take place, at their discretion," Mr Indatissa said.
Most people in the internet age are too comfortable agreeing to "terms and conditions" without reading what they are. Taxi-hailing apps and cab services are two different things. But consumers mistakenly believe they are synonymous with each other. Cab services are transportation services. Taxi-hailing apps are intermediaries between clients and transport providers.
The above liability waiver is a common clause in the terms and conditions section of all major taxi-hailing services in Sri Lanka–including Pickme and YOGO, the other popular apps. Legally, therefore, the drivers are responsible for their own actions.
The liability waiver is intended to protect the companies but have given drivers of certain apps a dangerous level of impunity. The potential public relations nightmare forces companies to step in and resolve matters, but only to a degree.
And, while local service providers also do slip up, the existence of a 'face to the name' helps ensure some degree of accountability as they are domestically contracted. When there is just no one to contact–no country office–things become so much worse. There is no guarantee regarding matters such as vetting of drivers and safety precautions.
Some Uber users say the operators on the app do respond relatively fast to their complaints. But they lagged where severe cases were concerned.
Pickme has safety measures, insisted Zulfer Jiffry, Founder and CEO. Background checks including police reports and Grama Niladhari records are significant components of the preliminary driver registration process.
"Our modes of communication for any complaints or queries include calls and emails," he said. "If the issue is a current emergency with an immediate threat, we get the police involved."
"However if the incident is not putting someone in immediate danger we assess the situation," Mr Jiffry continued. This is because Pickme wants to do right by both driver and passenger.
In the meantime, the driver is temporarily blocked from the app. And if he or she is in the wrong–and based on the severity of the behaviour–Pickme makes a decision about their future. Those who are retained are trained afresh. Those who are not are permanently blocked from the app. Every incident is recorded. And if a driver's rating drops below three stars, he or she is reviewed.
Swift response may be company policy but users interviewed by the Sunday Times claimed Pickme operators rarely respond to support questions and complaints made on the app. They even said multiple complaints go unanswered and operator assistance was hard to get. Some said they needed to rely on "Pickme Food" to receive human assistance as that was not automated. Nevertheless, a local office and contact point have made conflict resolution relatively simpler.
Their rides, too, are tracked and the data stored so the routes are recorded, said Thushara Kariyakarawana, YOGO Managing Director. There is also an SOS button on the screen that will immediately put the passenger in touch with an operator from YOGO.
Comprehensive driver data was available to YOGO because, at registration, the driver was required to a service station where he or she is photographed. YOGO had a relatively fast response system in place, Mr Kariyakarawana insisted. And as it was new to the market, its most severe complaints were still verbal disagreements that were quickly sorted out.
The main issue, however, is inconsistency in the taxi hailing app culture in Sri Lanka.