IDP Education to organise Australia Education Fair for Sri Lankan students
View(s):

Great chance to meet university representatives and discuss career paths; free counselling with IDP Education, which has over 50 years of experience in international education services 

IDP Education Sri Lanka is organising its biggest Australian Education Fair on February 16th, 2020 (11 am to 5 pm) at Hilton Colombo. This fair will bring together 40 and more top Australian universities and colleges under one roof, making it IDP's biggest Australian Education Fair in Sri Lanka.

This is a great opportunity for Sri Lankan students aspiring to pursue higher education in Australia to interact directly with the representatives of these institutions and explore their options. In addition to interaction, students will also be able to learn more about application fee waivers and scholarship opportunities available for their desired Australian universities and colleges. Entry to this event is free.

Ravi Chandran, Country Director, IDP Sri Lanka and Bangladesh shared, 'Sri Lanka is a great country and our IDP offices in Colombo and Battaramulla are here to exercise its support to young students who aspire study internationally. A world class qualification will definitely help a student build their professional career and brighten their future prospects. In the age of global economies, I think it's a great decision as our students are skilled and after earning a global perspective, they can easily meet future industry demands and prosper."

He added, "IDP's Australia Education Fair is one of IDP's flagship initiatives in Sri Lanka to endorse our commitment to Sri Lankan students and their parents to guide them in the right direction to ease their study abroad processes. With the participation of well over 40 institutions, mainly universities and colleges at the forthcoming event in Colombo is a significant milestone for IDP and Sri Lanka. This is where the students can meet university and institution representatives from Australia one-on-one to discuss their respective study opportunities, scholarships, post-study work rights, etc.'

IDP's there for students every step of the way

Having over 50 years of experience IDP understands the challenges a student may face when applying for education abroad. We have a team of experienced counsellors who are professionally-trained and certified to provide students with step-by-step guidance including free study abroad counselling, helping them make the right choice of universities and colleges, course selection, visa application assistance, health insurance along with pre-departure support with accommodation, guardianship and home stay options, etc.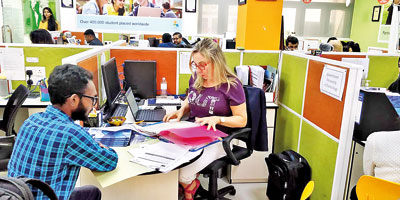 Student Essential Services
IDP provides exclusive services to students seeking courses in Australia such as Overseas Health Cover (OSHC), Accommodation Services, Bank Account Set up, IDP International Student Identity Card (ISIC) IDP Helpline and more. Student Essential Services (SES) aim at improving student experience and providing with products and services for students, and their families as they embark on their international education journey.
Post- enrolment care
IDP's support does not end with once a student arrives in Australia. We help them become a part of a living buzzing network of students, alumni and staff who are all here to help them succeed with IDP.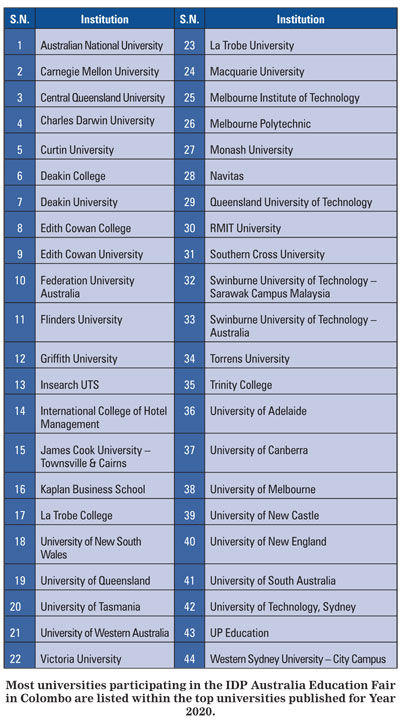 IDP also hosts regular events to welcome students to Australia to help them connect with other students and explore the new city. The events, which take place twice a year, are held in five states across Australia. These are generally held at cruises on the iconic Sydney Harbour or in-office meet-and-greet morning teas.
IDP's Australian Education Fair 2020 will provide an opportunity to all aspiring Sri Lankan students to interact freely, and directly with these Australian education institutions:
Testimony
A recent review by Charitha (what is it? An organisation or magazine?) recommended IDP as the best in the Sri Lankan Education and Direct Placement Market for anyone who aspires to study abroad. Here's are some snippets from what it has say about IDP:
n "As opposed to the case in many of the local student service providers, IDP counsellors are immaculate all-round experts in help choose universities and relevant coursework, assist with scholarships offered by universities, through in underlying student visa process for any country or regions IDP represent, which reduces a lot of hassle and makes it sort of a one-stop solution for us where you can get all the quality information you need to make quick, easy and better decisions!"
n "IDP have the best relationships and highest reputation among the local Diplomatic Missions as IDP is a global brand and they are also the co-owned by Australian Universities and co-owners of IELTS! This gives them a stronger edge in the stakeholder power in skilled / student migration and other forms of migration processes to many countries. So the acquaintance with IDP has its long term perks!"
n "IDP is global and spread across in more than 33+ counties, which means their service culture and processes are highly refined and standardized. So the chances of anything going wrong with your application if you happen to lodge through them is near zero! I would recommend IDP as simply the best and the most reliable Student Placement Agency in Sri Lanka!"
IDP looks forward to welcoming students and their parents to the Australia Education Fair 2020 – if you have the dream, we have the way, study internationally with IDP!
About IDP
IDP Education is the world leader in international student placement services and proud co-owner of IELTS. With a network of over 120 international student placement centres, IDP has a global presence in more than 30 countries. IDP Education Limited is an ASX listed company that is 50% owned by Australian universities. For almost 50 years, IDP has played a major role in international education by offering comprehensive counselling services to students and having placed more than 400,000 students into quality institutions in Australia, the United Kingdom, the United States of America, Canada, New Zealand and more recently, Ireland.
IELTS – one test, countless opportunities!
IDP is a co-owner of IELTS (International English Language Testing System). Since its launch in 1989, IELTS has become the world's most popular high-stakes English language proficiency test. It is a test that opens doors to a world of academic and professional opportunities in Australia, Canada, New Zealand, the UK, the US and many other places around the world where English is the primary language used in classrooms and workplaces. IELTS test dates are offered 36 times in a year. You should be able to find 2-3 dates every month although this may differ for test types and modules.
IELTS is accepted as evidence of English language proficiency by over 10,000 organisations worldwide. Last year, more than 3.5 million tests were taken globally.