Give your Future a Jump Start this February with Nawaloka College!
Current Intake closing on the 19thof February, 2020
View(s):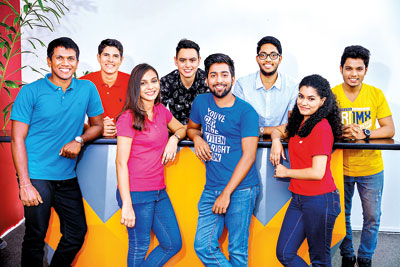 The Nawaloka College of Higher studies (NCHS) is a provider of globally recognized higher education qualifications. Located in the heart of Colombo, the NCHS campus consists of modern facilities, providing students with a learning environment on par withinternational standards.  With a strong commitment to provide high quality education, NCHS offers distinctive benefits that are tailor made to suit the needs of each individual student.
Quality at the forefront
While institutes and universities are numerous in the island, what makes NCHS unique is the credibility promised. Nawaloka is a household name which is synonymous with quality.  A key indicator of quality is credibility. Credibility is seen through the work done since the institution was established and as the institute proves itself over its numerous intakes.
International Excellence
In order to give students the maximum opportunities, NCHS has affiliated with the Swinburne University of Technology, as well as the California State University Monterey Bay, California State University San Marcos, California State University Bakersfield, California State University Sacramento, California State University Northridge, California State University Fresno, California State University Humboldt and the State University of New York at Albany.
In addition, transfer programmes in Law are available through the Ulster University, UK.
"Through the collaborations, students will be offered transfer programmes to these prestigious universities. Students are given the opportunity to complete the first two years at NCHS, and thereafter transfer to a university of their choice" explained CEO/ Deputy Chairman of NCHS, Victor Ramanan.
Making International Education Locally Available
Mr. Ramanan stated that all the universities are among the top higher education providers and because of the NCHS partnership, will be easily approachable to Sri Lankan students. The pathway will eliminate the hindrances that commonly prevent students from studying in leading international universities. These include high investment, impediments in obtaining visa and the culture shock. It was therefore stated that the students will enjoy International Excellence in education from the comfort of their own homes.
Education for Life
"Education is for life and is the most valuable investment that is made. Therefore, we at NCHS are proud to offer pathways which equip students with the knowledge and expertise needed for professional success" Mr. Ramanan explained.
Student Endorsement
"As NCHS is an affiliated college you are basically students at Swinburne or Calstate, but you have the advantage of getting more help with your studies with one-on-one help from the excellent teaching staff and the smaller class rooms. This also means that you have full access to the blackboard online system from the start. All of this helps to make the transition as smooth as it can be" explainedSenal Ranaweera who transferred to Melbourne in order to complete his degree in International Business.
Tailor Made Study Programmes
The study programmes conducted at NCHS are identical to that of Swinburne, Australia and CSUMB and follow the same curriculum, methods of teaching and evaluations, ensuring high quality and international standards. These identical industry-informed and industry-engaged study programmes at NCHS are specially designed to combine rigorous academic studies with practical knowledge essential for the academic and career success of the students.