Dreaming of living in Australia or New Zealand
Let Edlocate pave your path to Study and work in Australia & New Zealand
View(s):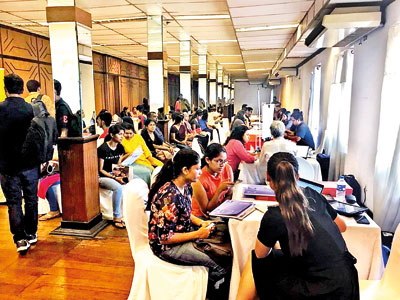 Two of the most popular study destinations in the world, Australia and New Zealand have always appealed to international students.
Indeed who could turn down the beauty of both the countries plus the excellent university options they could offer. If you have always dreamt of studying your Under or Post Graduate programmes either in Australia or New Zealand and you don't know where to start or what needs to be done, then grab this opportunity to meet Australian University representatives and the experienced, well trained and friendly Edlocate staff at Queen's Hotel, Kandy on the 18th February from 1.30 till 05.00 pm.
Edlocate is an organisation with a success story of over two decades with its Kandy branch being in operation for almost 15 years.
Each year we give students the opportunity to meet with representatives flown down directly from Australian & New Zealand Universities to discuss the study options available and the way forward.
Edlocate is a pioneer in the market who is able to offer the students an option of 28 universities, covering all territories of Australia. This includes the top 8 universities, known as the Group of 8 (Go8) also 04 universities, 03 degree awarding Institutes of Technology & Polytechnics (ITPs) and private institute covering both the Northern & the Southern islands of New Zealand.
The opportunities of getting work visa are more in New Zealand, the minimum requirement of study period being one year.
These interview session organized by Edlocate is open to students as well as parents, there will not be an entry fee to attend the event. When you visit, you will be exposed to all the options available within the education sphere.
While most think of generic tertiary education options the employability of today's market is vast and students have been presented with opportunities to acquire knowledge in areas such as, Actuarial Science, Cyber Security, Optometry, Early Childhood Education & Teaching to name a few. As the entry requirements may vary depending on the discipline of study, students with 'A' Level results, which are at an optimal level, can select a niche field to enhance their employability and those with moderately high results could also stand a chance to get placements within these universities. The Australian & New Zealand universities not only offer Degree programmes, they also offer post graduate as well as pathway programmes.
These pathway programmes will enable students who have the required results from the 'O' Level to get university acceptance. The pathway is a Diploma certification, upon completion of which the student can go on to read for a Degree.
Remember to bring your results sheets and transcripts which will enable you to discuss on the possibilities of applying for Scholarships up to 100%,on the spot application submission and application fee waivers. What's more the University representatives will be in a position to provide you with an offerat the interview session which will simplify the application process.
Our well experienced and friendly staff can help you all the way in the process by helping you quickly find the right Bachelor's, Master's or PhD programme in Australia and New Zealand that fits your need and also your budget.
Further Edlocate will help students with coaching for IELTS/PTE examinations through experienced tutors at the Kandy office. This could be arranged after a placement test.
Here is what one of our students had to say ;
"I have completed my first semester and exams. The course was amazing with a diverse group of students and professional tutors and lecturers. The level of technology used by the university for the teaching was also beyond anything I could have imagined. I have joined the Marketing and International Business societies and hope to join more in the future. I Thank Edlocate for giving me this great opportunity."
Thaveesha Jinadasa -
Bachelor of Commerce – UNSW
Past student of CIS , Kandy