Ushari's Journey with NCHS to Albany-State University New York
View(s):

Many students dream of the opportunity to start a new life in America. The Hollywood movies we have watched our entire lives talk about a new opportunity where anything is possible.

This is further enriched through the globally renowned success stories of moguls such as Bill Gates, Steve Jobs and Elon Musk. Do you dream of having access to the American dream too? If so, join NCHS and take the first step in the right direction

Ushari Mimega tells her story of how joining NCHS changed her life forever.

Why did you select NCHS?

Nawaloka College offers recognized degree programs from the best universities in USA as well as in other countries. They have options to transfer to US after completing one year in Sri Lanka.

When I entered the college the staff was very friendly and the atmosphere around the college was great.  During my time at NCHS, I made many great friends and enjoyed the facilities and activities available.

What support did you receive?

The best thing about NCHS was the well experienced lecture panel. The classes were small, so the lecturers knew everybody and we got individual attention from them. This suited my learning style.

I really wanted to transfer to USA in the first year. The NCHS team was very supportive and helped me achieve this goal. This is something unique to NCHS.

How was the process in receiving visa to USA?

The Edu-link team at NCHS are really supportive. They guided me to get an admission, enabled me to win a scholarship as well as to obtain my student visa. The team continuously gave me advice on how to maximize on the opportunity, and get a scholarship to my dream university. Support was given and I was coached on how to get through the visa interview with ease.

Furthermore, I registered for IELTS through NCHS. Exam preparation as well as the exam center are located at NCHS too.

What advice would you give a student who wishes to study at SUNY Albany?

If you're majoring in Business studies, I would recommend the University at Albany, as it a university that is well renowned in Business. They have world renowned facilities including three fully fledged libraries. It is in fact ranked as the 4th best university for business majors for salary potential!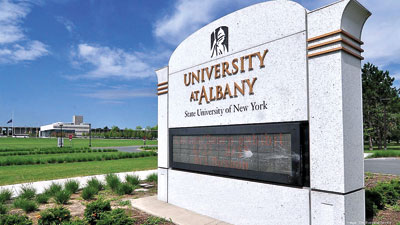 The best advice I can give you therefore is to maintain a good GPA from the beginning. NCHS will do the rest to ensure that you too can win a scholarship and transfer with ease.
Nawaloka College of Higher Studies
Located in the heart of Colombo 03, NCHS offers the best facilities which include purpose-built engineering and computer laboratories, a resource-oriented library, study areas and ample parking space and reputed academics to administer the programs.
The American Curriculum for general education, delivered for pathway programs conducted at NCHS are recognized by CSU and SUNY partner universities.
Students also have the flexibility to apply for these programs with pending results
Student loan facilities at special interest rates are also on offer to help students pursue their higher education at NCHS.
If you wish to maximize on this fabulous opportunity and be a part of the prestigious degree pathway programs at NCHS, call 0777 799 997/ 011 5 899 998 or email info@nchs.edu.lk
for more information.