Tips to Make your Child a Leader
View(s):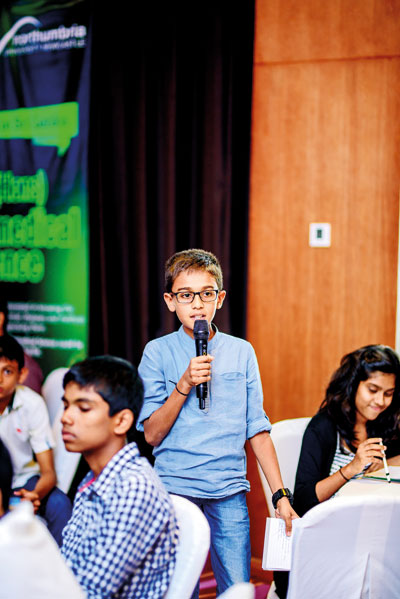 Some parents complain about children. They claim that children are not motivated, not interested in studies, don't spend sufficient time doing homework etc.
Other parents are proud that their children are shining. They want to make them do even better.
What parents often fail to realise, is that their own parents may have said the same about them too! Education is evolving as generations pass. The methodology used for one generation, may not be effective for another.
If you want your child to shine as a leader, read on!
1. CHILDREN CAN SOLVE PROBLEMS
The thinking patterns of a child are different to those of an adult. They are more inclined to suggest innovative solutions. For parents and teachers who struggle to persuade children to study, learner autonomy may be the solution.
Give students ownership of their studies. Ask them what they think they should do to improve. Empower them to make a timetable and manage time. They may surprise you!
2. ENCOURAGE THEM TO USE THEIR PASSIONS FOR GOOD
Guiding children to optimise their passions and creativity to share positive messages or bring attention to issues they care about.
Equip them with opportunities and resources to identify what their passions are.
3. ENJOY LEARNING EXPERIENCE
As children are caught up  in the rat rate of  the competitive school environment, focusing heavily on  exams, give them opportunities to bring out their unique talents and skills, enjoy their learning experience and shine as leaders.
The Rainbow Institute of Communication and English, Colombo 03, a centre of excellence in communication, English and soft skills training, www.rainbowinstitute.lk, is now enrollng  children for the  seventeenth batch of its'  popular training on Public Speaking,  Leadership and Personality Development for  Children.  (Boys and girls aged 7-14 years)
This  interactive and fun- filled training   provides intensive personalised coaching over a duration of 30 hours.
The training is scheduled on Saturday, from 1.00 pm- 3.00 pm, OR  Sunday from 1.00 pm- 3.00 pm.
Registrations for the 17th intake for this course are currently on. Each batch is limited to 12 members in order to ensure personalized attention and time for individual development.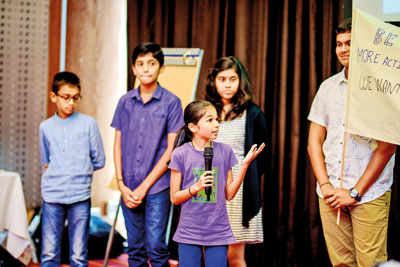 COURSE DIRECTOR
The Leadership courses are directed by eminent University academic,   Dr. Mahim Mendis.
Dr Mahim Mendis, a product of St Thomas' College, Mount Lavinia, has been mentoring and teaching   undergraduate and post graduate students and professionals in Sri Lanka and abroad for three decades.  Dr. Mendis, the former Spokesman of the Federation of University Teachers Associations (FUTA), is well known as a powerful public speaker.
Dr Mendis is supported by a team of dynamic young trainers with high credentials and international exposure. They are now ready to partner you to bring about a life changing turning point for a bright future for you and your child.
WHY RAINBOW?
While adhering to the highest international bench marks in teaching of English, we are a truly Sri Lankan Institute, underlined with Sri Lankan warmth and hospitality.  We use the international curriculum and adapt to meet specific needs of Sri Lankans.
We have rich experience in corporate training and count several top companies and schools amongst our clientele.
All our trainers have advanced qualifications in teaching of English and international exposure.
We adopt  to quality control measures of Cambridge UK
We monitor progress of each individual student and then updated on progress assessed by professional methods.
We offer value added sessions during the training
We take full responsibility for our trainers.
Our corporate clients include The embassy of the United States of America, MAS Holdings Pvt Ltd (Women go beyond) Fonterra Brands (Pvt) Ltd ,  John Keels Holdings,  Bank of Ceylon, Sri Lanka Institute of Development Administration, Campaign for Fair and Free Elections, Central Finance, Hilton Hotel,  Embassy of the United States of America, Canadian High Commission, Asian International School and St. Thomas's Preparatory School Colombo.
Call 0770788295 (Ganesha),   or 0775090400 (Akshay),  Hotline 011438040, to secure your child's seat for this class which is confined to a 10-12 participants to ensure personalised attention.
RAINBOW INSTITUTE OF COMMUNICATION AND ENGLISH 
28, School Lane, Colombo 03,
Sri Lanka 
Web: www.rainbowinstitute.lk 
Facebook:Rainbow Resources Lanka Pvt Ltd