St. Benedict's College Prefects Investiture 2020
View(s):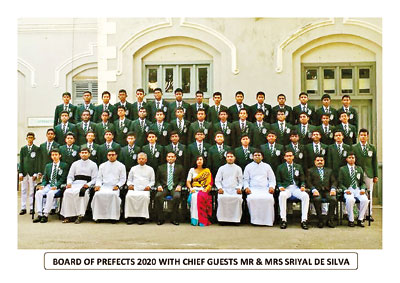 The Benedictine Prefects Investiture 2020 was held on 21st January 2020 under the patronage of distinguished Old Benedictine top banker, past Deputy Head Prefect, Public Schools Athletics Coloursman and Best Allround Student 1989 Sriyal de Silva and his wife Nilakshi.
As per tradition the Chief Guests were welcomed by the Director of the College Rev. Bro. Tarcisius FSC and senior staff members and led to the Open Air Stage under the Banyan Tree accompanied by the College Western Band. The proceedings started with the lighting of the Traditional Oil Lamp followed by the College Anthem.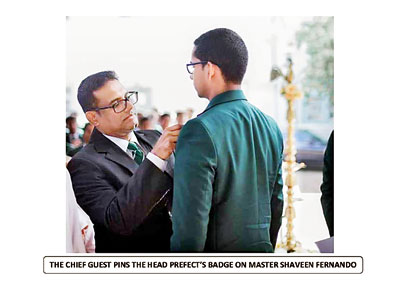 The highlight of the day was the formal Swearing in and the pinning of the Prefects Badges on the new Board of Prefects led by the incoming Head Prefect Master Shaveen Fernando, facing the giant backdrop with the immortal words of the Benedictine Anthem 'HIGH BE YOUR AIM IN LIFE'S ONWARD VIEW'.
The Chief Guest Sriyal de Silva's address included numerous words of wisdom starting with asking the new Prefects to remember that they were not elected or selected but they earned this honour by sheer hard work, character and discipline. He stressed that they should perform their duties with the correct attitude, which he considered as more important than knowledge and skills.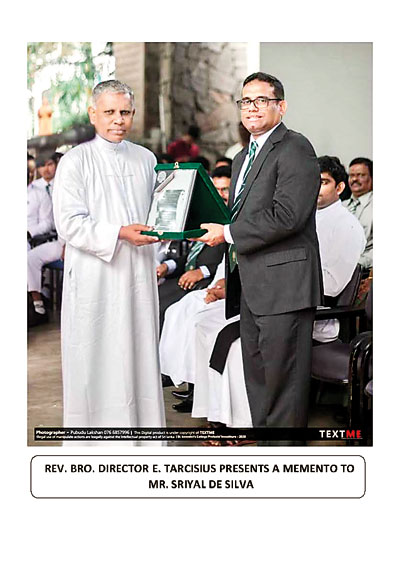 He impressed upon the youngsters that Prefectship  is not a free licence to bully or harass their fellow students and the challenge of leadership is to be strong but not rude, be kind but not weak, be bold but not bully, be thoughtful but not lazy, be humble not arrogant, be innovative but not imitate and to always take responsibility and ownership of their actions whether right or wrong and never ever lose their integrity because if you lose it you cannot get it back.
The immediate Past Head Prefect Master Deeshan Fernando in a stirring message to his fellow students said that the work of the Prefects during the past year was inspired by another great line from the College Anthem 'DOING THE DUTY WITH THE CROWN IN VIEW'. He was full of gratitude and appreciation to the Teacher In Charge of Prefects Mr. Titus Withanage for his commitment, hard work and sacrifices he made to make the Prefects greater citizens ready to face the challenges of the world as strong leaders.
The event was attended by the proud parents of the new Prefects, members of the staff and representatives of the supportive bodies of the College and concluded with the singing of the National Anthem led by the College Choir.
All in all, it was a great, solemn and dignified occasion and the credit for it goes collectively to the Sub Director of the College Rev. Bro. Pravin Vaz FSC, the Master In Charge Mr. Titus Withanage, Rev. Bro Dilshan Vimukthi FSC and the immediate Past Head Prefect Master Deeshan Fernando and his band of past Prefects.