Vishwa Shankanath: Dance Maestro in our time
View(s):

Modern day television chandelles produce many singers and musicians but real talented dancers are rare to find.  'Hiru Super Dance Competition' is one of the most unique dancing competitions in Sri Lanka, which have produced several multi-talented dancers to the local showbiz.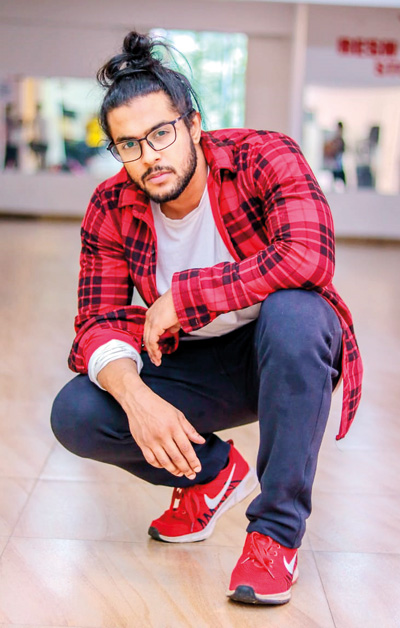 Vishwa Shankanath Ranasinghe is a budding artiste, who got his very first breakthrough from the Hiru Super Dancer Season 2. He is a dancing master, choreographer, actor, model and singer. Hail from Kandy Vishwa is a son of a Gymnastic Coach at Trinity College. His mother Kanchana Ranasinghe is a house-wife and his father Luckwin Ranasinghe is working at Trinity College, Kandy.
Vishwa studied at Vision International School in Kandy and Graduated in NCC.  He is also 'IDM All Island Dancing Champion', while selected honoured at Derana City of Dance Competition. He is IDTA Awarded Amateur Latin Dancing Top Solo Dancer and certified in Hip Hop, B. Boying, Redbull  bc 1 star
He got an opportunity to participate in Hiru Super Dancer Season 2 as a Choreographer in 2019. Gayan Srimal and Damith Fernando of Hiru crew request to join Hiru Super Dancer Season 2 without an interview, only by checking his dancing videos in the internet. There he met the young, talented student Deneth Akarsha, with whom he climbed the ladder of fame to the top. Vishwa and Deneth were able to grab third Place in Hiru Super Dancer Finale.
'That was the turning point in my life. Actually, with that achievement, I got a tremendous self confidence. Self learning was my main vision and I think I have an inborn talent for Choreography. It is a God gifted special talent' said Vishwa.
Vishwa is knowledgeable about almost every dancing style in the world. Not only, Hip Hop, Contemporary, Latin, Ballroom, Break dancing , Popping, Locking, House, Bollywood, Thai and Fear Eastern styles, but he is versatile with Kandyan, low country and some of the authentic Tamil dance techniques too.
He was the guide and the teacher of little Vishmi Pabasara, a popular Star in 'Derana Little Star Season 8'. She was the first little Hip Hop Dancer in Sri Lanka in that season 8.
Vishwa Shankanath started his career as a Dancing Master and Director of the Eewose Ultimate Dancing School almost six years ago and now is considered as one of the 'grand masters of Hip Hop' in Sri Lanka.  Vishwa is now conducting his professional dancing classes in Kiribathgoda, Kandy and Borelasgamuwa to share his knowledge with younger generation. More than 100 students are learning to be a Super Dancer one day.
Not only a dancing teacher he is also an actor. Awasan Inima telecasted in Rupavahini was his first teledrama. Vishwa is featured in most of the current TV Commercials and he was made famous in singer Commercial wit Bathiya-Santhush music videos.
Actually he is a perfect Dancing Master. He is an excellent and most talented Dancing Master and Choreographer in Sri Lanka. Vishwa thanked his parents, sibling, cousins and teachers, who have supported him to achieve his dreams in life.
Sanath Weerasuriya.