Kotalawela's new play in Borella
"Sudu Walaha Hiren Pani"
View(s):
Sinhala stage play 'Nari Burathi' famed playwright Sarath Kotalawela's newest play "Sudu Walaha Hiren Pani" will go on the boards at 3.30 pm and 6.45 pm on January 18 at the Namel Malini Punchi Theatre in Borella.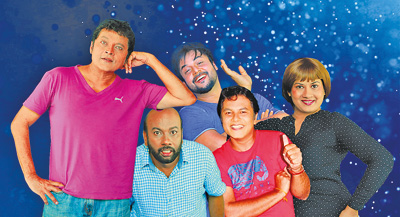 Kotalawela has produced other popular plays like  'Jayasirita Pissu' and 'Eka Sakkuwe'.
The latest production stars Janaka Kumbukge, Pubudu Chathuranga, Madani Malwatte, Niroshan Wijesinghe, Samantha Gamage, Lasaduni Jayawardena and Wimalajith Dombagahawatte.
The music direction of "Sudu Walaha Hiren Pani" is by Wimalajith Dombagahawatte.