Fitness through 'Rebounding'
By Meleeza Rathnayake
View(s):
Gayathri Gopal and Shamitha Hettige are two talented dancers and fitness enthusiasts who turned tables in the fitness industry, redefining it in their own way. The duo are the ultimate co-founders of 'Rebounding' as a form of sport and fitness in Sri Lanka.
The uneven yet soft surface of mini-trampolines offers an amazing way to tone leg and core muscles. It also offers a full body workout promoting better lymph circulation in one's body. Rebounding workouts are most beneficial in burning high amount of calories (twice or thrice than running).
"As dancers we loved to workout! We wanted something more exciting than a typical gym environment. As traditional dancers we stamp a lot on the floor, and we were on the lookout for something less impactful on our joints. Rebounding as a modality was then well received in Singapore. So we decided to get trained and create something palpable and enjoyable for south Asia. This gave birth to 'Playmore'," said Shamitha and Gayathri.
Playmore is a fitness unit that offers group workout programs that are extremely fun and effective. Our signature programme is 'BodyBounce' — a rebounding workout session based on mini-trampolines, with a lot of fun and effective moves.
A normal workout session starts with yoga-based stretches, warm-up routine, multiple sets of bounce cardio and targeted strengthening workouts for the lower body, upper body and core using body weights and light weights. We have also included joint strengthening exercises to reduce the negative impact of the sedentary lifestyle. "We ensure that our clientele gets a different experience and every session is loaded with fun and energy," said Gayathri.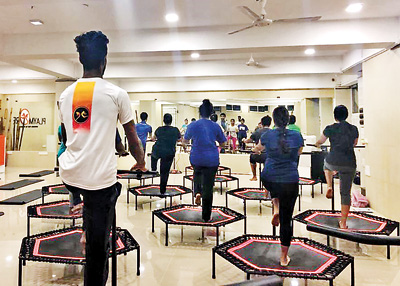 Shamitha who was a professional dancer since he was sixteen was trained in traditional and contemporary dance under veteran dancers Dr. Channa Wijewardena and Upuli Panibharatha. He is a dance tutorial vlogger and has been a  professional dancing coach for over a decade. He has performed internationally and has brought fame to the subject he is passionate about.
The benefits of Rebounding are numerous. People of all age groups can take part as it is a low-impact cardiovascular exercise. "We have had a very good response so far and people here are very open to it and many have seen good results," the duo agreed.
Gayathri is a graduate in Business Management and obtained her Masters in Innovation from the Management University of Singapore. She was brought up and did her primary and secondary education in Kerala, India. She is a dancer specialized in 'Odissi' – a traditional art form in India.
"I have performed extensively for Chowk, a dance company in Singapore predominantly at Esplanade theatres." added Gayathri. The benefits of Rebounding are numerous and could be practiced by people of all age groups as it is a low-impact cardiovascular exercise.
To learn more log onto www.playmore.life