Snapshots of polling in 22 electoral districts
Presidential election
View(s):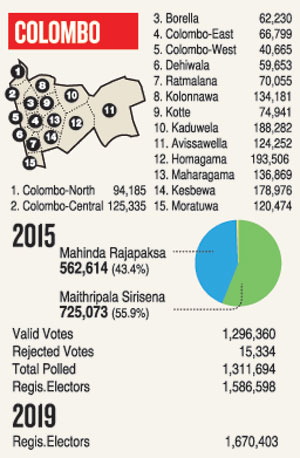 Long queues at most polling booths, no major incidents
COLOMBO DISTRICT: The Colombo district recorded a 75 percent overall voter turnout across 1,175 polling centres, Returning Officer Sunil Kannangara said last evening.
At polling centres, the atmosphere was peaceful. Most of the polling centres had multiple polling booths to accommodate the large number of voters.
While there were long queues at the polling centres, most were fast moving due to the efficient management of election officials, he said.
Sri Lanka Podujana Peramuna presidential candidate Gotabaya Rajapaksa cast his vote at the Sri Vivekarama Temple polling booth at Mirihana in Nugegoda at around 8 am. National People's Power presidential candidate Anura Kumara Dissanayaka voted at the Abeysinharamaya Temple polling booth in Panchikawatte.
Prime Minister Ranil Wickremesinghe voted at the polling centre at the Colombo University.
No major incidents were reported from Colombo district.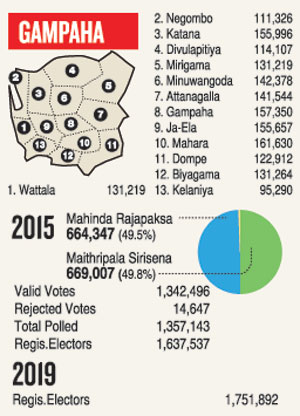 Voters were determined to participate despite bad weather
GAMPAHA DISTRICT: Gampaha District Secretary Sunil Jayalath said 72 percent of eligible voters had voted at 1,184 polling centres, by 3 p.m. yesterday.   There was peace across the district and public interest was high despite gloomy weather.
Parts of Gampaha experienced heavy rains. Wattala, Mirigama and Negombo had thundershowers after 2 p.m. but that did not dampen the enthusiasm of voters. Some polling centres in Mirigama lost power owing to a lightning strike, causing officials to turn to kerosene lamps.
People came in a stream throughout the day, thereby ensuring that queues were kept short and the voting brisk. Groups of SLPP supporters gathered on the roads but this did not affect the situation.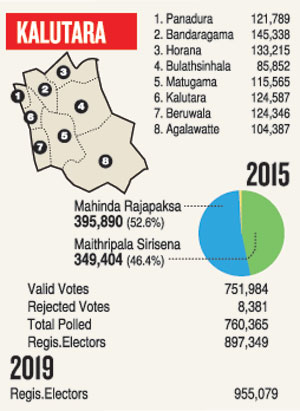 Brisk voting, but lower percentage than 2015
KALUTARA DISTRICT: Voting was brisk yesterday morning in Kalutara. District Secretary U.G.C. Jayalal said that out of 955,079 eligible voters, 65 percent had voted by 2 p.m.  
At the 2015 presidential election total polled voters from the district was at 84.73 percent. Comparatively there has been a drop in the number of voters at this year's election.
The ballot boxes from eight electorates will be transferred to 96 counting centres, and there has been a total of 644 polling centres in the district.
The rain that took place from 1 p.m. to 2 p.m. did not keep people from voting.
Centre for Monitoring Election Violence (CMEV) said they received many reports of voters at polling centres in Buddhist temples, including Rambukkana Raja Maha Viharaya in Bandaragama, being influenced to vote for certain candidates by monks tying pirith nool.
One person was arrested in Bandaragama, for trying to leave a polling centre with the polling card in his pocket.
The CMEV said that three minor election related violations have so far been reported from the district. No major election violations or violence were reported.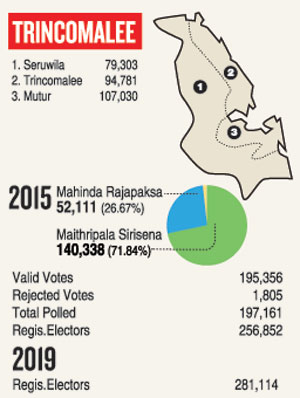 Incident-free polling in bright sunshine
TRINCOMALEE DISTRICT: Polling got off to a slow start across 307 polling stations, but picked up towards noon, with over 40 percent casting their votes in bright sunshine, in the three electorates of Seruwila, Trincomalee and Mutur, Assistant Election Commissioner S. Sudhakaran said.
Tamil National Alliance (TNA) Leader R. Sampanthan cast his vote at St Mary's Balika Vidyalaya, Trincomalee. There was considerable enthusiasm in areas such as Kinniya, Morawewa, Kantale and Seruwila.
Turnout was set to surpass the 76.7 percent figure recorded at the 2015 Presidential election. There were no incidents overnight and nothing serious reported by midday.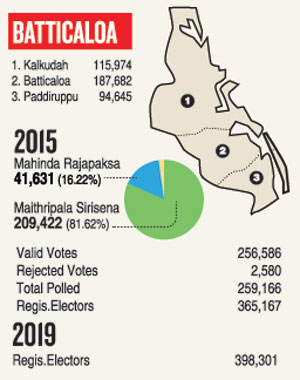 More than 90 complaints mar polling
BATTICALOA DISTRICT: Batticaloa elections officials received 93 complaints of violations, most of them related to inducements and bribes offered to voters. By noon, more than 44 percent of the eligible voters had exercised their franchise across 428 polling stations, said District Secretary M Udayakumar.
Delegates of three foreign election observers groups — the European Union's Election Observation Mission (EU EOM), Commonwealth Observer Group and the Asian Network for Free Elections (ANFREL) — visited the district.
Special measures were taken to protect voters in areas affected by human-elephant conflict. They included Vakarai, Kiran, Manmunai West, and Pattipalai. In Wellaweli, wildlife officials assigned nine teams to provide security to
voters.
Party activists accused of transporting voters to polling booths
DIGAMADULLA DISTRICT: Voter turnout across 523 polling stations reached 45 percent by noon, said District Secretary B M L Bandaranayake said.
Polling was largely peaceful except for a few violations, according to polls monitors.
The Centre for Monitoring Election Violence (CMEV) said it received reports that SLPP supporters transported voters to the polling stations at Borapola Maha Vidyalaya in Ampara.
---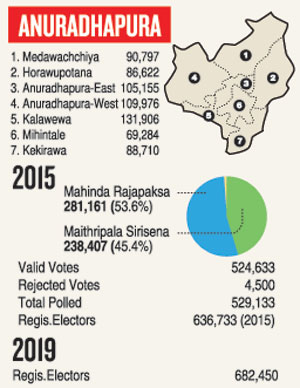 Brisk voting, few incidents
ANURADHAPURA DISTRICT: The Anuradhapura District in the North Central Province consists of seven electorates and has an eligible voting population of 682,450 voters.
Speaking to media personnel, District Returning Officer of Anuradhapura R. M. Wanninayeka said, a 40 percent voter turnout was reported from the district by 11.30 a.m. this morning.
This indicated a higher turnout than at the 2015 presidential election.
Meanwhile the Centre for Monitoring Election Violence (CMEV) reported a group of unidentified people had pelted stones and opened fire on two Sri Lanka Transport Board (SLTB) buses which were transporting voters from Puttalam to Silawathura via Thanthrimale this morning.
According to the CMEV the buses were first stoned and the attackers had opened fire on the buses at Bogoda in Thanthirimale, Anuradhapura.
CMEV reported another incident which occurred at a polling centre at Kataragama where a chairperson of a Pradeshiya Sabha Chanaka Amil Rangana and MP H.R.N. Dasun were canvassing to influence voters to cast their votes for the SLPP candidate.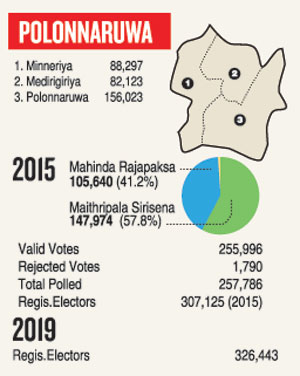 First family votes early in calm environment
POLONNARUWA DISTRICT: With 326,443 voters registered under three electorates in the Polonnaruwa electoral district, voting began smoothly at the 288 polling centres, according to Returning Officer Panduka Abeywardhana.
By noon, the voter turnout was around 55 percent.
Two SLPP supporters were arrested while distributing paper strips with flower buds at Aluthwewa. More than 500 paper strips were found, police said.
President Maithripala Sirisena, accompanied by wife Jayanthi Sirisena and family members, cast his vote at Sri Vidyaloka Vihara in New Town, Polonnaruwa.
Two women from Medirigiriya were attacked by wasps after casting their votes, and were admitted to hospital afterwards.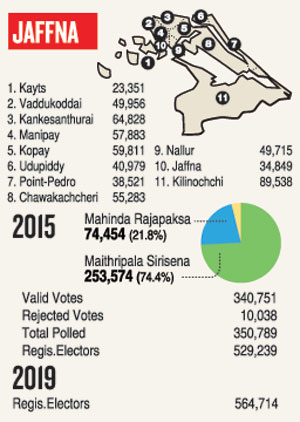 Sudden rain disrupts voting process for a few hours
JAFFNA DISTRICT: Voter turnout in Jaffna which remained at 24 percent for hours due to sudden rain, rose up to 55 percent in the afternoon as people lined up at polling centres to cast their votes.
Enthusiastic voters in the suburban and remote parts of the region were the first to vote when voting began at 7 a.m. yesterday. In the Jaffna Electoral district, 564,714 persons were eligible to vote in 631 polling stations.
By 2 p.m. the voter turnout in the Jaffna electoral district was at 54 percent while in Kilinochchi it was 60 percent. The sealed ballot boxes across Jaffna district, including those in the Northern islands, will be brought to the main poll counting centre at Jaffna Central College.
Following Friday's reports of road checkpoints being set up by the Army in Palai and other northern areas, the Election Commission gave orders to the police to ensure that voters in the north were not intimidated during the voting process.   The Centre For Monitoring Election Violence (CMEV) also said there were no roadblocks in the Palai area and voting took place smoothly.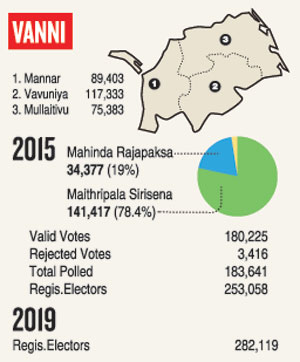 High voter turnout in Vanni district compared to other northern districts
VANNI DISTRICT: Compared to other districts in northern province, the Vanni district recorded a relatively higher voter turnout by 2 p.m. this afternoon. Voter turnout in Mullaitivu and Mannar was 55 percent while Vavuniya recorded a 66 percent turnout.
Chief Returning Officer of Mullaitivu R. Ketheeswaran said voters turned up at voting centres at 7 a.m and no serious election related violations or incidents of violence was reported.
In Vavuniya, there was a degree of confusion among the public as to the times polls were expected to close. A notice pasted at the entrance to polling stations stated that voting would end by 4 p.m., whereas the Election Commission had declared that voting would continue until 5 p.m.
A local journalist was taken into police custody hours after voting commenced for taking photos of the ballot paper using his mobile phone camera inside the voting booth while casting his vote.
Earlier police issued warnings prohibiting the carrying of mobile phones into polling booths, as taking photographs inside a booth was declared a punishable offence.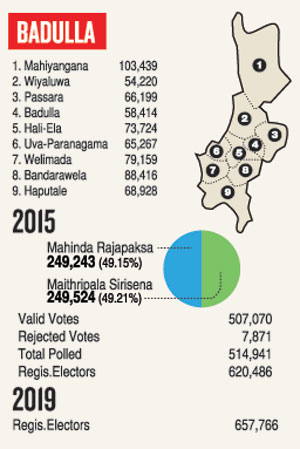 70% of votes at Badulla cast by 2.30 pm
BADULLA DISTRICT: Assistant Commissioner of Elections, H.I.R. Hathurasinghe said, voters in the Badulla district showed up early to cast their vote and by 2.00 p.m. 70% of eligible votes had been cast,
He added the district had 657,766 eligible voters and polling was conducted at 523 polling centres. Polling commenced at 7.00 a.m.
Fair weather prevailed and by noon the crowds waned. Other than a few hassles over identification, officers on duty faced no major incidents.
At around 12.30 pm a report of an attack on three SLPP supporters was received from Welimada. Two brothers and the spouse of one of them were reported to have been attacked by a gang allied to Minister Ravindra Samaraweera.
The female was hospitalised and police investigations continue.
In another incident despite the ban on wearing the burqa in polling booths, a group of Muslim women were seen wearing the garment.
A group of foreign election monitors were seen speaking to the group who were later allowed into the booth after they removed the covering from their face for identification.
Security was tight with the police and the STF patrolling the area.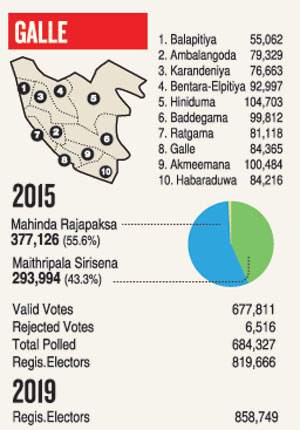 Good weather sees high voter interest
GALLE DISTRICT: Voter turnout had reached over 50 percent by noon on Saturday, Galle District Returning Officer Somarathna Vidanapathirana said.
Fair weather had prevailed in the morning and there was significant voter interest.
Voting took place across 712 polling centres spread throughout the district.
There were no serious incidents of election violence reported from the district. One arrest however was reported from Nagoda. A former UNP Pradeshiya Sabha member identified as Sarath Ganewatte was arrested by Police while in possesion of 777 paperstrips marked with the 'Swan' symbol of New Democratic Front (NDF) candidate Sajith Premadasa.
An assistant returning officer who had observed the suspect allegedly distributing the strips to voters in Thalgawala town in Hiniduma, had complained to police. He was due to be produced in court last afternoon.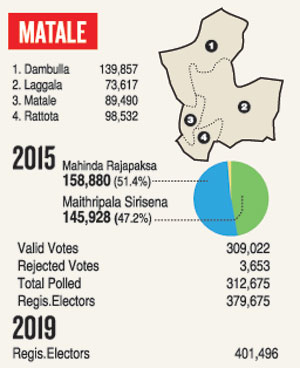 Polling peaceful, 65 percent of voters cast their vote by 2 p.m.
MATARA DISTRICT: Matara District Returning Officer Pradeep Rathnayaka said that more than 65 percent of eligible voters had voted by 2 p.m.
There was no rain in the morning and a large number of voters were seen making their way to cast their ballots at 458 polling centres in the district.
No incidents of election violence were reported from the district, and polling was conducted peacefully.
The CMEV reported that a SLPP Pradeshiya Sabha member was seen influencing voters to cast their vote for the SLPP candidate near the Sri Poojyaarama polling centre in Matara.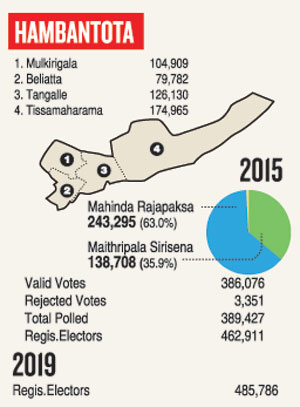 Brisk voting, wildlife officials on standby to prevent elephant attacks
HAMBANTOTA: Voting was brisk in the Hambantota district, with an overall turnout of 42 percent recorded by 12 noon, District Returning Officer Bandula Harishchandra said.
No serious election related incidents were reported, he said.
Meanwhile, New Democratic Front (NDF) candidate Sajith Premadasa cast his vote at the polling centre in the Suranimala Primary School at Weerawila, Tissamaharama at around 7.15 a.m.
The Sunday Times learnt that special precautions had been taken to ensure the safety of people from any elephant attacks during and after voting.
Teams from the Department of Wildlife Conservation who are in the district were due to accompany election officials transporting ballot boxes to counting centres in the evening once polls close at 5.p.m.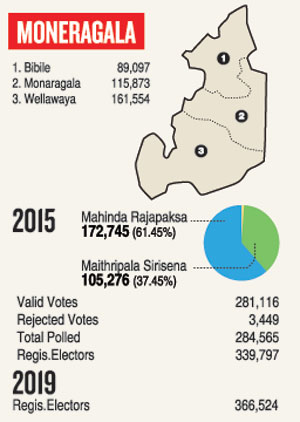 Some instances of voter influencing reported
MONERAGALA DISTRICT: Early voting in the Moneragala district showed a 45% turnout, indicating a high turnout by day's end.
According to reports, estate workers were seen to be more enthusiastic in casting their votes this year, as compared with the 2015 presidential election.
Election monitor CMEV charged that SLPP supporters was making efforts to influence voters at a polling centres in Wellawaya.
A separate incident of attempted voter influencing was reported at Wellawaya's Peshakarma building polling centre, where supporters of Sajith Premadasa were seen attempting to influence voters.
A report from Kataragama said SLPP supporters were transporting voters to the Peshakarma building polling booth at Kataragama and influencing them to vote for the SLPP candidate. While a report from Bibile accused a person supporting Sajith Premadasa of attempting to influence voters in the vicinity of the Al-Irshad School in Medagama.
The report said 26 election-related violations were reported against the SLPP.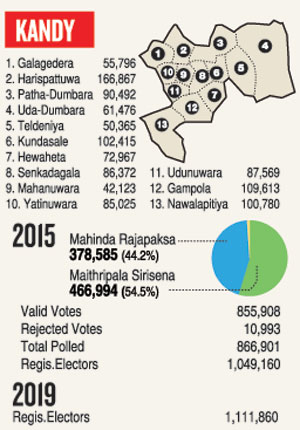 The hills come alive to peacefully cast their votes
KANDY DISTRICT: The Kandy district has some of the most remote and difficult-to-reach polling stations, such as the one located in the village of Udagaldebokka, in the mountainous area on the border of the Kandy and Badulla districts, with only 73 registered voters. The ballot box has to be carried for many kilometres, as the centre is not accessible by vehicle. It is the last to return to the main counting centre and officials do not start counting the Kandy district ballots until it arrives.
By noon, 50 of them had voted, Minipe Divisional Secretary Wathsala Marambe said.
At 4 p.m. voter turnout in the Kandy district had reached 75% across 835 stations, according to District Secretary D.M.N.G.G. Karunaratne. There was keen interest in voting. Polling was peaceful. However, the Centre for Monitoring Election Violence (CMEV) received reports that a group of people arriving in a Prado jeep without number plates, forced their way into the Dolosbage Kanishta Vidyalaya polling centre in Nawalapitiya.
A complaint that around 50 SLPP supporters were urging voters heading for the Medawatte Tamil School polling station in Walapane, Kandy, to vote for their candidate, was also received.
Voter interest high, few incidents reported
MATALE DISTRICT: Voter turnout in the Matale district was at 70 percent by 2 p.m., District Returning Officer Karunasiri Perera said.
High voter interest was seen in the estates, while a large number of young people were seen going to cast their votes. People were also seen waiting outside polling centres by 6.30 a.m., half an hour before voting began.   One serious incident was reported from a polling centre in Wasalakotte, Galewela when a voter identified as 45-year-old P.G. Kusumawathi found out that someone had already cast her vote. Thus she was denied an opportunity to vote and she has lodged a police complaint about the incident.
Meanwhile, the Naula Pradeshiya Sabha Chairman, a member of the SLPP, together with another member who is a monk, allegedly attempted to persuade voters to vote for their candidate. They were dispersed by the police following complaints. An SLPP member of the Matale Pradeshiya Sabha was also ordered by the police to leave the area after complaints were received of him trying to persuade voters to vote for the SLPP candidate.
In addition, The Centre for Monitoring Election Violence (CMEV) was notified of a tense situation which had broken out when a voter attempted to photograph the ballot paper after voting at Polling Centre No. 48, Sharipuththa Vidyalaya in the Rattota electorate, Matale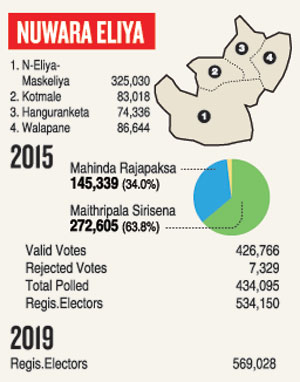 People beat the weather to vote in large numbers
NUWARA ELIYA DISTRICT: Late afternoon rains in the past few days saw voters make their way to the 488 polling stations early in the day to avoid the inclement weather.
Plantation workers were granted leave until 11 a.m. to cast their votes. Long queues were seen outside polling stations as plantation workers rushed to beat the deadline. Despite, the heavy rains that lashed Hatton all afternoon, voters headed to the booths to exercise their franchise.
By noon, more than 50 percent of the eligible voters had cast their votes, District Returning Officer Rohana Pushpakumara said. One polling centre in Kandapola reported a 75 percent turnout while two others in Kotmale reported 60 percent.
Meanwhile on Friday night, Police arrested the Deputy Chairperson of the Lindula-Talawakelle Urban Council L. Barathadasan, for the alleged possession of 212 model ballot papers. The Ceylon Workers' Congress (CWC) was to be produced in court yesterday afternoon.
An SLPP polling centre representative at the Madduma Bandara Vidyalaya in Magastota was also arrested while he was trying to carry five sample ballot papers into the polling centre.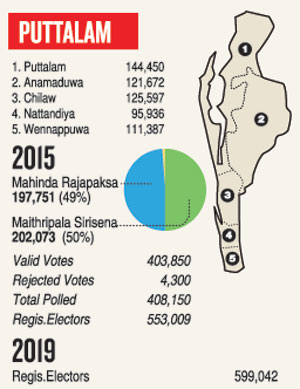 Complaint against transport for displaced persons to vote
PUTTALAM DISTRICT: A complaint had been lodged against Commerce Minister Rishad Bathiudeen's supporters for organising transport for displaced persons to travel from their homes in Puttalam to Mannar, where they were registered to vote.
However, Mannar District Secretary Mohan Rasa said permission had been granted for 122 state-owned buses to transport the people. SLPP Parliamentarian Sanath  Nishantha had complained that more than 200 buses had been deployed.
Around 11.50 p.m on Saturday, when eight of these buses were travelling in a convoy, in the Tantirimale area in the Anuradhapura district, two were shot at and stoned. Window panes had been shattered but nobody was hurt. Police had evacuated the people.
Miscreants had also blocked the road with tree trunks to prevent the other buses from proceeding. These obstacles were cleared and the voters were escorted to polling stations in the Mannar district by the Special Task Force (STF).
Meanwhile Puttalam District Secretary M H M Chitrananda  said there was a 40 percent voter turnout by 12 noon across 411 polling stations. Fair weather had helped brisk polling.
Voters turned up in large numbers in the Kalpitiya, Chilaw, Anamadauwa, Nattandiya areas in the first few hours of the vote.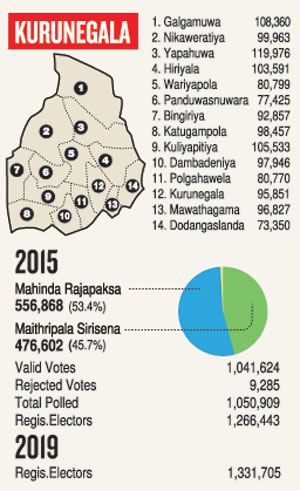 Peaceful polling; wildlife officials keep elephants at bay
KURUNEGALA DISTRICT: Polling was largely peaceful and no major incidents of election-related violence were reported. However, SLPP parliamentarian Johnston Fernando's supporters roamed the city in vehicles adorned with photos of the SLPP Parliamentarian in violation of election laws.
By noon, the district recorded a 50 percent voter turnout across 959 polling centres, District Secretary Gamini Illangaratne said. Fair weather prevailed. In villages vulnerable to elephant attacks, people showed high enthusiasm to cast their votes early in the day. In Galgamuwa, Meegalawa, Ehetuwewa and other villages known for man-elephant conflicts, wildlife officers provided security to the voters and ensured that there was no disruption to the polling. They also assisted in the transport of ballot boxes.
Firecrackers were distributed to the villagers in Kannoruwa, Reswehera and Wanni Amunukula to drive away elephants, a wildlife official said.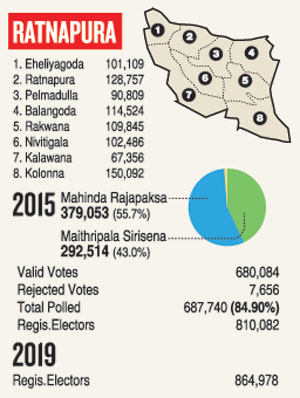 Temporary polling centres come up to accommodate more voters
RATNAPURA DISTRICT: Polling was peaceful and brisk with an 84 percent voter turnout being recorded in the district which had 627 polling stations. Eleven temporary polling centers were also set up in tents as there was an increase in the number of voters in the district, Deputy Election Commissioner Suranga Ambagahatenna said.
Around 3,000 policemen were assigned on election duty and there were also 117 patrols. There were no incidents reported from the district.
A disaster relief committee was on standby with ambulances also on standby. However, fair weather prevailed.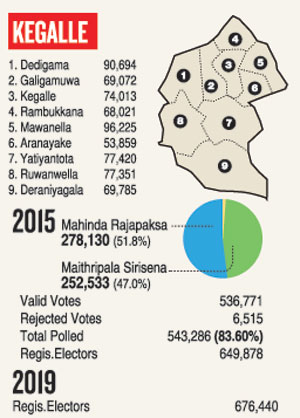 Despite rain and attempts at coercion, 75% turnout
KEGALLE DISTRICT: Voting took place in 574 polling centres in a largely peaceful atmosphere. The weather was mainly fair in the morning, but heavy rain was experienced in some areas in the afternoon. This did not deter people from contributing to a voter turnout of 75%, said Returning Officer Chandrasiri Bandara.
However, election observers recorded several attempts to coerce voters. A youth who attempted to photograph his ballot paper after voting, was arrested in Hemmathagama.
Police also arrested two suspects in connection with an attack on three people at Noori Estate in Deraniyagala. The victims were admitted to hospital.
Police said the victims were returning home after casting their ballots when the suspects had demanded to know who they voted for and then assaulted them.