Police to maintain the peace that prevailed during polls, says police spokesman
View(s):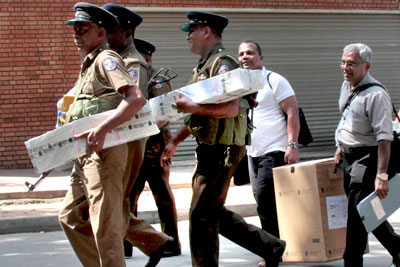 Policemen on duty in Colombo and below Kalutara. Pix by Ishanka Sunimal and Sunil Thantirimale  
Police will continue to maintain security with a ban on election meetings continuing throughout next week.
Police spokesman SSP Ruwan Gunasekara said of the two police officers  deployed at each polling centre one was directed to report for duty at counting centres while the other officer was deployed for post election security duties.
He said that the ban on processions, rallies and meetings would be maintained in accordance to the election law in the the week following the release of the final result confirming the victor of the election.
"We were able to provide security and maintain the election in a peaceful manner, without any major violent incidents. However minor incidents were reported. One of  them was an assault incident in Daraniyagala.
He said Thantirimale police were also carrying out investigations regarding shots being fired and stones being pelted at three buses from a convoy of 200 buses transporting voters to Mannar early Saturday morning.
He said police officers would also be deployed islandwide to maintain security barriers on roads and to carry out mobile inspections.
He said they had deployed more than 25,700 officers for polling booth duties and more than 3000 won mobile duties islandwide.