TRANSFORMING LIVES, ENRICHING FUTURE MBA & PH. D FROM MSU
View(s):

Management and Science University (MSU) is Top 100 young university and 541st QS World Ranked University in Sri Lanka, which is one of the leading university in Malaysia that established its learning centre in Colombo. MSU is gaining prominence as a provider of quality education in the Asian region in the areas of Hospitality and Tourism, Medicine, Health Sciences, Life sciences, Information sciences and Business management. Geared towards academic excellence, providing academic programmes of international repute is the mainstay of MSU's existence. It is now well – positioned to be one of the leading universities in Malaysia, providing industry-relevant Diploma, bachelor's degree and Postgraduate courses up to PhD and other research disciplines.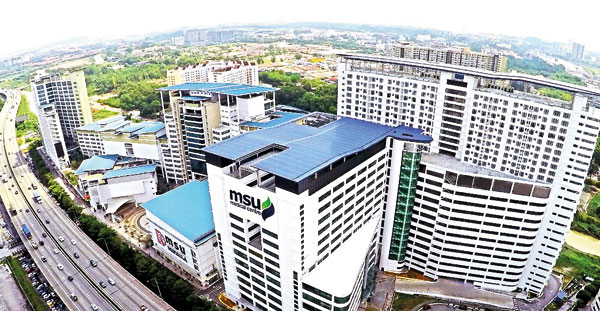 The Postgraduate programmes offered by the MSU include:
Master of Business Administration (MBA)
Doctor of Philosophy (PhD) at Malaysian Campus, the areas of research are International business, E-commerce, HRM, Marketing, ICT, MI, Multimedia Technology, Accounting & Finance, Business Computing, Strategic management & Globalization & Customer Relationship Management.
Management and Science University (MSU) offers you a dynamic Master of Business Administration (MBA) programme designed for professionals working in either the private or public sector – or graduates who want to advance their career through an impeccable business programme tailored to their needs.
MSU offers students experiential learning in cross-cultural communications, the opportunity to build a global network and the possibility to create future international career opportunities. Besides, students will have the opportunities to develop management skills and techniques, to obtain strategic orientation and to implement the strategies formulated. These include networking events with industrial leaders, talks by CEOs, industrial visits, management games, case study approaches, video presentations, on-line interaction and many other approaches. Besides, it will help students to develop the skills in leadership, entrepreneurship, strategic management and decision making and trains them to become successful corporate leaders and entrepreneurs in the most competitive markets. Upon completion of the programme, students will have a broad understanding of their specialised areas.
In addition to the MBA programme, MSU also offers a PhD that qualifies students to a range of positions both in the private and public sector. The PhD programme offers an intellectually demanding doctoral program for a small select group of high-potential applicants: men and women who already have a breadth of knowledge in the functional areas of business and who have a strong interest in academic research. The primary aim of the doctoral program is to train students to become an academic researcher capable of contributing to the cutting edge of research in Management, particularly within your area of expertise.
In addition to the Postgraduate programmes offered by MSU, MSU also offers key degree programmes that students can complete in Sri Lanka, MSU Malaysia or partner Universities worldwide including, Australia, UK, Japan and Germany.
MSU through their Local Representative, Management & Science Institute (MSI) offers Students a range of Diploma programmes which help develop knowledge and skills of students while preparing them to obtain employment or continue their higher studies. MSI currently offers diploma programmes in a wide range of interests including Hospitality and Tourism Management, Biomedical Science, Event Management, Business Management, Accounting, Dialysis Technology.
Further information on the programmes can be obtained by contacting   0112576644, 0112576700, Hot Line 0770777880, email  enquiry@msi.edu.lk     or visiting  Management & Science Institute (MSI) at, No 300 Galle Road, Colombo 3,

Dr Hemakumara
The Doctor of philosophy programme in Management/Business at the Management & Science University of Malaysia helped me to reach the highest targets in my academic life. I want to mention here that MSU PhD programme is not just research. We were able to improve our knowledge, skills, attitudes and especially learn how to achieve deadline given tasks. I was able to understand my working capacity also while working for deadline given schedules of this programme.
As a lecturer in management studies, I used to research in the field of management, HRM and organisational behaviour. The topic I selected for the PhD is reflecting these subject areas. I had very helpful, knowledgeable and broad-minded supervisors, because of them I was able to complete the research on time.

Dr P.H.Kusumawathie
I have taken efforts in the doctoral program in Curriculum Development in Business and Management Studies at MSU Malaysia. The supervisor, with their guidance and constant supervision as well as for providing necessary information regarding this particular area & also for their support in completing the doctoral program. I appreciate all their contributions of time, ideas, and sharing knowledge to make my PhD experience productive and stimulating. The MSU has been a source of friendships as well as good advice and collaboration.

Dr Duminda Weeraratne
CEO
Project Management Solutions
MSU PhD program was Well-structured and well phased out into many channels of learning and feedback sessions such as taught modules, workshops, CSR projects, expert opinion sessions, defence proposal, Consultation workshops, work completion seminars and viva.  The program includes a perfect combination of research methodology and industry knowledge with sufficient breadth and depth that stimulate creativity and innovation. The degree was supported by a top-notch faculty that provides quality supervision throughout.  It also provides a flexible structure that allowed me to stay in my full-time job and complete the course comfortably. I will always be thankful to MSU for everything I gained during my PhD Journey.

Chandani Gamage
Senior Lecturer,
Dept. of Accountancy & Finance, Faculty of Management Studies,
Rajarata University of
Sri Lanka
As the senior academic member of reputed government University, MSU helped me to achieve the greatest academic qualification in my career PhD.. Academic staff of MSU is more talented competent and skill full in different disciplines. MSU is great opportunity for a person who thirsty to achieve the academic qualifications in timely and quality manner. I wish all the best to MSU.

DR. M. B. M. Irshad,
PhD (ICT), MSU, Malaysia
Senior Lecturer
Head, Department of Management and Information Technology
South Eastern University of
Sri Lanka
I am very much privileged to have graduated with Doctor of Philosophy in Information and Communication Technology at the Management and Science University (MSU), Malaysia, a global university with Top 541+ QS World University Rankings. The experience with MSU as a PhD candidate was marvellous and exciting in all aspects. The interaction with MSU enabled me to enhance the research skills in the field of Information Technology through supportive and great supervision by supervisor at MSU. My research area was Cloud Computing adoption in the Higher Education Sector, and a road map was recommended for the national universities in Sri Lanka along with four research articles in areas such as cloud computing adoption, cloud security etc, published in the international indexed journals. The academic environment at MSU is very conducive for any types of higher learning, and the structured schedule of the program and supportive staff enabled me to complete my PhD on time successfully. I think that MSU brings the future now and wish more and more success to delight its MSUrians.