Disabled voters hampered by lack of facilities, say activists
View(s):

Disability rights organisations say that more should be done for disabled voters to exercise their franchise at the upcoming presidential election.
According to the National Census it is estimated that 1,617,924 persons live with some form of disability, a sizable amount which can have a direct impact on the results of the election they point out.

Where ever possible, polling stations must be situated in buildings that are easily accessible to people with disabilities and temporary ramps can be installed to facilitate accesses, they point out.

"Some measures have been put in place to provide better physical access to voting centres for the disabled community, but in certain areas accessibility remains a problem as a result people with disabilities are not willing to cast their votes," Dulip Sampath advocacy officer of the Wellassa organisation of Persons with Disabilities said.

He said presently visually handicapped people have to inform their voting preferences to a sighted person and trust that person to mark their vote. But what assurance do the voters have whether their vote has been cast correctly, he asked.

People with speech impairment also face hurdles as they are sometimes unwilling or embarrassed to communicate with the officials and opt not to cast their votes, he added.

Ishan Jalil a disability activist said that most voting booths are designed to accommodate voters who are in a standing position. Pointing out that this was a hindrance to people with physical disabilities he said there should be specifically designed tables for such people.

He also said that ballot papers should be printed in braille too, like in other countries. This would afford privacy and dignity to blind voters.

He said it was also important that when political dialogues or debates were conducted that they should be relayed in sign language.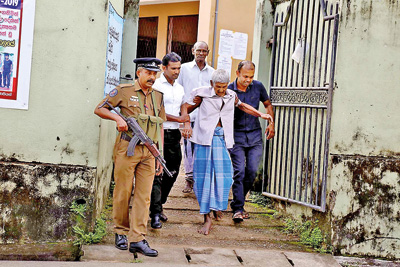 Assistant Election Commissioner Rasika Peris said that people who are totally or partially physically disabled or visually handicapped are allowed to seek the assistance of another person.
The person who assists should preferably be a family member, be mentally and physically healthy and over 18 years of age.
The person who will need someone to accompany him/her has to collect a special application formfrom the respective Grama Niladhari .
After receiving the authentication from the Grama Niladhari the application has to be submitted to a government medical officer who will certify the person as differently abled. The applicant is subsequently issued an eligibility certificate that can be presented at the polling station, Ms. Peris said.
Only the person whose name and details have been mentioned in the eligibility certificate as the companion, could enter the polling station with the specific voter, she emphasised.
In the absence of anyone accompanying the disabled voter the senior presiding officer can cast a vote on behalf of the voter in the presence of another officer.