Veteran Sinhala Cricket journalist Sarath Jayasinghe invites contributions to his latest book
View(s):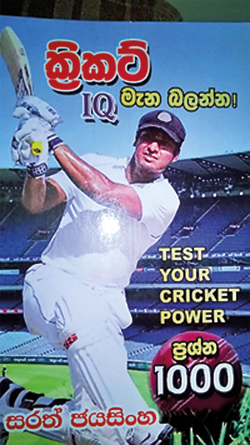 Veteran cricket journalist (Sinhala) Sarath Jayasinghe invites cricket loving readers to contribute to his forthcoming issue of 'Sri Lankaave Jagath Ekdina Cricket Puraanaya' [One Day International (ODI) Cricket History of Sri Lanka].
The contributions should be factual accounts of rare incidents, special achievements of players, interesting stories, on and off the field, valuable pictures of Sri Lanka's ODI cricket history, which commenced from the inaugural Cricket World Cup in 1975.
Jayasinghe, former Sports Editor of 'Kreeda' newspaper of Lake House, was a prolific writer, after his retirement from Lake House, with books containing valuable cricket details.
In addition to his books on sports, he has so far penned 4 books on cricket, such as 'Sri Lankaave Test Cricket Ithihasaya' (History of Sri Lanka Cricket)', 'Loka Kusalana Cricket saha Sri Lanka Pile Daskam' (Sri Lanka's Talent in World Cup Cricket), 'Wissai Wissa Cricket Ithihasaya' (The History of Twenty20 Cricket), and his latest issue being 'Cricket IQ Mena Balanna'.
Jayasinghe expects to release the book 'Sri Lankaave Jagath Ekdina Cricket Puranaya' with more than 1,500 pages, at the end of year 2020. Contributors can contact the writer on sarathjayasingheaia@gmail.com or 0718986733.