The Friends become first local cycling club to be sponsored
View(s):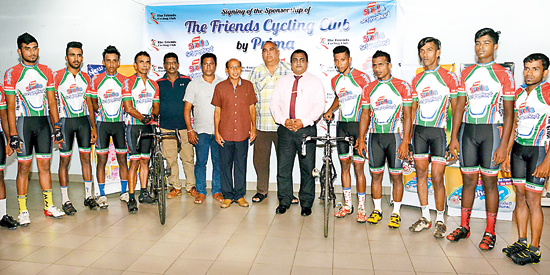 The Friends Cycling Club became the first, and only, one of a kind in local cycling to receive a sponsorship from a reputed corporate giant, when they received the backing from Ceylon Agro Industries Limited or Prima Group. The brand Prima Stella Yoghurt will be incorporated with The Friends Cycling Club in their future endeavours, beginning from this month at national cycling events to be held in Sri Lanka.
The partnership was announced at a press briefing held at Kelaniya, a location closer to The Friends Cycling Club's base, last Wednesday. Explaining further on the club's achievement in attracting a sponsor, The Friends' Cycling Club's Secretary, Sumith Balasuriya stated that they are highly motivated by the fact that the club became the first and only cycling entity to obtain the support of a sponsor.
"The Friends is a club that has a respectable history in local cycling, and by today we have a good set of athletes, who have been contributing towards the club with their spirited performances. It's unknown to many, but The Friends have been winning the overall championship at the Inter-Club Competition for many years now. This partnership with Prima will be a huge boost to the club, as we aim to win top races in the near future," he stated.
The Friends Cycling Club, established in 1992, has been one of the top contenders at mega cycling events held locally since its inception. Prima's sponsorship commitment with The Friends will run for a period of one year, and will be reassessed for renewal based on the performances at cycling events and the progress of the club.
"We are really humbled to partner The Friends, at a time when they in great need of a sponsor. Prima have already provided cycling kits to the club's its athletes besides providing cycling gear and other necessary equipment. We will also assist them as their main sponsor at upcoming top events. We are told that at present there are 25 male and female cyclists at The Friends, and knowing their capability in developing skills among athletes, we anticipate the number of athletes to double by next year, along with other development programmes to uplift cycling in the area," Dinesh Wimalachandra, the Manager, Special Events and Brand Activation, Prima Group, stated.
The President of The Friends, Amal Rodrigo, its Secretary Sumith Balasuriya and a team from Prima Group headed by Dinesh Wimalachandra, were present at the event announcing the partnership between the two parties.