It is a privilege to play for Sri Lanka but you have to earn it: Sangakkara
View(s):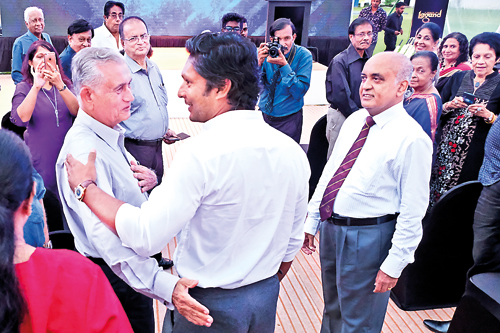 At the recently concluded function for the Schoolboy Cricketer 2019 by Dialog4G and the Sunday Times, Kumar Sangakkara, delivering the keynote address, as the chief guest, gave some very inspiring advice for budding cricketers. The eloquent Sangakkara's advice should be taken to heart by youngsters, as he too, started as a not too brilliant schoolboy cricketer. But look where he is today. His cricket statistics tell it all, and, as an ambassador for the game, currently, he certainly has no peers. No wonder the outgoing President of the MCC, Anthony Wreford, not a first-class cricketer, nominated Sangakkara to succeed him– a signal honour to a non-Briton – in two days time, viz 1st October.
Sangakkara, an accomplished speaker, began his keynote address by stating: "Cricket is underpinned by certain human values, certain characteristics, certain ways of behaviour, both on and off the field…….it is not always about the bat and ball. It is also always about the person. About who you are. Because, who you are shines through at all times, in the manner you play the game and also how you carry yourself, off the field. And cricket is, probably, the only sport that has preambles to its Laws and regulations, something called the Spirit of Cricket."
The Preamble to the Laws is the forerunner to the then Law 42 (Fair and Unfair play – responsibility of captains) wherein it states, inter alia, "it is the captains' responsibility to ensure that play is conducted within the spirit and traditions of the game…." In short, the game of cricket can proudly claim to be the only sport that supports the spirit of the game, unlike all other sports, internationally or otherwise. Despite the Preamble, that was included in the year 2000, (where the late Sir Colin Cowdrey played a leading hand in its introduction, and Sangakkara made an outstanding lecture under this aegis in 2011) to prevent match-fixing, ball-tampering, uncouth behaviour, on and off the field, has still (as we all know) not been completely eradicated. Recently, legendary Indian cricketer Sunil Gavaskar conceded: "Greed is a thing which no amount of education, guidance, seminars with anti-corruption guys, is going to help. Greed is something that is human."
In this regard, the Anti-Corruption Unit of the ICC recently mentioned (confirmed by Sangakkara) that, of the 43 incidents of corruption in international cricket, there are 23 such cases concerning Sri Lanka. Isn't there an ICC office established in Sri Lanka to monitor such issues more closely? No wonder the COPE of Sri Lanka is hauling the current senior officials of Sri Lanka Cricket over the coals, for various acts of misdemeanours, and counting. Indeed, just by the side of Sangakkara's article in the newspaper, as mentioned above, there is a headline quoting the Legal Advisor to the Ministry of Sports, Panduka Keerthinanda: "Sri Lanka to implement tough legislation against corruption in sports."
Reverting to Sangakkara's address, it must be remembered that his school career, and that of Rangana Herath, was nothing to write home about. The career of Thomian captain Michael Tissera, who played five years, captaining in his last two years, was not too different – just a solitary 50 in the Royal-Thomian and , if my memory serves me right, a solitary century versus Wesley College. Eventually, he blossomed at Club level, beginning with a century against Saracens Sports Club and, after that, there was no stopping. He finished as the most successful skipper of the country, including the first occasion we beat India at Ahmadabad. This is how hard work, dedication and a little bit of luck works. As Sangakkara stated: "….. believe in the fact that, if you work hard, your skill and your talent and your ability will be good enough. You don't have to make friends with your coaches, you don't have to make friends with umpires. You don't have to have powerful people in the Cricket Board in your corner…….. entertain journalists to write well about you, thinking that will get you ahead. All what you have to do is work hard, plan properly, commit, focus, concentrate………playing for Sri Lanka is a funny thing. You must want to play for Sri Lanka…… …Don't think that it is a right. It's a privilege and you have to earn that privilege. It won't come easy……….remember, the longer you play, the harder it becomes, the harder you have to work and the more effort you have to put in."
Sadly, however, former skipper Dinesh Chandimal did all the right things (53 Tests – 11 hundreds average 41.9, 146 ODI's, 4 hundreds 22 fifties at an average of 32.4, a Strike-rate of 104 inT20 cricket with 4 fifties), but was ignored by the Selectors (or by one?), brought down from Canada at the eleventh hour when the New Zealanders recently came to Sri Lanka. Yet, he had to sit it out in the dugout! What a sad state of affairs. A similar situation existed when one man, a couple of decades ago, acted dictatorially, that caused our cricket to go back 20-25 years.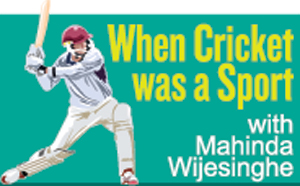 Hard work, is Sangakkara's credo, and the older he gets, the harder he works.
Those are not empty words. For example, at the age of 39 years, Sangakkara turned out for a first-class season with Surrey in England in 2017. Ending with 8 hundreds, an aggregate of 1,491 runs, including twin hundreds at Lord's versus Middlesex, making him the leading run-scorer in either division. He was the toast to all cricketers, young and old.
Many years ago, during the course of a casual conversation between the writer and Sangakkara, the latter asked: "Sir, why is it that you don't contribute to the media on a more regular basis?" My answer was succinct: "When I played this noble game, beginning in the '50's for my school, and later Club, it was entirely a sport without any financial gains, but now, it has taken a turn towards an industry, so I am unable to cope with such a situation."
In conclusion, let me first wish the national team a safe tour and return from Pakistan. Also, budding cricketers should read, absorb and have Sangakkara's speech framed and hanging by their bedsides. You will not have any better advice. No wonder, he also benefited from advice by his father as well.
Sri Lanka cricket needs his advice on the game, for its betterment, but sadly, the top administrators are too busy giving evidence to the COPE.