Flood waters recede, but health officials warn of threat of disease
View(s):

This week's flooding in parts of the country that has affected nearly 140,000 people could result in the spread of respiratory illnesses, infectious diseases including water borne diseases and dermatological issues, Health officials have warned.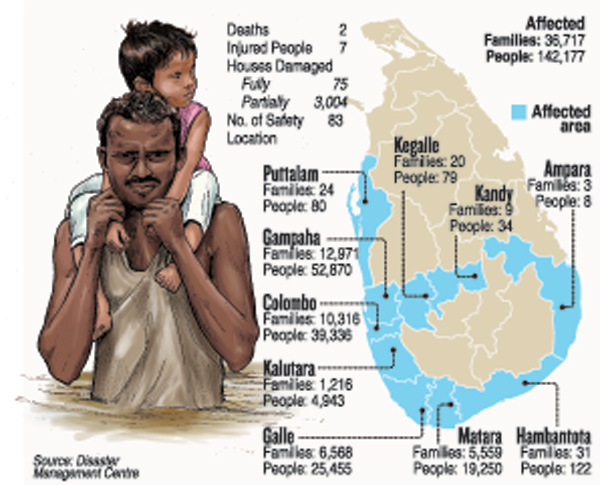 The warning came as flood waters were receding in the districts of Galle, Colombo and Gampaha.
The Health Ministry's National Coordinator of Disaster Preparedness & Response Division Dr Hemantha Herath said one of the best ways to protect oneself from diseases was to try and stay out of the water.
Health officials have also asked people to refrain from drinking water from wells that could be contaminated by floodwaters.
Health authorities have also warned of a rise in dengue cases and have identified Colombo, Gampaha and some parts of Galle district as areas prone to dengue.
For this month (September) 1234 dengue cases were reported in Colombo district. The highest number of patients were reported from Narahenpita, Kirulapone, Wanathamulla and Maligawatte areas. More than 400 people were fined after authorities found dengue mosquito breeding grounds in their household premises.
Heavy showers caused flash floods and landslides in many parts of the Southern,Western, and Sabaragamuwa provinces. About 138,000 persons from 23,720 families were affected by the floods while one person died in a landslide incident.
Landslide warnings issued by the National Building Research Organization (NBRO) on September 25 for the districts of Galle, Kalutara, Matara, Ratnapura, and Kegalle are still effective as heavy rains continued in these areas .
The Disaster Management Centre said eight districts including Galle, Matara, Gampaha, Hambantota, Kalutara, Ratnapura and Kegalle were the most affected. Schools in Galle and Matara districts that were closed will re open tomorrow.
With more than 15,000 persons being housed at 42 temporary camps the NBRO has asked people to remain alert to the colour codes that are issued in the affected areas.
 Yellow- If rainfall exceeding 75mm has been reported within 24 hours. If it continues, there is a possibility of landslides, slope failures, rock falls, cutting failures and ground subsidence.
 Amber – If rainfall has exceeded 100 mm within a period of 24 hours. People to be on alert for the possibility of landslides and to be prepared to be evacuated to safer location.
 Red- If rainfall has exceeded 150 mm and imminent evacuation to avoid the risk of landslides.
Earlier in the week evacuation orders were issued for residents in the affected areas of Galle, Elpitiya, Niyagama, Imaduwa, Baddegama, Bulathsinghala, Walallawita, Matugama and Agalawatte.
The water levels of the Nilvala ganga, Gin ganga rose causing a major flood situation in the Southern Province. Kalu ganga in the Western Province also reached flash flood alert level. The tri-forces have been deployed for relief operations and evacuation operations in flood-hit areas.
Disaster Management Minister Ranjith Madduma Bandara declared that the government has allocated 12 million rupees to provide relief for those affected.
Meanwhile the Department of Meteorology said the prevailing adverse weather is expected to ease by the end of this week.
| | |
| --- | --- |
| CEB to assist 'powerless' people | |
| The Ministry of Power Energy says steps have been taken to immediately restore power in areas where power failures had been reported.Heavy winds that slashed several areas including Ratnapura, Awissawella , Eheliyagoda resulted in several trees falling on power lines and houses causing damage and power disruption.CEB officials are requesting people in affected areas to report any malfunctioning electrical circuits in their homes. The repairs will be done free of charge. | |
| | |
| --- | --- |
| Get new dates for practical exams  | |
| Students who are unable to sit for the G.C.E (A/L) practical examinations which are ongoing can contact the Examinations Department and request for another day. Examinations Commissioner General Sanath Pujitha said candidates could ask for a new date within a time frame of 10 days from the scheduled exam day. | |
Pix by Ishan Sanjeewa, Sunil Thanthiriarachchi and Sarath Siriwardene