Rains bring mixed fortunes: Drought is gradually ending, key ministries cautiously upbeat
By Shaadya Ismail
View(s):
The current rainy weather has brought more good news than bad news to Sri Lanka, with some areas hit by the drought receiving rain, while the Power and Agriculture Ministries are also cautiously optimistic about the situation.
The Disaster Management Centre Deputy Director Pradeep Kodippili said the country was now gradually recovering from the drought conditions that prevailed for some time.
He said the rains had also affected some 3,730 people in the Kandy, Kurunegala, Gampaha and Colombo districts.
Duty meteorologist Kasun Pasqual said showers up to 100 mm could be experienced in the Sabaragamuwa, Uva, Central, Southern, Western and North-Western provinces till Tuesday. The Uva and Southern provinces would experience thundershowers in the evenings.
"We are going through the last few days of the Southwest monsoon and by the last week of September the country may move into the second inter-monsoon period, during which evening thundershowers are expected in most parts of the country," he said.
The Power and Renewable Energy Ministry appears to be upbeat on the prevailing wet weather. Director and Spokesman Sulakshana Jayawardena said daily power demands had dropped by as much as 40 gigawatt hours, while they were now able to meet 25 percent of the country's power demands through hydropower generation.
He said the current water levels in the reservoirs were favourable but the water was being preserved to cater to the demand in the dry season from January to April.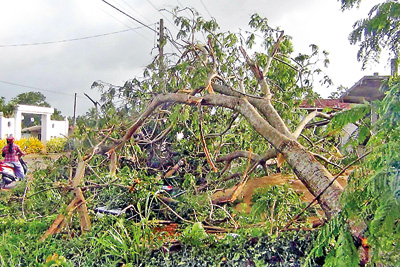 "Nothing much can be predicted until the North-Eastern monsoon also brings substantial rain. The conditions are favourable in comparison to 2017 although the average water levels are still less than the 70 percent mark recorded last year," he said.
Mr. Jayawardena said the Castlereagh reservoir had risen to 83.1 percent of its capacity and the Maussakelle reservoir to 92.1 per cent, but the water level in the Kotmale reservoir is still 7.6 percent, Victoria 35.5 percent, Randenigala 5.8 percent and Samanalawewa 42.9 percent. Thus, the average water level is 55.5 percent of the overall capacity.
The Agriculture Ministry also sees the prevailing weather condition as favourable for farmers to start cultivation for the Maha Season that lasts from September to March. But the Ministry's Socioeconomics and Planning Director, Dr. R.M. Herath, cautioned that they could not be overoptimistic about the weather pattern.
"Judging by the previous forecasts, we cannot expect things to be favourable during the Maha Season. If the rains fail, the farmers could face a huge loss," he said.
Dr. Herath also said the current weather had posed a problem to some farmers harvesting their crops. Their harvest could get spoilt because of the moisture, he said, adding that farmers were forced to make an extra effort in drying their produce before they were sold, he said.
Dr. Herath said if wise measures were taken the harm could be minimised.