Super Isipathana annex Cup, downing champion Wesley
By Aubrey Kuruppu
View(s):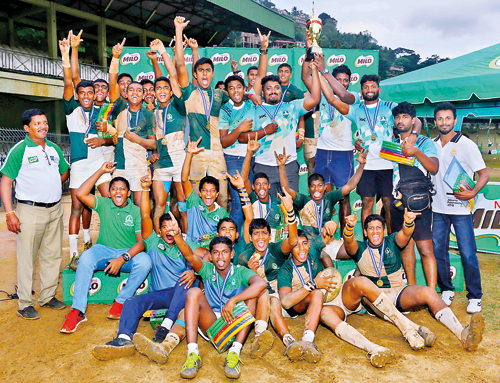 The Havelock Town boys who haven't exactly covered themselves in glory this past season, looked to their Under-16 team to salvage some respect. The youngsters made sure they obliged by beating last year's champions Wesley 29-0 to annex the Cup at the Milo Under-16 All round Championships worked off at the Bogambara Stadium, Kandy.
Wesley, in true Williamson style, may not often that as an excuse. However, one gets the impression that their tough, bruising battle against the Joes may have taken a lot out of them.
Reigning Champions, Wesley came up with two good performances to get the better of Trinity and St Joseph's. The Josephian game was one where no quarter was asked or given. To Wesley's credit, they did all the attacking in the second half and managed the solitary try of the match in the dying stages.
Lumbini was just about able to upstage the Antonians after extra time on penalties. The Antonian kickers made of hash of all these attempts. A wet ball and muddy conditions under foot did not help their cause.
Kingswood, a rugby power-house in the Hills, had a disastrous tournament, losing all four matches they played. DS Senanayake, Science and Piliyandala Central all had their moments of glory. One of the Piliyandala centres was quite superb.
Science went on a try-scoring spree in the Bowl final thrashing Lumbini by 43 points to five. They had earlier punished Sumangala 29-0.
Ousted by Isipathana in the Cup segment, DS came back well firstly to topple the Peterites, and capped their performances by beating the fancied Trinity team in the Plate finals.
 RESULTS
Cup quarter-finals: (Wesley 14-Trinity 7), (St. Joseph's 14-Royal 0), (Isipathana 12-D.S. Senanayake 0), (Dharmaraja 21-St. Peter's 17)
Bowl quarter-finals: (St. Anthony's 17-Vidyartha 0), (Lumbini 14-Zahira 7), (Sumangala 17-Sylvester's 5), (Science 20-Thurstan 5)
Shield quarter-finals: (Mahanama 5-St. Benedict's 0), (Piliyandala Central 17-St. Aloysious 0), (Maliyadeva 15-Kingswood 7), (Lalith Athulathmudali 10-Ananda College 5)
Plate semi-finals: (Wesley beat St Joseph's 5-0), (Isipathana 17 beat Dharmaraja 7)
Shield semi-finals: (Piliyandala 12-Mahanama 5), (Maliyadeva 7-Lalith Athulathmudali 5)
Plate final: DS Senanayake 12 beat Trinity 0
Bowl final: Science beat Lumbini 43-5
Shield final: Piliyandala Central beat Maliyadeva
Cup final: Isipathana beat Wesley 29-0