SLASU President swims to keep Lanka's flag afloat
By Lakshman Ranasinghe
View(s):
Sri Lanka Aquatic Sports Union (SLASU) has requested their parent body–FINA to recognise the newly elected committee as the controlling body for swimming in Sri Lanka.
Though a committee headed by Nethru Nanayakkara was elected as new administrators, the international body still recognises the previous committee of Mahinda Liyanage.
Speaking to the Sunday Times SLASU' s newly elected President Nethru Nanayakkara says his priority is to obtain the FINA recognition to the new committee.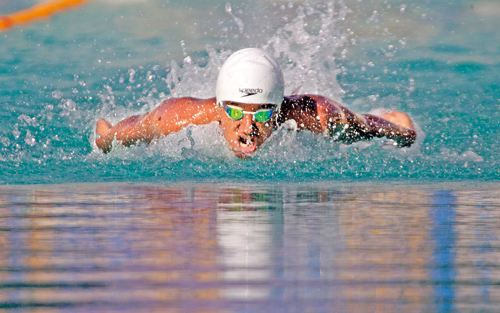 "This is really a sad
state," he said.
"Even though we were elected through a democratic process, the FINA has not yet recognised us. This is not our fault but a situation created by the Ministry of Sports by appointing an interim committee."
Those sports associations that comes under the Olympic Movement vehemently oppose political interference in sports administration. They urge complete independence and autonomy in administration while respecting the laws of the respective countries.
"As soon as we got elected, we wrote to FINA, asking them to recognise the new committee but so far there had been no response. In the worse scenario we will send a delegation of local officials to FINA to sort things out," he explained.
Sri Lanka's aged old Sports Law gives unprecedented powers to the Minister of Sports to sack democratically elected bodies—a clause the International Olympic Committee (IOC) has repeatedly asked to remove to safeguard the interest of independent sports association. At present, the Ministry is in consultation with IOC and their local representative–NOC is amending the Sports Law but this will take a substantial time period to pass it.
When asked about Sri Lanka's participation at the World Junior Swimming Championship in Hungary later this month, the elected President said they are hoping to send a team of athletes.
"We did not have the time to conduct a selection trial, so we decided to nominate a group of players based on their FINA points, even though we are not in favour of selecting players without a trial. But there was absolutely no time to hold a trial. We have sent these nominees to the approval of the selectors. Once that is done, we will send for Ministry approval and then get the previous committee's help to send them for the event," he added.
Nanayakkara also said that it is of paramount importance to finalize a swimming calendar for each year.
"Given the packed schedule swimmers carry an awful amount of workload during the season. They are under a lot of pressure to perform and as a result performances tend to drop down. The proposed calendar will ease that pressure out," says the former national swimmer.
Nanayakkara said they they will initiate a constitution amendment to bring in provincial associations under SLASU, giving them official recognition.
"Even though there are swimming associations at provincial level, they are not affiliated to us. So there's very little contact or coordination between us and them. We need to change this. We need to get them affiliated to the SLASU which will help recognise outstation talent," he said.
He also spoke of the importance of international exposure.
Sri Lanka have historically performed well at the South Asian Games (SAG). Last year, they bagged over 30 medals. Apart from last year, in 1991, Julian Bolling and Deepika Chanmugam won 11 medals between them.
As a member of the final pool for the 1991 SAG, Nanayakkara stressed the importance of focusing on the Asian Games.
"Good results at the AG will help a lot at international events," he stressed.
"The swimmers should be trained on a two-year programme. Without relying on one swimmer in winning medals, Sri Lanka should have many swimmers capable of winning medals.
The former swimmer and waterpolo player also said that he intends to discuss with the MoS, the possibility of getting a foreign coach–probably a Chinese, on a two-year programme, to work with the local coaches in grooming the swimmers to compete internationally.