Rugby for Dummies – The spectator does not know the Laws
View(s):

"Sending young men to unnecessary death is not the act of leadership, but of vain glory, and unprofessional of a professional soldier," – a quote of a World War II German Field Marshal.

The statement made recently that spectators don't know the Laws of Rugby, implying that only Referees know, is taking Referees to an unnecessary death. This is a simple 'I AM RIGHT—YOU ARE WRONG' logic which, Edward de Bono illustrates as "some ways of thinking about problems are ill-suited to solving those problems".

The thinking is that 'rock logic' of well-defined boundaries and dichotomies is sometimes not as appropriate as 'water logic', which lets ideas take whatever shape is appropriate. This is not strange thinking, but a common thought. People talking about players opting out of the National team and attributing same to a lack of patriotism, is an example.

The medieval thinking of Referees' Society Secretary Dinka Peiris, is illustrated best in a letter of resignation of the Vice President Aruna Rankothge, emphasising the need to revisit and review the strategy for development of Referees, among other bricks that are hurled. It is easy to counter the resignation of Rankothge by saying this is a reaction for being overlooked for a development programme to be held in Japan.

According to sources, the nominee is Secretary-Referee Peiris. Well and good, if this exposure will help to sharpen, at least, his thoughts on what a 'Ruck' and 'Maul' is. In comparison, Rankothge was active as an ARFU 7′s and XV's Referee, and was also an Assistant Referee at the World Series 7s in Dubai, among other exposures. Having been privy to the thinking of top end CMOO and Referee Managers – Japan should be for those who need the exposure.

When Rugby Referees are lambasted for their on-field mistakes, the explanation of those who guide them are that they are young hopefuls. The Rugby fans never accept. Neither do coaches and administrators. When incompetents trumpet for their vain glory, it becomes obvious that the followers will be at the receiving end.

When I started as a Referee, there were only 2 or 3 Law books available in the country. The late M.R. Moosa would read and discuss the Laws every Saturday morning, with the referees who wished to learn.

As communication evolves, a wider society has access. The situation is different today, and the book on the Laws of the game are freely available on print and digital form. The World Rugby (WR) website has the Laws of the game accompanied by video clips. Anyone suggesting that spectators do not know the Laws of the game, is a dummy blaming another dummy.

As I see, it is not that the spectators do not know the Law, but it is that they do not look at the Laws or its interpretation, in the way the on-field Referee looks.

The Level I WR Introduction to Match Officiating states: "in a complex game situation, not all infringements by players will be penalised".
 Some laws will be strictly enforced, while others will rarely be applied
 Not all offenses will lead to the application of the Advantage Law.
To keep the game moving, the Referee must decide what is important and what is not important.
It is necessary to accept that two criteria must apply to create the need to penalise a team in a game of rugby:
A Law has been infringed, and there has been an effect, of either:
 One team has received an unfair advantage, or
 One side has been denied a fair advantage
What is needed is to move away from 'Rock Logic' to 'Water Logic' as the WR introduction to match officiating allows the course to be presented to players, volunteers as well as parents. That would be taking a lead.
People read about medicine, as there is an abundance of literature available on the internet. This does not make them medical professionals. But it is not correct to say that a patient may not know about childbirth or about heart attacks, but you are not trained to practice medicine.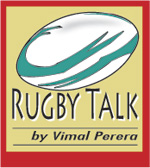 A Referee on the field is like someone with clinical experience, as against an academic. A person watching a match has a different perspective, but when statements that are 'dung' are made, there is a real problem.
Rugby is widely broadcast and, or shared, on cable or digital form. The words of a Referee is picked up and often repeated. The understanding of the words is what is important. Does the spectator understand and, or interpret, the words 'NOT RELEASING', 'HOLDING ON', 'ROLL AWAY', 'HANDS', in the same 'What', 'When' and 'Why' of the Referee.
The phrase 'RELEASE' or 'ROLL AWAY' is heard most. The most particularly from local Referees, from whom it is a screech, as though there is a Christmas hold . 'USE IT' – this is as simple as it sounds and also, often misunderstood is 'ADVANTAGE BEING PLAYED'.
'HIGH TACKLE' – there are a number of rules to protect players and ensure their safety. A player must not tackle an opponent above the line of the shoulders. High is not, as been in equal state, when standing. That is when the jackals start singing their anthem.
When a pea head does say that, spectators do not know the Laws, while claiming he did not know what a 'Ruck' or 'Maul' is, then you are trying to group all others as 'pea heads'.
Vimal Perera is a former Rugby Referee, Coach and an Accredited Referees' Evaluator IRB