P. De S. Kularatne Vidyalaya, Ambalangoda come out with flying colours
Sri Lanka Schools Under-17 'C' Division Girls Basketball Tournament
View(s):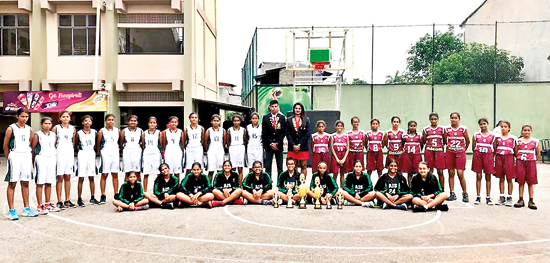 P. De S. Kularatne Vidyalaya, Ambalangoda came out with flying colours at the Sri Lanka Schools Under-17 'C' Division Girls Basketball Tournament to emerge winners at the Asian International School courts last weekend.
In a well organised tournament, hosted by Asian International School with Nihara Bagoos at the helm, the Ambalangoda lasses made their way to glory by defeating much fancied Colombo schools. In the finals P.De S. Kularatne Vidyalaya defeated Presbyterian Girls School in a closely contested game.
Asian International School and Royal Institute jointly occupied the 2nd runner-up spot. The Girls from Ambalangoda exhibited a solid team combination and speed to overcome schools with better facilities. Their passing and movements on the courts made the opposing teams finding difficult in curbing the fierce onslaught in invading the goal area.
P. De S. Kularatne girls' speed and physical fitness played a big part in this victory as they maintained it right through the entire tournament.
All three individual awards were swept away by Kularatne Vidyalaya lasses proved their capabilities in all departments of the game.
Brent Thevakumar, a member of the national men's basketball team graced the occasion as Chief Guest while national women's basketball player Solangi Gunawije was the Guest of Honour. Mrs. Jayantha Bandara, Vice President of Sri Lanka Schools Basketball Association was the Special Guest.
The champion team was represented by Sathindi Subanya, Pabodha Ruwandini, Poojani Sadewna, Rasika Senani, Charu Kulagna, Gimanthi Yashora, Dilakshi Kavindya, Deneth de Silva, Amanya Abesooriya, Yenuli Minudama and Chamodi Rukshani.
– Lakshman Ranasinghe
 Results:
 Champions: P. De S. Kularatne Balika Vidyalaya, Ambalangoda
 1st Runner-up: Presbyterian Girls School, Colombo
 2nd Runners-up: Asian International School and Royal International School
Individual Awards:
 Best Offensive Player: Lehansa Thisewni (P. De S. Kularatne Balika Vidyalaya)
 Best Defensive Player: Gimanthi Yashora (P. De S. Kularatne Balika Vidyalaya)
 Most Valuable Player of the Tournament: Denethi De Silva
(P. De S. Kularatne Balika Vidyalaya)